Best Decisions in Sport: Have your say on Golf's shortlist
Sky Sports experts Robert Lee, Ewen Murray and Sarah Stirk pick the best decisions made in golf.
Last Updated: 07/08/13 2:43pm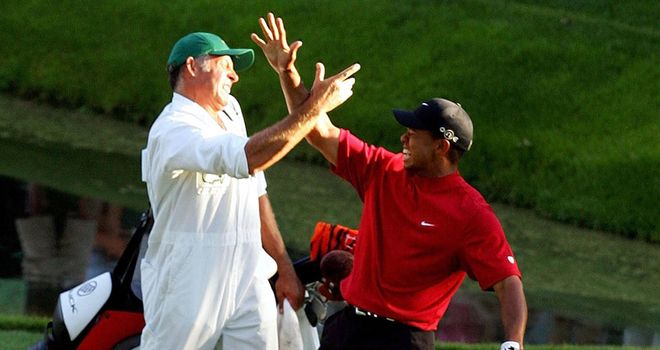 To celebrate great decisions the experts at Sky Sports have found 'The 50 Best Decisions in Sport' so you can vote for which you think is the best of all time, and have the chance to win a top prize.
Our Expert Panel has already had its say on football, F1, rugby union and cricket - now it's the turn of golf and to help you make a decision we've enlisted the help of Robert Lee, Ewen Murray and Sarah Stirk.
Take a look at their picks and then vote for your favourite at www.skysports.com/decisions. Voting will close on August 14.
Jack's show of sportsmanship
Jack Nicklaus' decision to concede a putt to Tony Jacklin on the 18th green at Royal Birkdale during the 1969 Ryder Cup, thereby ensuring a tie, was one of the greatest acts of sportsmanship of all time. Jacklin's putt was an easily missable two-footer, but Nicklaus bent down and picked up Jacklin's marker, saying: "Tony, you wouldn't have missed that putt, but I didn't want to give you the opportunity". It was a display of sheer class from the greatest player the game has seen.
Ryder Cup goes European
The Ryder Cup is now one of the greatest events in the modern game, but it wasn't always like that. Between 1927 and 1979, the competition between America and Great Britain and Ireland became increasingly one-sided - in America's favour. Jack Nicklaus led the campaign to widen the pool of talent available to the British and Irish team by allowing players from continental Europe to be picked. That decision allowed players like Seve Ballesteros to compete from 1979, and gave birth to the wonderful rivalry between Europe and the U.S. that has excited fans ever since.
Tiger takes up the game early
Former US Army infantry officer Earl Woods was introduced late to golf - but he famously made sure his son wasn't. Earl first picked up a club and started playing aged 42, but quickly developed a love for the game that meant he was keen to get son Tiger involved as soon as he possibly could. And so Earl decided to hand Tiger a putter when his son was just two years old and taught him how to hone the talent which has made him one of the greatest - and richest - golfers of all time.
Olazabal puts faith in Kaymer
Martin Kaymer just did enough to secure the final automatic spot on Europe's 2012 Ryder Cup team but his confidence was low. However, the German had proven his ability to hole clutch putts when winning the US PGA at Whistling Straits in 2010. So when European skipper Jose Maria Olazabal made the decision to put him out in the penultimate singles game the Spaniard knew full well that the whole match could come down to the German holing a putt on the final green. That exact scenario unfolded and Kaymer held his nerve to cap a remarkable European fightback.