Former champion back on familiar territory
A decade ago Shaun Micheel produced a famous shot at the 72nd hole at Oak Hill to be crowned a major champion. The American returns to the course still chasing a second victory on a major tour.
Last Updated: 07/08/13 3:03pm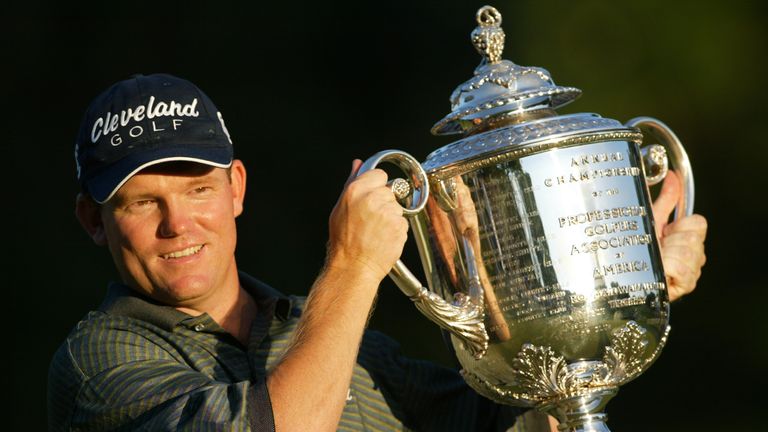 A decade ago American Micheel, then ranked 169 in the world, sealed victory at the same Rochester course in New York with a brilliant seven-iron approach to within inches of the cup on the 72nd and final hole.
Now the 44-year-old returns to the scene of his greatest triumph ranked 1,040th. It also happens to mark the 10-year anniversary of his one and only victory on a major golf tour.
There have been near-misses since; he finished second to Tiger Woods at the 2006 US PGA, then knocked his compatriot out of the HSBC World Match Play Championship that same year on his way to the final before eventually losing to Englishman Paul Casey.
However since then Micheel has endured a decline in fortunes, with 2013 proving particularly taxing. He has failed to make the cut in all four of his events on the PGA Tour this season and four more on the second-tier Web.com Tour.
Fond memories
The fall from grace has been tough to take for the Floridian, though he still looks back fondly on the time he became a major winner.
"I guess had you told me that when I hoisted that trophy on Sunday night and I went back to my hotel, if somebody had whispered in my ear that you're going to become a non-exempt player on the Tour and you're going to be a non-exempt player on the Web.com Tour, I would have told you you were crazy, or thought I was dead or retired," Micheel said.
"It's been frustrating I suppose. (After) the shoulder surgery I had in 2008, I just don't swing like I used to. Even to this day, I don't get my arm up, I can't get it to where it was.
"There were some adjustments that I had to make and I wish I would have taken more than a year to come back. I just wasn't competitively ready.
"But I think nothing that's happened to me is really unique. I think a lot of guys can relate some personal stories that have maybe affected the way they do their work. Unfortunately my work is just out there to be dissected.
"It just got to the point in the last couple of years that I just don't think I've worked hard enough for it. 2010 was just a year that I was playing for my mom. She survived for a year and a half with cancer and died October 21, 2010. In 2011 I just didn't have anything. I didn't have the drive.
"But I enjoy sharing my story and sharing my emotions about that particular day (in 2003). I relive that moment a lot and to be able to share that moment with my wife and kids will be something that I will never, ever forget.
"My nine-year-old and six-year-old are not really sure why I want to get all these pictures made, but it's for me. I'm anxious to show them where I had one piece of history I guess."
The club that helped Micheel seal his two-shot triumph now sits in a box at his home. On Sunday, during a practice round, he attempted to repeat the feat, only this time his effort came up short of the green.
Tiger praise
"It was really a once-in-a-lifetime shot," he added. "That particular shot was set up by all the great things that I did throughout the week. It was the winning shot, but I did some pretty good things just to get myself in position.
"That last shot solidified the fact that I could do it. I know I haven't done it since. I guess part of me wishes I had bowed out a few years ago. But I relive that moment a lot. Nothing is more important than what happened to me in '03."
Considering his recent form, Micheel will need a miracle to take the title again this year. Yet Woods - who himself tied for 39th place in that event, feels his compatriot should be immensely proud of what he achieved and, indeed, the manner in which he clinched it.
"He's going down in history as a major championship winner. That just puts you automatically into another category," Woods said.
"On top of that, hell, he hit one of the greatest shots you've ever seen on 18 to finish it off."
Woods is right in the fact that no one can ever take away the fact Micheel is a major champion. That and his faithful old seven iron.