Solheim Cup: Laura Davies says inexperienced Europe have tough task
Laura Davies says Europe must embrace the Solheim Cup atmosphere to upset the odds this weekend.
Last Updated: 16/08/13 8:30am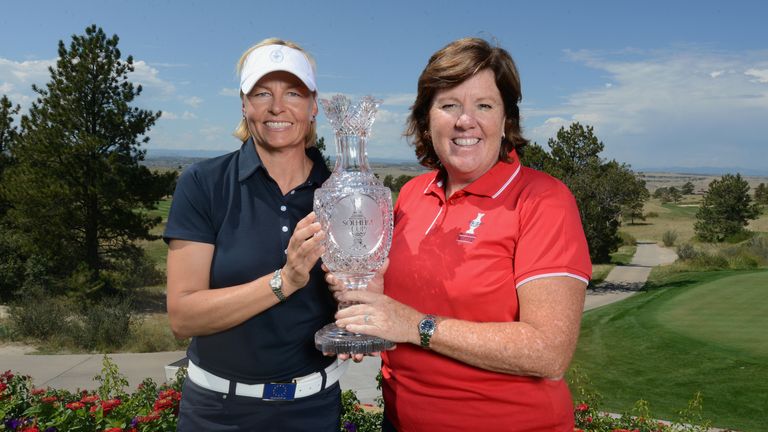 Team USA are strong favourites to reclaim the coveted trophy and a sell-out crowd is expected through the gates of the Colorado Golf Club on all three days of competition from Friday.
Europe have never won on US soil in six attempts and Davies says if they are to end that streak and hold onto the cup they won at Killeen Castle in 2011 they must thrive on the enormity of the occasion.
Speaking to skysports.com from the 15th green, Davies said: "It's not going to be easy for Europe.
"The Americans have got a really good team, while we've got a young, inexperienced side.
"We've come out here six times before with experience and never won it so maybe this time going with the young guns will be the key to success - but USA are favourites and they are very strong.
"They've got a lot of very good, high world ranking players and they've got a tradition of winning over here.
"The galleries are going to be big here, too. It's a sell out and walking the course here on Wednesday a lot of people are watching the players practice.
"Our players will take that one of two ways; they'll either freeze and we'll struggle or they'll embrace it and be inspired by it.
"But they mustn't be afraid of winning on US soil."
Captains
Marshalling the two sides will be captains Meg Mallon and Europe's Liselotte Neumann.
Assessing their attributes, Davies expects the pair of team leaders to try to provide a relaxed atmosphere for their players before they head to the tee, rather than conduct any chest-thumping speeches.
"The captains are very similar, quiet characters," said Davies.
"They both had steady careers themselves and they are both major winners and accomplished players.
"But there won't be huge rousing speeches, instead they'll allow players to do their own thing - whether the players like to practice a lot or not, they will let them get on with it.
"They'll have calming influence on both teams."
Disappointed
This will be the first Solheim Cup not featuring Davies and the highest points scorer of all time admits she is disappointed not to be competing.
However, the English ace is eagerly anticipating the contest and says Sky Sports viewers will be treated to a fascinating battle.
"The course is looking great - but it's a tragedy for me because it's the perfect golf course for me," she said.
"There are wide open fairways and the ball is going ten per cent further because of the altitude.
"It was very disappointing not to be picked but at the end of the day I didn't play well enough over the last 18 months and the only way to guarantee a spot is by qualifying through the rankings.
"So I'll be commentating for Sky instead and going with my heart I'd say Europe can do it - but, if I was going with my head, you have to say America are the favourites.
"One things for sure, though: I'll be cheering for those blue colours rather than the red colours all the way!"