Sky Sports looks at what major provided the best spectacle of 2013 in golf
What was the best major of 2013? Our writers can't agree so have a read and have your say.
Last Updated: 15/08/13 4:30pm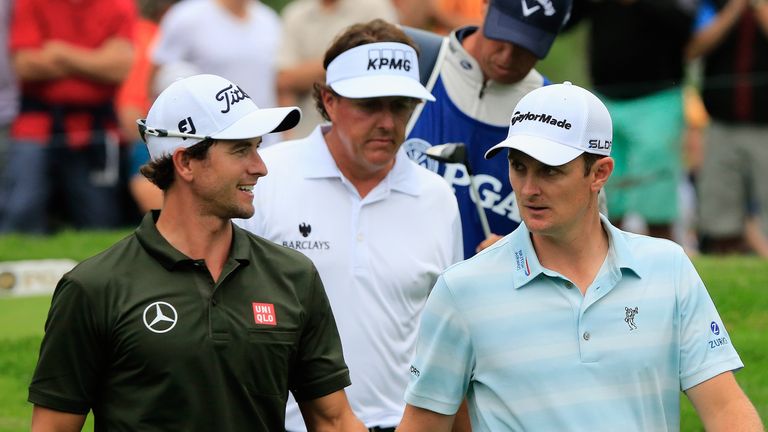 We had a play-off at the Masters, a rare English winner at the US Open, and familiar fans favourite triumphing at The Open and a new cult hero emerging at the US PGA Championship - but what tournament was the best?
Here four of our writers put their case forward for each major to be crowned the best, most exciting, most enjoyable of 2013 - have your say at the foot of the page.
Masters - Dave Tindall
While there were memorable moments in all four majors this year, only The Masters produced the thrilling finale which every viewer craves - a player stood over a putt knowing he has to hole it to win.
At the US Open, Justin Rose tapped in for par, knowing he'd probably done enough but still having to wait to see if Phil Mickelson could tie him with a birdie.
At Muirfield, Mickelson knew it was already in the bag when he holed his final putt on 18 while Jason Dufner was aware he had "three for it" when holing out for a slightly anti-climactic bogey at Oak Hill.
But at Augusta, we got incredible final-hole drama, not once but twice.
Adam Scott, still seeking a first major after blowing victory in the previous summer's Open, looked to have realised his dream when holing one of those classic 20 footers for victory across Augusta National's 18th green.
He clenched his fist, let out a guttural raw, high-fived caddie Steve Williams and generally looked delighted with himself but, deep down, he knew it wasn't over yet.
And so it proved. Back in the 18th fairway the remarkable Angel Cabrera - winner of two majors but virtually nothing else - launched his second to the 18th and knew it was good. "Buen, buen," he shouted as his ball tracked towards the hole and landed two feet away. Cabrera strode up to the green, holed out for a birdie of his own and it was play-off time.
Scott gathered himself and both players traded pars when playing 18 again as the first play-off hole. After each played two exceptional shots at the 10th, the second extra hole, both were in birdie range again but from 15 feet Cabrera's putt just curled past on the high side.
So this was the moment. With the time 5.35am back in his native Australia, a nation mistrusting of the golfing gods after Greg Norman's repeated Augusta heartaches held their breaths. Scott pulled back his putter, sent the ball towards the hole and triggered the moment of pure winner-takes-all ecstasy.
That is the way a major championship should be won. Deafening roars, racing hearts and the iconic pose of a champion planting his feet, arching his back and thrusting his arms to the skies in celebration.
US Open - Paul Higham
Maybe this view is biased somewhat due to a rare winning bet on a major winner, but even taking that out of the equation the week's entertainment from Merion was outstanding.
The US Open is always supposed to be the toughest test of the season, and this year was harder than most with the combination of the quirky course at Merion, set-up as challenging as possible by the USGA and the weather meaning no player finished at par or better.
I personally enjoyed the sight of professional players needing fairway woods to have a crack at lengthy par 3s, although not many in the field enjoyed that, while the finishing two holes were about as difficult as they will ever find.
It all came down to that back nine on the final Sunday though, just as every classic major should do, and it was as memorable for Justin Rose being the first Englishman to win the US Open since 1970 as it was for Phil Mickelson's heart-breaking near miss in the tournament that means more to him than any other.
Mickelson led, then lost it, then looked destined to win it after he slam dunked his pitch shot from 76 yards on the 10th, while Rose got into the lead, lost it, regained it, and led by just one after a bogey on 16 and needed to par in on the devlish closing duo of holes to emulate Tony Jacklin.
Standing almost exactly where Ben Hogan drilled that famous one iron in 1950 - Rose stood over the fairway plaque marking the occasion knowing he needed it the long iron of his life - and true to form he nailed the perfect shot to set-up history.
Mickelson tried in vain to grab the birdie he needed for a play-off, and you needed to be made of stone not to feel for Lefty as he bemoaned missing out on what he called his best chance yet to win his national Open.
This was not the birdie blitz that so often excites the crowds - this was about precision, focus, and a steely temperament to not get down on yourself when the inevitable bogey comes along, and in the end good old fashioned bottle.
And don't be fooled into thinking the course was 'tricked up' as some players who couldn't stand up to the test will have you believe - just look at the top of the leaderboard which saw Rose, Mickelson, Day, Dufner, Els, Sticker and Donald involved and you'll see the best players where all in the mix on Sunday
Still, Rose stood tall as those around him faltered and wilted under the pressure Merion put on them - and it truly was a spine-tingling victory and a classic major finish.
The Open - Ben Sullivan
Say what you like about Muirfield (and plenty of people had plenty to say about the club's 'traditional' approach), the course produces cracking Open Championships and absolutely top-notch champions.
No disrespect intended, but there have been no Todd Hamiltons or Ben Curtis's lifting the Claret Jug in this corner of East Lothian. Take a glance at the Muirfield champions since the war - Cotton, Player, Nicklaus, Trevino, Watson, Faldo (twice), Els - it is a stellar line-up.
In 2013 we had the name of Phil Mickelson added to the pantheon of Muirfield champions and they don't come much bigger in terms of star quality. Mickelson is certainly the most popular player on the planet and probably the best to watch. Metronomic he isn't, but exciting he certainly is.
It has taken the Californian 20 years to master links golf, but in 2013 he won two links tournaments in two weeks, so he gets plenty of points for perseverance rewarded as well.
The parched fairways and cobalt skies gave Muirfield this year something of a feel of Turnberry and the 'Duel in Sun', except no one was able to play Nicklaus to Mickelson's Watson.
A great major should be won with a great final round - watching a third-round leader ease his way to the title on Sunday can be a trifle dull.
There was nothing dull about Mickelson's round on Sunday, as he came from four shots off the pace overnight to win by three with a sparkling 66 that has to go down as one of the great closing rounds in major championship history.
Four birdies in his last six holes was typical Mickelson and that slightly startled look on his face - can this really be happening to me? - summed up his swashbuckling approach to the game. Not much happens as expected, you feel.
The Open is usually the best major of the year simply because of the unique challenge that links golf produces - but this year it was also a genuine classic.
US PGA Championship - Ben Coley
With his chiselled features and the line of flustered women who trail in his wake, Adam Scott is a man I admire greatly but have little in common with. Likewise Justin Rose, among the most eloquent of speakers and a deserving major winner. Phil Mickelson is a one-off, too.
But with his portly belly and outward ambivalence, Jason Dufner offers a glimpse into my future - minus the textbook golf swing and bulging bank account - and he's a man I reckon I could sit down and shoot the breeze with. Heck, I even like maths and he loves nothing more than to trade the stocks. We could be friends who do challenging sudokus together.
So it was with great pleasure that I watched him produce a major performance in keeping with those which preceded it, in a season of four truly awesome efforts. For Scott it was redemption, for Rose long-awaited and hard-fought rewards, for Mickelson realisation that he could win any event and for Dufner, a demonstration of how far he's come as a player and a man in the two years which had passed since he finished runner-up to Keegan Bradley in the 93rd PGA Championship.
The 95th edition was one he had a firm grip on from early on in round four. From the moment he'd made a stunning up-and-down birdie on the fourth, Dufner displayed a level of shot-making execution you will seldom see anywhere, let alone on the final day of the season's final major which was this year played out on a tough, old-school course, the like of which Dufner grew up learning about as one of the game's burgeoning historians.
Waggle, swing, down for the peg, chew a bit of tobacco, go and look in the middle of the fairway for your ball. That was all he did. It sounds so simple, yet time and time again we see these courses and these championships mess with the radars of even the game's most accurate hitters. Not so Dufner, who while not oblivious to nerves demonstrated an ability to control them in a bogey-free front-nine 32 and beyond.
Of course, we'd seen this before. In that 93rd PGA at Atlanta, Dufner was bogey-free and led by four on the 15th tee, only to make a trio of bogeys which took him into a play-off he'd ultimately lose to Keegan Bradley. But not this time. Dufner learned how to lose in 2011 but he'd learned how to win in 2012, a year capped with a fine if fruitless debut in the Ryder Cup, and he put that to use with a superb display even if it ended with a pair of bogeys.
That he could leave a 15-foot par putt short on the final hole was testament to the dominance displayed from an early stage and while the PGA Championship lacked the drama of Scott's Masters win or the thrills and spills of Mickelson's Muirfield majesty, it stands alongside Rose's US Open triumph as a wonderful representation of level-headedness, a belief that today is at last the day, faith in one's ball-striking and an ability to separate actions from consequences.
It was brilliant.
What do you think was the best major of 2013? Have your say below...