Solheim Cup: Officials' error could be crucial for Europeans says Laura Davies
Laura Davies criticised the officials for a potentially pivotal error as Europe took a Solheim Cup lead.
Last Updated: 18/08/13 11:24am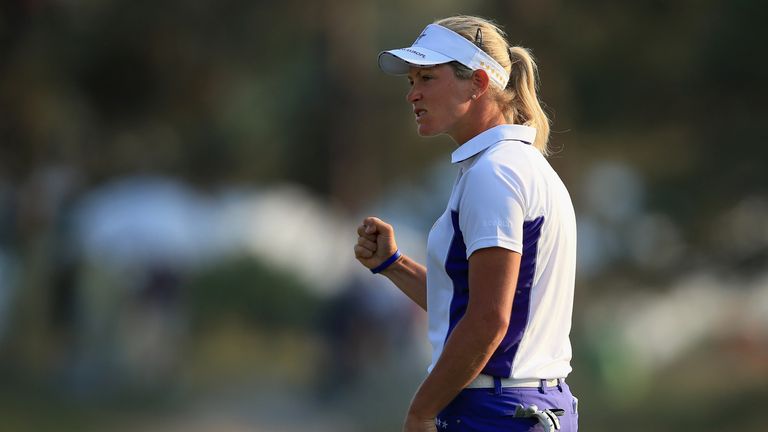 Europe finished day one with a 5-3 lead over the USA after Norway's Suzann Pettersen led the charge for the Europeans with points in her morning foursomes and afternoon fourballs.
But her victory alongside Carlota Ciganda against Stacy Lewis and Lexi Thompson in the second session was marred in controversy.
The Americans had led the match but Ciganda secured a crucial half at 15 after the officials took almost 30 minutes to determine where she could drop her ball having found a hazard.
Pettersen then took charge for the Europeans as she birdied 16 and closed out the victory, much to the consternation of the Americans who were furious that Thompson had to wait so long to take her shot as the officials made a ruling on Ciganda's ball.
"It looked odds on that the Americans were not only going to win that hole but go on to win that match, and they have ended up losing it," Davies told Sky Sports. "It is not the European's fault; it is the officials' fault. They took too long.
"They had their lasers out and it was chaos. 30 minutes between the time when she found her ball and the time she actually hit that shot. It was very unfair on the American girls, but having said that certain things come up in a golf event and you just have to deal with it.
"I can understand why she (Thompson) was angry and I would have been if it were me, waiting such a long time at a pivotal time in the match."
Move on
However, Davies says the Americans must now get over the incident and focus on the rest of the match after a disappointing day one for team Meg Mallon's team.
"It is a done deal. The match is over and they are not going to start taking the match away from Europe and giving it to America because of that," Davies said. "The rules officials have made a mistake, the result is going to stand and we are as we were. The Americans have got to try to forget about it.
"If Meg is a good captain - and we assume she is - she will tell them, 'forget about that, it has gone, we got a bad break but tomorrow is another day'. She has got to work out her foursomes pairings and somehow come up with a winning session of matches because so far they have had a half and a loss. They need to win the next session."
Fellow Sky Sports pundit Christina Kim said the incident was "out of order" but would " put more wood on the fire" for the Americans, before the former US Solheim Cup player picked out Pettersen as the player of the first day.
"Suzann Pettersen was on fire today," she said. "She has just been their marquee player. She has been there for her partners whenever they have needed her and it has been amazing."