Solheim Cup: Laura Davies praises unprecedented Team Europe win
Laura Davies says Europe's superior ball-striking was key to their historic Solheim Cup success.
Last Updated: 19/08/13 11:39am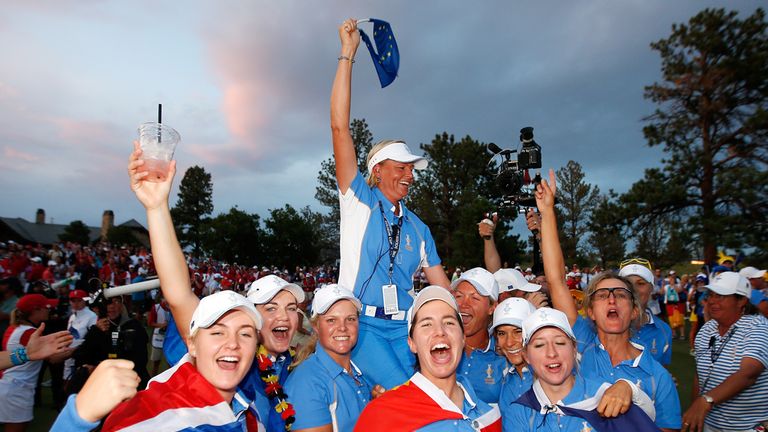 For the first time in the competition's 23 year history Europe defeated USA on American soil and retained the coveted trophy in superb style, sealing an 18-10 success on Sunday.
While several pundits picked out Europe's putting performance for praise, four-time Solheim Cup winner Davies pointed to the significance of the visitors' superior approach play.
"Surprisingly I thought it was the overall ball-striking which was the difference," Davies told Sky Sports.
"I really rate a lot of the young American players ball-striking-wise but our girls hit more really good, top quality shots, hit a lot of shots close and seemed to control the ball into the green a little bit better.
"I don't know why they did that this week; perhaps the course fitted them better."
Pioneers
Davies conceded she was stunned by the size of Europe's victory after USA had entered the weekend as the bookies' favourites to reclaim the cup.
And the Englishwoman believes the team's unprecedented win across the pond will give future European Solheim Cup teams the belief they can compete with their American counterparts in the US.
"If you were having a bet on this event you'd never have picked 18-10 in a million years," she said.
"Most people thought it would be a lot closer, with maybe a little advantage for the Americans because they were paper favourites. But you don't win on paper, you win on the golf course - and that's what we've done.
"These girls are the pioneers now. All the ones who come behind them don't have to have 'we've never won it in America' saddled on their shoulders and it is game on.
"I was doing some interviews before the event and people were saying 'should we include Asians in the event?' Obviously they're some of the dominant players in the world but the European girls have proved you don't have to.
"This was a great advert for women's golf and a real spectacle."
Shift
Christina Kim, meanwhile, who won the Solheim Cup with USA in 2005 and 2009, believes the home side's defeat will only serve to motivate them for the next clash in two years - but does fear a new era of European dominance could be emerging.
"We made double digits and I'm looking at the smallest of victories right now," she said.
"This is the first time in Solheim Cup history that the US team has lost two in a row and I know it's going to make them very, very hungry for getting the cup back in 2015.
"But I worry that this is a switch in momentum.
"You never know what's going to happen in two years' time - we may have our own Charley Hull. We've got a wonderful young duo in Lexi Thompson and Jessica Korda, while Paula Creamer never gives up and any number of players could be on the Solheim Cup teams by then.
"So, you never know what's going to happen in two, four, 10, 20 years from now.
"But the future looks bright and this win is testament to how fiercely strong the European team is."