Barclays guide
Stats and best bets for the opening FedEx Cup play-off event - The Barclays at Liberty National.
Last Updated: 19/08/13 11:04pm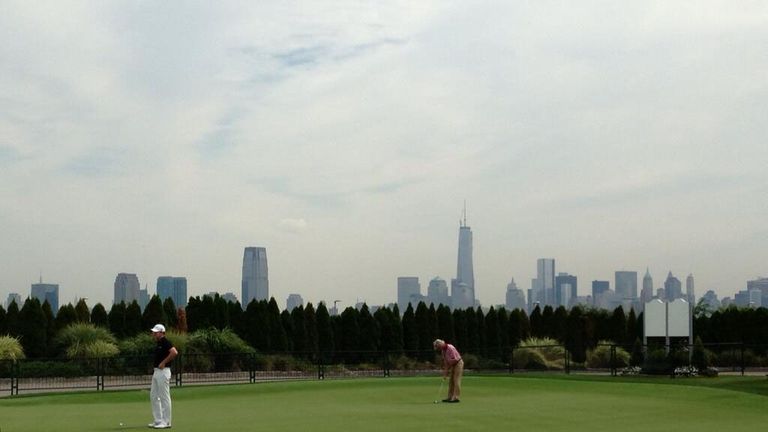 The FedEx Cup play-offs have had their critics but, quite simply, you wouldn't get a field anywhere near this quality if they hadn't been brought into the calendar seven years ago.
You probably know the score by now but, as a reminder, for this week's opener - The Barclays at Liberty National - the leading 125 players in the FedEx Cup standings following Sunday's Wyndham Championship are qualified to tee-up.
From herein, the size of the fields will be reduced in successive weeks from 100 to 70 and finally to 30 for the series-ending Tour Championship.
Liberty National is being used for a second time, having also staged the series-opening Barclays-sponsored event in 2009.
Just seven years old, the New Jersey course, where water comes into play on 12 holes, was co-designed by Bob Cupp and Tom Kite and sits close to Manhattan, just across the Hudson River.
The views are spectacular but in a Golf Digest poll in 2012, Liberty National was voted the worst course on tour!
The article listed the anonymous pro comments: "Too crammed in. Have nothing good to say about it," said one, while another said of the landfill-turned-course, "They should have left it as a dump." ... "Stupid & the views are way better than the course." ... A "stunning" location that "is the only thing that keeps it from being a 0." When told the tour was returning in 2013, one player said, "I can't believe we're going back there."
However, the pros will hopefully find it more to their liking this time.
Ernie Els in his latest blog says: "They've made significant changes to the course. A total of 15 of the 18 holes have undergone major alterations and 12 greens have been either completely rebuilt or reshaped.
"The receptiveness of the course has also been improved, in particular softening the contours of the greens and some of the landing areas in the fairways, so the set-up and overall playability of the golf course will be markedly different to last time."
The leading contenders and Sky Bet odds
Tiger Woods (11/2): Brilliant in tour events where he's won numerous times before; continually disappointing in majors. That's the somewhat strange pattern Tiger has fallen into in the last few years although this week's event falls into neither category. True, Tiger finished tied second here in 2009 but he was in massively good form at the time (he'd won two and finished runner-up in his three previous starts) so the smart move would probably be to pass him by at a short price given that this isn't one of his 'chosen' courses where he wins all the time.
Adam Scott (16/1): After a brilliant year in the majors (he banked a win, a third and a fifth), it remains to be seen whether Scott will peak for the first leg of the play-offs. It seems a better guess that he'll try and hit top form for the big finale at East Lake next month. Scott was a very modest 58th at Liberty National in 2009 while he's also played poorly in two of his other three starts in The Barclays so that suggests it comes at the wrong time for him. As with Tiger, he doesn't leap off the page as a man to bet on this week.
Henrik Stenson (18/1): The Swede is just about the hottest player in golf after racking up form figures of 3-2-2-3 in the last four events, two of them majors and another a WGC. The win is proving elusive though. On a track where no-one has a real edge in terms of course form, maybe it's a good play to go for a golfer who can probably flourish on any layout right now. The negatives? Stenson didn't play here in 2009 and perhaps there is a slight concern about fatigue given this recent tweet when he popped back to Sweden: "With the jetlag and a busy couple of weeks behind me I feel I could sleep for a week!"
Rory McIlroy (18/1): After his encouraging return to form (of sorts) in the US PGA, has Rory turned a corner? Or was his eighth place at Oak Hill another false dawn in a season which has become the most difficult of his pro career? The problem in trusting Rory just yet is that on the other two occasions he posted an eighth placed finish his next starts produced a 45th and a missed cut respectively. Rory visited the course in June and enjoyed the new layout but it's still difficult to make a strong case for him.
Phil Mickelson (22/1): Mickelson has been an honorary member at Liberty National since it opened and last year made the suggestion that the course should do away with it's knee-high rough and have a very short cut like they do at Lefty's favourite course - Augusta National. The idea was implemented so, in theory, the Open champ may have an edge this week. After his golden run of form in Scotland, he was mediocre at Bridgestone and very poor at Oak Hill but Mickelson can quickly turn his game around.
Jason Dufner (25/1): Having won the US PGA at nearby Oak Hill and done the rounds at various media outlets in New York City, Dufner will surely relish his quick return to the area. Dufner missed the cut by a distance here in 2009 and also didn't make the weekend in this event in 2010 and 2011 so maybe he's another who doesn't enjoy the timing of it. When he posted his first win on Tour in 2012 he finished 68th on his next start before winning again the following week. Maybe that suggests he's a better bet in next week's Deutsche Bank where he was runner-up in 2009.
LOWEST 20 STROKE AVERAGES in PLAY-OFF EVENTS
Average (Rounds)
(Min. No. of Rounds = 20)
68.04: Tiger Woods (56)
69.16: Sergio Garcia (67)
69.20: Jim Furyk (85)
69.27: Paul Casey (22)
69.29: Camilo Villegas (66)
69.43: Steve Stricker (93)
69.50: Rory McIlroy (28)
69.50: Phil Mickelson (88)
69.64: Luke Donald (73)
69.67: Brandt Snedeker (79)
69.84: Adam Scott (76)
69.85: Justin Rose (65)
69.86: Dustin Johnson (65)
69.88: Tom Gillis (24)
69.88: Padraig Harrington (59)
69.88: Zach Johnson (76)
69.89: Matt Kuchar (71)
69.94: KJ Choi (64)
69.96: Chez Reavie (24)
69.97: Jason Day (59)
Note: Not all listed pros are playing this week.
MOST STARTS in PLAY-OFF EVENTS
(Max. = 24)
24: Hunter Mahan
24: Steve Stricker
23: Phil Mickelson
22: Ernie Els
22: Jim Furyk
22: Geoff Ogilvy
22: Bubba Watson
21: John Senden
21: Brandt Snedeker
21: Nick Watney
20: Zach Johnson
20: Adam Scott
20: Vijay Singh
20: Bo Van Pelt
MOST COMPLETED ROUNDS in PLAY-OFF EVENTS
(Max. = 95)
93: Steve Stricker
91: Hunter Mahan
88: Phil Mickelson
85: Jim Furyk
83: Ernie Els
80: Geoff Ogilvy
80: John Senden
79: Brandt Snedeker
79: Nick Watney
78: Bubba Watson
76: Zach Johnson
76: Adam Scott
MULTIPLE VICTORIES in PLAY-OFF EVENTS
3: Tiger Woods
2: Dustin Johnson
2: Rory McIlroy
2: Phil Mickelson
2: Vijay Singh
2: Steve Stricker
2: Camilo Villegas
MOST TOP-3 Finishes in PLAY-OFF EVENTS
7: Tiger Woods
5: Luke Donald
5: Steve Stricker
4: Phil Mickelson
4: Brandt Snedeker
MOST TOP-10 Finishes in PLAY-OFF EVENTS
10: Jim Furyk
10: Steve Stricker
10: Camilo Villegas
9: Phil Mickelson
9: Tiger Woods
8: Luke Donald
8: Dustin Johnson
7: KJ Choi
7: Sergio Garcia
7: Adam Scott
7: Brandt Snedeker
6: Ernie Els
6: Ryan Moore
Lowest Play-Off Rounds
60: Zach Johnson (2007 East Lake - Tour Championship)
61: Mike Weir (2008 TPC Boston - Deutsche Bank Championship
61: Brandt Snedeker (2011 Plainfield - The Barclays)
62: Ten times
Liberty National: Par 71; 7,400 yards
Top-10 Finishers in 2009:
Won: Heath Slocum
T-2: Ernie Els
T-2: Padraig Harrington
T-2: Steve Stricker
T-2: Tiger Woods
T-2: Padraig Harrington
T-6: Fredrik Jacobson
T-6: Nick Watney
8th: Webb Simpson
T-9: Paul Goydos
T-9: Ian Poulter
T-9: Scott Verplank
The lowest round carded at Liberty National during the 2009 Barclays play-off tournament was 64 by Dustin Johnson. There were four 65s.
Conclusion
The same Golf Digest players' poll which put Liberty National bottom, not surprisingly had Augusta National on top.
But although the venues are like chalk and cheese, Mickelson's advice to cut the rough down to Augusta levels could actually help us pick the winner.
Not Phil himself but Jason Day, who has a second and a third to his name in the last three Masters.
Day finished 12th at Liberty National in 2009 when making a bunch of birdies and bogeys.
With the rough down, hopefully he can eliminate some of the latter and build upon the fast-finishing eighth place he produced at the US PGA.
Webb Simpson was a struggling rookie when he played here in 2009 but came alive to take a two-shot lead at the halfway mark.
He lost momentum with a pair of 72s on the weekend but the eighth place was still his third best finish of the season.
Slightly disappointing in last week's Wyndham Championship, he did at least close with a 63 to climb to tied 11th and that followed on from a top 25 in the US PGA and a top 15 in the WGC-Bridgestone Invitational.
He looks close to a big result soon after a so far winless 2013 and two top 10s in three starts in this event suggests he can start the play-offs with a bang.
Dustin Johnson clearly likes this event having finished 15th at Liberty in 2009 when closing with a 64, ninth at Ridgewood Country Club in 2010 and winning it at Plainfield Country Club in 2011.
After a late triple bogey cost him victory in the Canadian Open last month (he still finished tied second), DJ also played some good golf in the US PGA at Oak Hill when tied eighth after a strong weekend.
He also took to Twitter last Sunday saying he'd got engaged to girlfriend Paulina Gretzky - eldest daughter of ice hockey legend Wayne.
Life is good for Johnson and maybe it might get even better in New York this weekend.
Best bets
2pts e.w. Jason Day at 28/1 (1/4 1,2,3,4,5)
1.5pts e.w. Webb Simpson at 30/1 (1/4 1,2,3,4,5)
1.5pts e.w. Dustin Johnson at 28/1 (1/4 1,2,3,4,5)