Solheim Cup: Sky Sports talks to Beatriz Recari about Europe's historic victory
Sky Sports talks to Beatriz Recari to get a behind the scenes view of Europe's historic Solheim Cup victory.
Last Updated: 30/08/13 6:38pm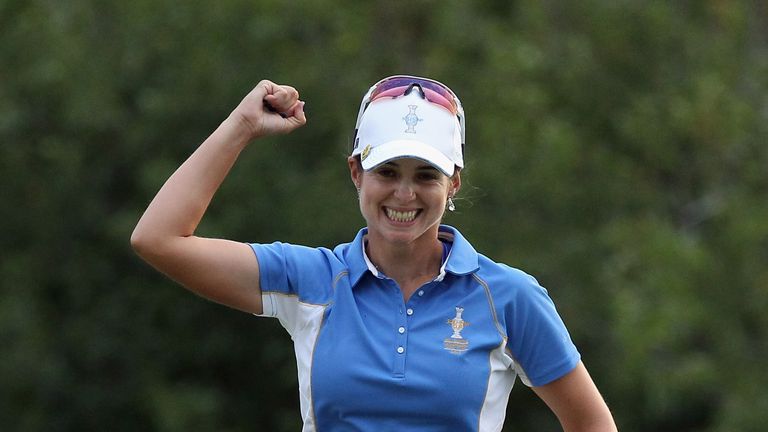 We spoke to Solheim Cup rookie Beatriz Recari, the Spanish 26-year-old played four matches in Denver, winning three of them including a final day singles win over Angela Stanford as Europe earned a record 18-10 success.
Sky Sports spoke to Recari about all things Solheim Cup...
Firstly, how was the party after the win?
The party was a LOT of fun! It was so nice to sit back and celebrate such a historic victory with my team-mates, particularly on American soil!
What has the day after the night before been like?
Being the LPGA and playing a global schedule, unfortunately there was not much time to rest and celebrate. I spent most of the day traveling to Edmonton for the CN Canadian Open and trying to get as much rest as possible.
Describe the atmosphere on that first morning when you teed off in the second match of the Solheim Cup?
The atmosphere was electric. The team was ready to go and we were all fired up. Our goal was to get in front early to silence the home crowd, and we accomplished just that!
How did the atmosphere affect the players?
We all had an idea what was coming, so we felt like we were prepared for it. I think the first tee was loud, but the European fans did a great job to challenge the home crowd. The back and forth was very fun!
Did the American crowds overstep the mark at all or where they all well behaved?
The American crowd did all they could to lift their team up, but as I said, our goal was to silence them by our performance, and we did it. Apart from a few small incidences, the home crowd did well and were very respectful. I think the European crowd stepped up and really challenged the American fans. Very proud of all the fans who came across the pond to support us!!
Did you see or hear much about the controversial drop Carlota Ciganda was given?
I heard about the drop, but all I was told was that the officials could not determine where the ball crossed the hazard. I also was told that Carlota made a fantastic up and down to save an important par, which was obviously a big turning point in the competition.
Do you think it upset the Americans?
I don't know what the Americans thought about it, to be honest.
Did the atmosphere between the two teams get a bit more competitive after that incident?
The Solheim Cup is already about as intense and competitive as it gets in the game of golf, and we tried not to let it affect us. We stuck to our game plan and worked hard together to reach our goals. We did not let any one incident affect us, and we were able to stay together to come out with the win!
Tell us what the feeling was after that Saturday afternoon clean sweep in the fourballs when you claimed that final point?
It was a great feeling to see Karine Icher make that last putt to win the match. I was a bit tired on back 9 that afternoon and Karine was playing incredible golf. It was obviously a great confidence boost for our team to take 4 out of 4 points in the afternoon matches, and gave us a bit of a cushion going into the final day.
What was the message going out for the singles on Sunday needing just 3.5 points to retain the Cup?
We knew we only needed 3.5 points, but Lotta told us on Saturday night to focus on winning our own match and if we did that, we'd set a new Solheim Cup points record. It felt amazing to achieve both those goals on Sunday.
Who was the biggest leader in the team room?
Lotta was our captain and leader, and she did such an amazing job!! She did everything right from the first day and her coaching style is the best I have ever seen. I am proud to have played for such a wonderful captain.
And who was the biggest joker?
There was a lot of humour in the team room, but Suzann always made sure we always smiled and laughed.
How did the veterans of the team help you rookies to settle in and prepare for the big event?
Suzann and Catriona have so much experience and they shared that when we asked. But I think the mix of young and experienced players in the team made it a perfect combination.
Talk to us about fellow rookie Charley Hull, at 17 how good was her performance over the three days and especially against Paula Creamer?
Charley impressed the whole world of golf. I met her for the first time at the Ricoh Women's British Open and I loved her calmness and funny sense of humour. It was a pleasure to get to know her. She is a very talented player and I think she surprised the Americans, to be honest. I really hope she joins the LPGA Tour next year. Her match against Paula says it all, a star is born!
Do you think younger players making names for themselves will help grow women's golf in Europe?
Absolutely, I think they should learn from Charley and her team. She has both feet on the ground and just wants to play golf, whether that is in a Sunday match at her home club or on the final day of the Solheim Cup!
Will the competitiveness of the Solheim Cup also help attract more attention to the women's game?
Without a doubt. The Solheim Cup gets more and more attention every two years, and I think performances like the last two Cups would help attract an even more international mix to Ladies golf.
Are the European's now firmly on top against the American's and if so how have they improved over the last few years?
We have defended the Cup, won for the first time on American soil, and set a new points record, so yes, European golf is on top! And I hope this is just the beginning. We have so many talented players coming through good college and amateur careers, so we will only grow stronger and stronger. The LET tour is also getting stronger every year and is preparing talented Europeans for the LPGA Tour in a great way. 11 out of 12 players in our team are playing the LPGA tour, which shows how much quality we already have on our team.
Solheim Cup winner Beatriz Recari was speaking ahead of the 2013 Allianz Golf Camp. A new mentoring scheme giving young golfers around the world the chance to take part in a special 5-day golf camp at St Andrews Links and celebrate the power of mentoring in golf. The camp will take place at the 'Home of Golf' in Scotland from September 14-18, 2013.