Richie ready for more
Ahead of his defence of the Omega European Masters in Switzerland, we talk to Scotland's Richie Ramsay.
Last Updated: 04/09/13 8:10pm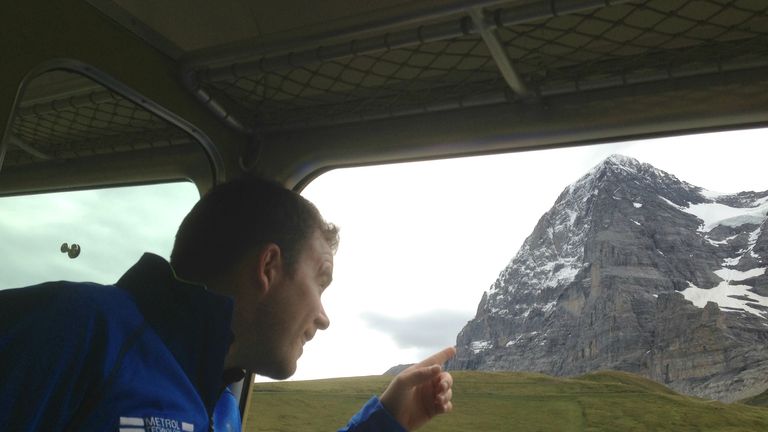 It's 0840 in the morning and I'm sat on a train with Richie Ramsay looking at the North face of the Eiger.
So how exactly did this come about?
Richie is back in Switzerland to defend his Omega European Masters title he won 12 months ago and is heading high into the Swiss Alps to do a photoshoot with his clothing manufacturer Under Armour.
Eventually the train pulls in at Jungfraujoch - "Top of Europe" - at 11,332 feet above sea level.
Thankfully, by this stage, I've already recorded my interview with the 30-year-old Scot as my fear of heights is kicking in and I'm becoming incoherent.
Richie, though, is in his element - totally at ease and king of the hill... just as he was in Switzerland 12 months ago.
Sky Sports: Hi Richie. When you went into this tournament last year, you were coming off a sixth place at Gleneagles. You've just had a 10th there on your last start so similar feelings?
Richie Ramsay: Yes, I've had a few injury worries which stopped me doing the things I wanted to do in terms of practice but the confidence is there. Obviously coming back here you're going to get the good memories so it's a case of feeding off that. I know the course well, I know how the ball flies as it's a difficult place to judge so I just want to go out and play, free flow and not have too many worries.
Sky Sports: It was your fourth appearance at Crans when you won, so did you feel you needed the benefit of those previous runs here as it's a pretty unique and quirky course?
RR: It's a tough place because in the morning it can be really cold and the ball doesn't fly anywhere but the minute the sun rises and it heats up the ball flies forever so it's constantly changing and you've got to alter your gameplan accordingly. It's a unique course. Obviously Seve re-designed it, the greens are really tricky and they tend to run away from you so you need to be really accurate into the greens and if you do miss it you need a pretty sharp short game to get up and down. It's a place where the more you play the more you learn, a bit like Augusta.
Sky Sports: The last time when you defended (after winning the 2010 South African Open) it was on a different course. Did that feel like a genuine title defence?
RR: It did but, you're right, you don't have the same memories as it was a completely different place - Durban as opposed to Pearl Valley. But here, it's quite cool, they've got the past champions on the main street, set in stone. They wanted me to sign a huge piece of paper so they could put my signature on the stone. The pictures of the defending champions are up and down the high street so little things like that are neat to see. It's a great place to go and visit and the golf course is so close to the town that everyone comes along and has a look what's happening.
Sky Sports: You topped the Greens In Regulation stats when you won last year while you were ranked first in Driving Accuracy when 34th in 2012. So do you feel this course plays to your strengths?
RR: It really does. You could argue that hitting greens and driving is the strength of my game. When they're on, I always feel if I chip and putt well I have a chance. Actually, my short game's got better, especially over the last two or three months. Probably being injured has helped me in a way and been a blessing in disguise because I can't hit too many balls so I've had to chip and putt a lot.
Sky Sports: You're currently just outside the magic top 60 in the Race To Dubai (64th) but are you confident that you can turn it around?
RR: When I was younger I think I'd be worried about it, thinking I need to get in the top 60, but I'm more than capable of doing that and it's just a case of staying fit and going out there and producing the goods. It's been frustrating this year with injuries, having to pull out of tournaments and not being 100% fit, especially through The Open and the Scottish Open, the two big events of the year. But now I feel like I'm turning the corner. Last time out at Gleneagles I played lovely, and could easily have made the play-off. It's a fine line between in a play-off and maybe winning and 10th spot. I just need to close that gap a fraction and I'll have a chance of posting another win.
Sky Sports: Last week Peter Uihlein nearly won the Welsh Open and, like you, he's a former US Amateur champion (Richie won it in 2006). I saw you tweeted the Golf Channel the other day to remind them that Matt Fitzpatrick wasn't actually the first British winner in over 100 years as you'd done it just seven years ago! Had they forgotten about you?!
RR: (Laughing) I got a lot of people texting me or sending me messages saying 'what's going on?', especially Scottish people! So I thought I'd just send a tongue-in-cheek tweet just to remind them to check the trophy and see that I did win it in '06. I think if you look at the record of past US Amateur champions it stands up against anybody. It's the best indicator that you're probably going to do well in the future. If you look at the amount of guys that have won tour titles compared to maybe a British Amateur then there's a big difference. I think it's just the stature of the tournament and it's getting bigger every year. When Edoardo (Molinari in 2005) and myself won there was a lot more international players when previously it used to be more American guys but now it's a really, really strong field. If you win there's a huge reward with entry into The Masters and the US Open and just having your name on the trophy alongside Nicklaus, Woods and Jones and all those guys is pretty special. The trophy is at Royal Aberdeen and it's just a great thing to have.
Sky Sports: Did you speak to Matt Fitzpatrick at all during or after his superb win there last month?
RR: I don't actually have his number but I sent him some messages on Twitter just saying 'good luck' and 'well done'. It's almost a life changer, it really puts you in the spotlight and gets you into big events so it's great for Matt.
Sky Sports: You've just turned 30 so having watched 30-somethings Adam Scott and Justin Rose win majors in 2013 do you think your really big years are just in front of you?
RR: Yes, I think guys who are 32, 33 are starting to hit their prime and Jason Dufner was also 36 I think. So mid 30s is when you have your optimum chance of winning a big one and that's something that I'm working towards. It's been frustrating with injuries of late but I've taken steps to get back on track which is working and it's just a case of putting in the hours and making sure the work-rate is as high as it was when I was 19, 20. I'm a big believer in hard work will give you the opportunities to do well, whether playing golf, football or doing a 9-5 job. If you work hard, success will come.
Sky Sports: You recently got married to an American (Angela Hudinski) so would you ever consider playing the PGA Tour as it's obviously quite tough given that you have bases in both the US (Atlanta) and Scotland?
RR: It's something that I would love to do. The product they have is fantastic. Every event you go to is really well received over there and you're playing against the best players in the world. At the moment Europe's my home but going forward that's something that I'll strive to do. There's a big reward to be had if you get there in terms of world ranking points and, for myself, it would make the travelling so much easier. A two-hour flight each week is obviously a big difference when compared to a 10-hour flight across the Atlantic.
Sky Sports: How do you relax away from the course?
RR: I like mountain biking. I'm a big fan of that. I'm also a fan of swimming and going to the gym. On a night, after the hard work is done, I like a glass of wine and just chilling. We went on our honeymoon to Cape Town, to the wine region, and that opened my eyes a bit as before the extent of my knowledge was basically just red and white! When you travel a lot, it's just the simple things you like such as staying in with Angela and watching a movie.
Sky Sports: Do you like to watch sport on TV?
RR: I do, I love to watch anything where the British guys are doing well. I love to watch the cycling and the tennis. I've really enjoyed watching Andy Murray as when they do well it inspires you.
Sky Sports: And how about golf on TV?
RR: Yes, it can be frustrating but it fuels the fire a bit. You see them in action and you think I need to play against these guys next week so I need to get sharp to beat them.
Sky Sports: Looking at the majors, is there one you feel suits your game?
RR: The US Open would certainly suit me. But The Open does too in certain places. I thought this year's Open at Muirfield would suit me down to the ground but although I played well in patches I didn't finish my rounds off. But if I can get my short game sharp I fancy myself to do well as I can match most guys off the tee as I keep the ball in play.
Sky Sports: Have you ever played Hoylake (the 2014 Open venue)?
RR: I played there in a British universities event. Good course and it can obviously get firm and fast so you've got to be smart off the tee. I wouldn't say it's my favourite Open course but all The Open courses are good and they demand good shot-making and that's where my game's at. I'm able to work the ball both ways and you've got to keep it on the short stuff because if you hit the rough or pot bunkers on a links golf you just can't score. My favourite Open venue would probably be Turnberry or Birkdald from a golf course point of view but for pure atmosphere it has to be St Andrews.
Sky Sports: You're from Aberdeen so do you go to Pittodrie much to see the football team?
RR: I live in Edinburgh when I'm back in the UK, so I don't get to go as much as I would like. I keep an eye on how they're getting on. I wouldn't say I'm an adopted American but spending a lot of time in the States you do spend a bit more time watching some of the American sports.
Sky Sports: Which ones do you like?
RR: I'm quite into the American football. I appreciate the tactical side of it a bit more now that I've watched it. There's a couple of NFL guys who play at my local club in Atlanta.You occasionally see Atlanta Falcons quarter-back Matt Ryan there and Kordell Stewart, who used to play for the Pittsburgh Steelers, is also about sometimes so it's good to play with them and pick their brains. It's good to ask them about pressure situations and it relates back to the same fundamentals that we have in golf. You practise so when it comes to a pressure situation you react to it. You're not thinking about technique too much, it's almost like your body takes over. You see something you react to it. You see the flag, get the yardage, pick club and hit it. It's about keeping it simple and not getting over complicated.
Sky Sports: A couple of quick questions to end with. Best friend on Tour?
RR: Probably Maybster, Gareth Maybin. Just a great guy, down to earth and he's got the same mindset that I have about working hard. If he won a major he'd be the same person.
Sky Sports: Your favourite music?
RR: I like a lot of the dance stuff to get me going if I'm in the gym such as Swedish House Mafia. I also like Calvin Harris, Ellie Goulding, Kings of Leon, early Oasis, Snow Patrol. I also like a band called Admiral Fallow. I saw them on at Glastonbury, just good, chilled out guitar music that's good to sing along to in the car!
Sky Sports: Favourite movie?
RR: I've got to go old-skool. Either Braveheart of Top Gun. Iconic movies!