Walker Cup: United States strolled to victory, says Peter McEvoy
GB & Ireland can have no complaints after being outplayed at the Walker Cup, says Pete McEvoy.
Last Updated: 10/09/13 9:06am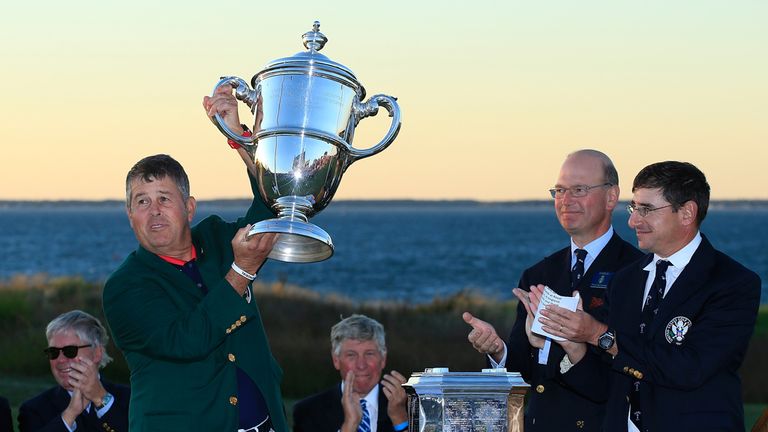 The US took an 8-4 lead going into the final day on Long Island and cruised to a 17-9 victory after sharing the four morning foursomes matches and winning seven of the 10 singles matches.
Matt Fitzpatrick, the top-ranked amateur in the World and US Amateur champion did his bit by beating Michael Weaver 3&2 but Callum Shinkwin and Kevin Phelan were his only team-mates to win their matches as the United States regained the trophy they lost at Royal Aberdeen in Scotland in 2011.
"Team America played really well because in actual fact it was a course and weather conditions that should have suited us," said McEvoy, who made five Walker Cup appearances. "It's disappointing.
"We had a strong team and in Matt Fitzpatrick we did have the US Amateur Champion for the first time in 100 years - and the Americans had lost six team competitions in a row going into it - so Great Britain and Ireland really should have had every chance.
"But I suppose when you have an enormous resource like the United States do, they are bound to bounce back eventually. They are deserved winners and played beautifully."
Exceptional
The Walker Cup - amateur golf's equivalent of the Ryder Cup - was first played in 1922 since when it has helped to launch the professional careers of many players.
Of the current GB & Ireland crop, Kevin Phelan is due to play in this week's KLM Open, but McEvoy warned that none of the players will find the transition easy.
"There are a few of the GB and Ireland lads who are off to college and will go through their four years - I'd expect Gavin Moynihan and Fitzpatrick to do that," he said.
"The ones who have finished college, like Phelan, or are not at college have reached the pinnacle of the amateur game. If they are going to be pros, they may as well go and do it now.
"That doesn't mean that it's going to be easy - there's not much room in the pro game for youngsters coming through. You've got to be exceptional."
False
Despite playing for a United States side that lost 14-12 in 2011, Harris English, Jordan Spieth and Patrick Cantlay have gone on to taste victory in the professional game.
However, McEvoy stressed that such success is often more the exception than the rule.
"It gives everybody a false term of reference," he said. "Four of the last American team that lost have won either on the PGA or European Tour. Tom Lewis was on the European team and he's won as well.
"So five of 20 people have gone on and won at major professional level. Everybody looks at that and thinks 'I'm a Walker Cup player so I'll do just as well as that' but that was a pretty exceptional group."