1973 Ryder Cup
We look back to the 1973 Ryder Cup - the only other time the tournament has been held in Scotland.
Last Updated: 24/09/13 12:13pm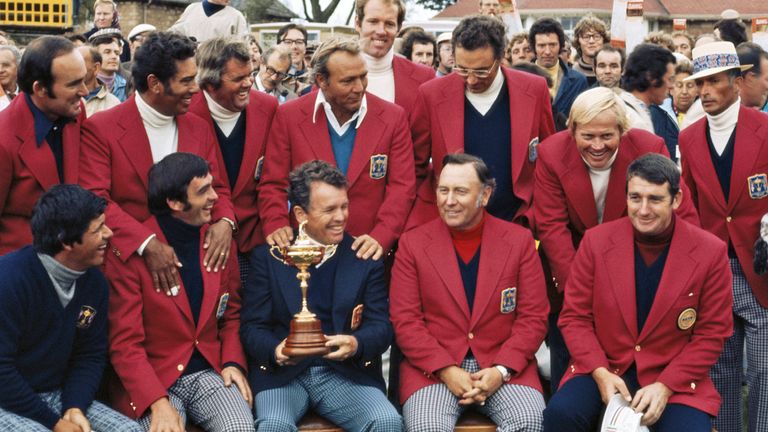 Scotland - the 'home of golf' - has staged the Open Championship no less than 93 times (St Andrews 28, Prestwick 24, Muirfield 16, Royal Troon 8, Carnoustie 7, Musselburgh 6, Turnberry 4).
So, ahead of the 2014 event at Gleneagles, it might come as a surprise that Scotland has been host to the Ryder Cup on just one previous occasion - at Muirfield (this year's Open venue) in 1973.
American captain Jack Burke had a score to settle when his team arrived on Scottish soil in September of that year.
Sixteen years earlier, at Lindrick in Yorkshire, the 1956 Masters winner had been the only US skipper to suffer defeat on British soil since the Second World War when, as playing captain, his men lost 7½-4½.
Boasting a team which included Arnold Palmer, Jack Nicklaus and Lee Trevino, the United States were warm favourites to take victory at the famous East Lothian links but after day one Burke looked set to be on the end of a second embarrassment.
Boosted by two wins from Brian Barnes and future Ryder Cup skipper Bernard Gallacher - the only two Scots on the team - Bernard Hunt's side had roared into a 5½-2½ lead.
Burke admitted that his team had been caught cold, although ultimately it proved the kick up the backside they needed.
"I think the thing that welded this team together was that we got beat so bad on the first day," he recalled later.
"They were fragmented until then, and that pulled them together," added Burke, who admitted that US pros weren't used to playing as a team - an accusation often used in recent times when dissecting US defeats.
American fightback
The American fightback began on day two when three wins and a half in the afternoon fourballs levelled the match at 8-8 to set up what the home Scottish fans hoped would be a dramatic but ultimately triumphant final day.
In 1973, two rounds of eight-match singles were played on the final day, then a Saturday.
The writing was on the wall in the morning when Great Britain and Ireland managed just a single victory - Tony Jacklin's 3&1 win over then Masters champion Tommy Aaron - although unheralded Maurice Bembridge kept spirits high after a tenacious half point against the mighty Nicklaus.
But despite the cold weather and leaden grey skies which seemed in favour of the hosts, the Americans kicked clear in the afternoon.
Just as they had done in the morning singles, they won the session 5½-2½ and that ensured a decisive victory margin of six points.
Speaking after the 19-13 win, the delighted, and partly relieved, Burke said of his team: "Their power is just unbelievable. When you face them for any length of time their power is going to get you.
"And I think their reputations count, too. This afternoon I went with my most experienced players. That counts for a lot in Ryder Cup play."
As for Great Britain and Ireland, they would have to wait another 12 years and six more matches until they took victory again.
That was when Europeans had been allowed on board although, ironically, the man who holed the winning putt at The Belfry was a Scotsman - Sam Torrance.