Ryder Cup 2014: Sky Sports has all the build-up with one year to go until the Ryder Cup
Sky Sports has all the build-up as golf marks a year to go until the 2014 Ryder Cup at Gleneagles.
Last Updated: 25/09/13 9:13am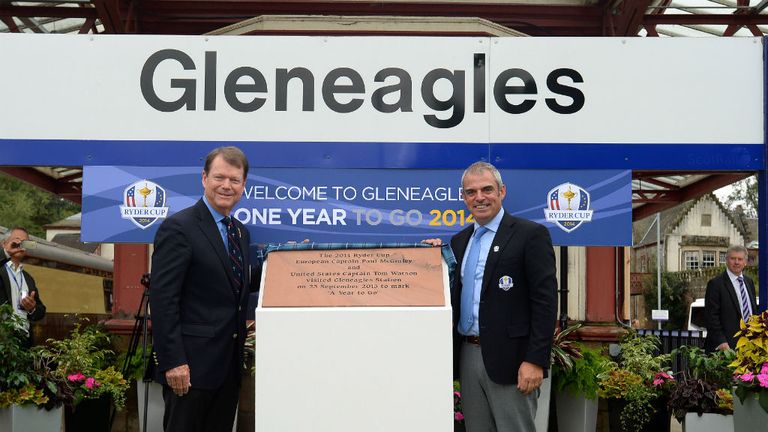 Paul McGinley and Tom Watson appeared at the PGA Centenary Course for the very start of what will be a whirlwind 12 months, and in no time at all the venue will be packed out with golfing fans from around the world.
We've heard from both McGinley and Watson as they made their way to Gleneagles on the 'Ryder Cup Express' from Edinburgh, and here Sky Sports brings you the very best of the festivities.
Sky Sports has got a look ahead at next year and who might be in both teams playing in the Ryder Cup, plus a look back at an unforgettable Miracle of Medinah which unbelievably happened 12 months ago.
A look ahead
It's still 12 months to go, but let's look ahead at next year at Gleneagles, and who we will see strolling the fairways in the two Ryder Cup teams.
Woods, Mickelson, Westwood and McIlroy you'd expect to be there, but what about the young guns who could make an appearance - and what about the captain's picks? Both skippers have three choices.
Gleneagles
The PGA Centenary Course - a 7,290 yard par 73 (it has five par fives) - will host next year's showdown between the Europe and the US. It was designed by Jack Nicklaus and opened in 1993.
In July, world renowned golf photographer Dave Cannon visited the Perthshire course to do a special shoot of all 18 holes. Check out this gallery.
Big year for McGinley
Paul McGinley has lived and breathed the Ryder Cup for years now, and he could not be more excited about leading the European team next year at Gleneagles.
It will not take the likeable Irishman much to get up for the Ryder Cup, he may have a problem keeping calm throughout the next year, as he talked to Sky Sports from the fairways of Gleneagles about his plans for the next 12 months.
Miracle of Medinah
Who could forget that final day comeback by the Europeans? Well the Americans would like to but there's little chance of that - and the events of Medinah will be played plenty of times in the build-up.
Just in case you do need your memory jogging here's a reminder with our Sky Sports video of that amazing Ryder Cup when Jose Maria Olazabal's men summoned up the spirit of Seve.
One year to go
Sky Sports golf pundit Rob Lee joined Sky Sports News to talk about the next 12 months on the road to Gleneagles.
What players are likely to be in the two teams that will be heading to Scotland, and who could miss out, plus how will the two captains make a difference and what will be the major talking points in the build-up to the next Ryder Cup.
USA have a point to prove
US Ryder Cup skipper Tom Watson is a hero in Scotland, but he fully expects the crowds to be firmly against him and his team next year at Gleneagles.
As he made his way from Edinburgh on the Ryder Cup Express train the returning skipper told us his players will be desperate to grab revenge for the events of Medinah in 2012.
Watson the difference?
Could Tom Watson be the difference for the USA this time around? Europe have won four out of the last five but Watson was the last American skipper to win on European soil.
PGA of America boss Ted Bishop says that with so many close matches in recent years, Watson could just provide that extra spark to win them an extra point that would make all the difference.