Muirfield memories
Maurice Bembridge recalls the 1973 Ryder Cup and his battles with the legendary Jack Nicklaus.
Last Updated: 10/03/14 11:34am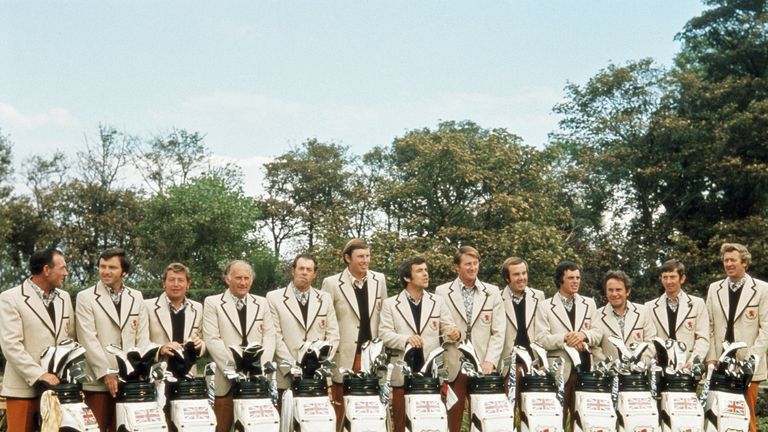 When the Americans came over to defend the Ryder Cup at Muirfield in 1973 - the first and only time the tournament had been held in Scotland - Jack Nicklaus was already a 14-time major winner.
'The Golden Bear' had only finished outside the top six once in the previous 13 majors, winning four of them, so could anyone stand up to the mighty Nicklaus?
Step forward 5ft 7in Maurice Bembridge. The gutsy Englishman had shown his mettle in two previous Ryder Cups and, here at Muirfield, he would take on Nicklaus no less than four times.
Their battles were one of the stories of the 1973 Ryder Cup (won 19-13 by the Americans) and Maurice, now based in Switzerland, still remembers them fondly.
Sky Sports: A year before the 1973 Ryder Cup, Lee Trevino had produced some miracle shots to beat Tony Jacklin in The Open on that same Muirfield layout. Did that give Tony and, your team as a whole, some extra motivation?
Maurice Bembridge: I can't speak for Tony but I don't think so. A year before is history so you have to get on with what's in front of you.
Sky Sports: The US line-up boasted Jack Nicklaus, Arnold Palmer, Billy Casper and newly-crowned Open champion Tom Weiskopf. They'd won 28 majors between them so there was a feeling that this was probably the strongest American side to have visited British shores. Did you fear them?
MB: Well, you know, it's 12 guys against 12 other guys. When you're playing matchplay over 18 holes the best players can sometimes not play up to their normal level and you can sometimes play better than you expect so anything can happen. And it does. Somebody can chip in etc. It wasn't a matter of fear, it was more a challenge. Okay, they were very strong and the likelihood of me beating Arnold Palmer or Jack Nicklaus at that stage was not on but, as I say, in 18 holes anything can happen.
Sky Sports: The Americans, rather casually, flew in from Washington DC just two days before the opening foursomes. Nicklaus actually arrived alone after staying in the States to watch an American Football game. Do you think you caught them cold when taking that big day one lead?
MB: I think it was more the format. Traditionally, the Americans are not too keen on foursomes or alternate shot as they call it. They're very much individual, independent guys and sharing one ball between them is not their favourite way to play. I think that was a big factor on that opening morning.
Sky Sports: Let's talk about your four encounters with the great Jack Nicklaus. First up, you and Eddie Polland took on the Golden Bear and Arnold Palmer in the morning foursomes. This one didn't go well as you were soundly beaten 6&5. What are your memories of that match?
MB: Did we lose by as many as that?! EP (Eddie Polland) was a little bit wild off the tee. I remember him having to hit a one-iron because he used to be very wild. He it off the first tee but found the bunker and we were struggling from the word go. I very rarely hit a shot off the fairway. And Muirfield being Muirfield, with the rough up to waist high, hacking out of the rough and then always struggling to make a par, if you were lucky, was not the best idea against Palmer and Nicklaus.
Sky Sports: In the afternoon you gained revenge when, with new partner Brian Huggett, you beat the two legends, Nicklaus and Palmer, 3&1. So what changed?
MB: Huggy is an extremely competitive guy. He had that determination about him and we actually gelled pretty good. We got on well together and consequently we played well.
Sky Sports: GB & Ireland captain Bernard Hunt, understandably, kept you and Brian together for the day two foursomes and you clicked again, beating Chi Chi Rodriguez and Lou Graham by a convincing margin of 5&4. What do you recall about that match?
MB: We were consistent... down the middle, on the green and then just tried to hole a putt or two. Huggy was a very good putter on his day and that was the game where I chipped in to finish the match off. At the par three, I hit it on the green and Huggy holed it for a two and on the next hole I was just off the green on the left and I chipped in for a three. As can happen, a few lucky shots here and there and there wasn't much they could do about it.
Sky Sports: In the p.m. fourballs you and Brian took on Lee Trevino and Homero Blancas and gained a battling half. Was the infamous motormouth Trevino in your ear all afternoon?!
MB: That's the way Trevino plays. He's talking while he's hitting and things like that. He's very good to play if you just switch him out and not listen to what he's doing all the time. You just get on with what you're doing. There were some funny moments in that game and they actually played very well. They were two Mexican-Americans playing together and were real good buddies. But I always found Trevino very good to play with.
Sky Sports: That left the match all-square at 8-8 going into the two rounds of singles. And so to your two famous duels with Jack Nicklaus. In the morning you halved your match. Tell us about the ebb and flow of that contest. Did you have a putt to win?
MB: I recall that there never more than one hole in it. I was one-up, we were all-square, he was one-up. I remember walking down the last hole when we were all-square and both on the green in two and as we were walking to the green I heard the tannoy system announce that we had to do battle again in the afternoon.
Sky Sports: What were your thoughts when you heard that - "oh, great" or "oh, no"?
MB: I just thought it was another opportunity to beat him. Brian Barnes beat him twice two years before so it was a challenge for me to match that.
Sky Sports: So tell us about that second singles match with Jack.
MB: Again, it was one-up, one-down, all square throughout the match. Then I holed a good putt on 15 for a birdie to go one-up and then 16 we were both on the green and he holed a huge putt right across the green for a two and we were all-square. He had an almighty lash at the 17th and knocked it on in two but I couldn't reach. He went one-up and at the last I found the right bunker and two-putted for a bogey five and he two-putted for a four so he beat me 2up. But it was a great game.
Sky Sports: Is it true that Nicklaus said afterwards: "Hey, you son of a bitch. You really can play this game."
MB: He did (laughing). My caddie was chuffed about that. Obviously I was quite pleased to go 36 holes with him and only lose on the last green.
Sky Sports: Have you stayed friends with Jack down the years?
MB: Yes. I don't see him much. The last time I saw him was up at Turnberry when he came over for the Senior Open last year and we had a nice chat. I wouldn't say we're in touch all the time but I feel that if I needed to ask him something he wouldn't be averse to talking to me.
Sky Sports: Just over six months later, you shot a closing 64 in the 1974 Masters - at the time, a course record at Augusta National which stood for 12 years! Did you ever gloat to Jack about that?!
MB: Haha, no. He's not that type of guy and I'm not that type of guy where you try and get one up on each other. Obviously he did so many great things that he could have gloated about anything and everything all of the time but he wasn't that type.
Sky Sports: You played in four Ryder Cups (1969, 1971, 1973 and 1975). How does Muirfield rank in that list?
MB: Very highly as there I played all six games. It was a good job I was a youngster. If I played two rounds these days I'd have to be in bed at 8 o'clock! It was a tough week - I played Nicklaus four times out of six - but fortunately I played well that week and, relatively speaking, I was very satisfied.
Sky Sports: Are you still a big fan of the Ryder Cup. Do you watch it?
MB: Yes, I went to Celtic Manor (2010) when you needed a pair of wellington boots and a snorkel. I also went to Valhalla in 2008 and was very impressed about how they play these days. They hit it a country mile. But it was much more like a football match than it used to be when we were playing. When we played the British crowds were quite vociferous but the American crowds used to be very quiet by comparison.
Sky Sports: Will Paul McGinley make a good captain at Gleneagles next year?
MB: I really don't know him as he's in his 40s and I'm nearly 70 so we never played together or anything. But I have the impression the players really like him which was the case with Tony Jacklin and Bernard Gallacher. They were very popular amongst the players and so is Paul I think.
Sky Sports: And Tom Watson. Do you think he'll be a strong captain?
MB: Tom Watson is a very level-headed guy. He won't make any panic decisions. He knows what the expectations are and what goes on. He's played a lot of great golf over here and likes to play golf over here and he'll be able to motivate his players.
Sky Sports: Thanks Maurice