Lloyd looking forward
We catch up with rising English star Lloyd Kennedy as he battles to gain a Euro Tour card for 2014.
By John Rhodes
Last Updated: 27/09/13 9:58am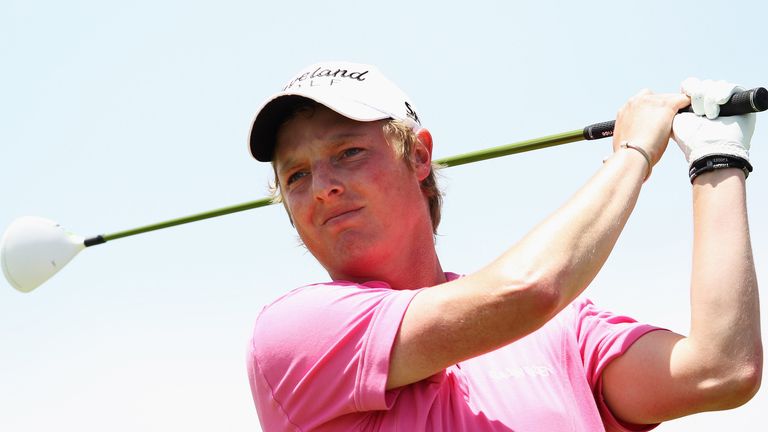 Sky Sports: You're currently 32nd on the Challenge Tour Order Of Merit for the 2013 season and in good position to make the top 45 who earn a place at the Dubai Festival City Challenge Tour Grand Final. Looking at your results, 13 cuts made from 15 and 8 top 20s, it seems you've found a new level of consistency.
Lloyd Kennedy: I would say my golf has been very consistent this year. In previous years I have been a lot more streaky with my results but this year my long game has been very consistent week in week out.
Sky Sports: Do you feel a victory is just around the corner?
LK: I feel like I have put myself in a position to win a few times this year and wasted a few good chances, but if I can keep playing the way that I have been recently then I am sure the win will come - hopefully at the Grand Final!
Sky Sports: What is the best aspect of your game?
LK: I would say my driving. I am by no way the longest but I keep the ball in play a lot and the game is certainly a lot easier if you are playing from the fairways!
Sky Sports: What is life like travelling around on the Challenge Tour?
LK: Travelling is definitely not the favourite part of my job! Although the travelling is a lot easier now than it was during the first couple years on the Challenge Tour, I seem to spend a lot of my time waiting around in airports and it isn't always easy to be away from home so much of the time.
Sky Sports: You had your first season on the European Tour in 2012, but struggled somewhat. If you get the chance to return there next year do you think that season will hold you in good stead?
LK: My first year on Tour was very tough for me both financially and trying to find form on the golf course. It was a tough year to get a card also as I only managed to get 12 starts from finishing 16th at Tour School - with it being a Ryder Cup year a few of the smaller events were taken off the schedule. But I think the experience I gained from that year on Tour as well as my improved form will hold me in good stead for the future.
Sky Sports: What's in the bag?
LK: I am current using:
Driver - Taylor Made rocket balls 9 degree
3 wood -Taylor Made rocket balls 14.5 degree
Rescue - Adams 17 degree
Irons - Cleveland 588 TT
Wedges - 47 52 58 degree Cleveland RTG
Putter - Odyssey Virsa no 1
Sky Sports: Who is your best mate/roommate on the Challenge Tour?
LK: There are a great bunch of guys on the Challenge Tour but my normal room-mates are Lloyd Saltman, Jamie Moul, James Heath and Adam Gee.
Sky Sports: What would be your dream 4 ball?
LK: It would be Tiger Woods, Jack Nicklaus and Mila Kunis (not even that fussed about the first 2!)
Sky Sports: Favourite Golf Course?
LK: Either Les Bordes in France or the Gary Player course at Sun City in South Africa.
Sky Sports: Who is the best player you have played with on the Challenge Tour this year, and are there any other players skysports.com readers should keep an eye out for?
LK: There are so many good players on the Tour it's hard to pick out a single player but I have been very impressed with Brandon Stone when I have played with him this year. He is a young South African lad that has only just turned pro, but I think he has a big future in the game.
Sky Sports: Your goals for the rest of the 2013 season?
LK: Certainly to get a card for 2014 on the main European Tour - hopefully through the Challenge Tour. If I am to do that I need a really good week in either China, Oman or Dubai, but the fall-back option is always Q-school.
* Lloyd Kennedy was speaking to John Rhodes
* You can catch up with Lloyd on twitter at @Lloydkennedy4