Paul McGinley on plans for Gleneagles and busy past few months as Ryder Cup captain
Ryder Cup captain Paul McGinley talks about his busy reign so far and the challenges ahead.
Last Updated: 13/11/13 9:30am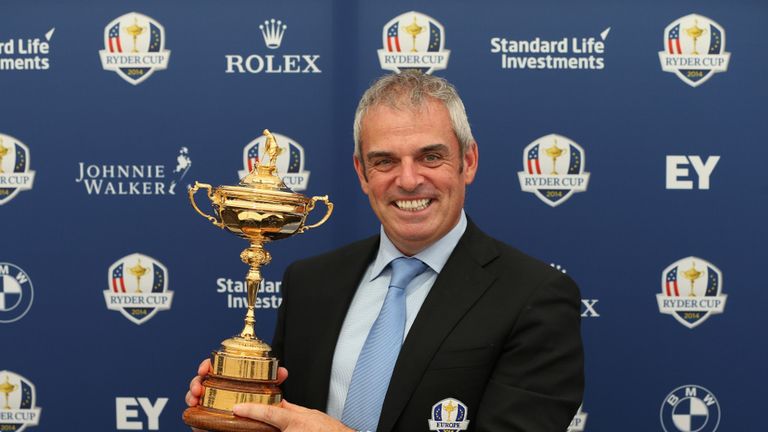 In the first of a series of monthly Q and A's with the skipper, we get his take on the Gleneagles course, monitoring the opposition the nuances of team competitions...
skysports.com: Paul, there are less than 12 months until the big event, but how have the past few months been for you as Ryder Cup captain?
Paul McGinley: It's been a whirlwind, incredibly busy past six months for me but I'm just as excited now as I was the day I was appointed Team Europe captain in January and I'm really looking forward to the challenges the next year will bring.
I've certainly learnt a lot already - and hopefully I'll learn a lot more!
So far, since being appointed, I've been busy doing things such as working on the uniforms we'll be wearing, choosing the team rooms and hotel rooms we'll use during the week and looking at the logistics.
I've also been doing a lot of work with the Ryder Cup partners and European Tour to promote the event, which I've really enjoyed.
skysports.com: A key aspect of the role is setting up the Gleneagles course to your advantage. What do you make of the 2014 host venue and how exactly do you go about tweaking it to suit your team?
McGinley: I've spent a lot of time thinking about the PGA Centenary Course at Gleneagles, which will host the tournament next year.
Every previous captain I've worked with has had a big say in how their courses have been set up and I'm going to be no different.
I've learned a lot over the years from captains about how to set up golf courses and the reasons why they make certain decisions, so I have a lot of experience in terms of being involved in so many Ryder Cups.
I've also experienced how Americans have set up their courses when they're the host nation, and that could play a part in my thinking for the 2014 course set up.
Fortunately, I've played every edition of the Johnnie Walker Championship over the past ten years now so I know Gleneagles very well and I've seen it mature. I've seen it improve over the years, too, with changes such as the new drainage system on the fairways come in and I've been learning and taking notes all the time.
The course set up is very much part of my role over the next 12 months, although the decisions will of course be dependent on how the team is formulated, who is looking like making the team and who doesn't.
Either way, I've no doubt Gleneagles will be a wonderful host venue.
skysports.com: This week GB & Ireland take on Continental Europe in the Seve Trophy while, across the Atlantic, the Presidents Cup pits USA against an international team. Is it important to see potential selections perform in team competitions such as these?
McGinley:There are plenty of bridges to cross before the 2014 Ryder Cup and one of the important milestones takes place this week, with the Seve Trophy at Golf de Saint-Nom-la-Bretèche in France.
I knew both the GB & Ireland and Continental Europe teams would be inexperienced so I put two captains in place, Sam Torrance and Jose Maria Olazabal, who I've certainly learnt a lot from.
Hopefully the players will be able to pick up some useful advice from them and show what they can do in a team competition situation.
I'm also going to have a close eye on the Presidents Cup because the Americans have used the event very wisely in the past in terms of preparing partnerships for Ryder Cups. For instance, I know Webb Simpson and Bubba Watson and Keegan Bradley and Phil Mickelson are two pairings which were formulated from their success in the event.
skysports.com: Will you be spending a lot of time in America monitoring performances of European and American players on the PGA Tour?
McGinley: I'll certainly be monitoring the PGA Tour events closely over the next year; I'm covering five of the tournaments for Sky Sports and I also hope to play one or two myself.
But I'm also keeping a close eye on the European Tour because I want the guys playing the European Tour to be very motivated and very aware that they're very much in my thoughts.
I know how good the standard is in the European Tour and you just have to look at the spectacular scoring last week at the Alfred Dunhill Links Championship to see there's a lot of talent on this side of the Atlantic, too.
skysports.com: You've said how busy you've been over the past few months - how's the captaincy affecting your own game? And is it something you're going to remain focused on?
McGinley: Obviously my time in terms of practice at the moment is not what it was, that's for sure, but I'm taking my playing schedule very seriously over the next 12 months because I feel it's part of my duty to be competitive on tour.
For example, last week I played well, finished 20th, but also had the opportunity to play with the Alfred Dunhill Links Championship winner David Howell, David Lynn and Joost Luiten, three guys who could potentially be in the team.
The big advantage of being competitive on tour is I can play a full 18 holes with these guys and observe them, as well as concentrate on my own game.
It won't be easy to maintain a high level with everything else going on - but, like all the other challenges coming up in the next 12 months, I'm ready to take it on!