Manassero: My life
We talk to Italian ace Matteo Manassero about The Race to Dubai, majors, F1 and Abu Dhabi.
Last Updated: 31/10/13 3:27pm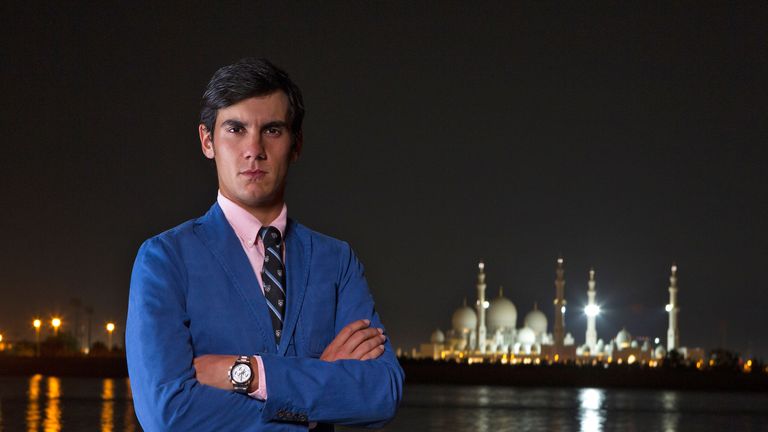 Sky Sports: Matteo, you're currently 7th in the Race to Dubai Rankings. Do you think you still have a realistic chance of walking away as no 1 come the end of the month?
MM: A realistic chance, I don't think so. Obviously I'm quite far from the leader. But there are three very big events coming up so you never know what's going to happen! Stenson is leading and he's playing really well so he's going to be really hard to catch. I basically need three great weeks - mathematically I could still do it, so why not!
Sky Sports: You've had a quiet few months, what shape is your game currently in and what aspects have you been working on?
MM: I've been working on my driving lately because it hasn't been that good. My game is back in shape and I'm playing well again. I've had three not so good months, but now I'm going into this last month of tournaments with a good game. We'll see if my head is going to support it, but I'm playing well again!
Sky Sports: You were part of the winning European Team at the Seve Trophy - what was it like to be captained by Jose Maria and team up with Miguel Angel Jimenez?
MM: It was a great experience. Obviously Jose Maria is a fantastic man and a great captain. He's not a man of many words, but when he uses them, he uses them well, so he was, for us, a great captain. I personally was very happy to be captained by him because of all his experience and background. With Miguel, he's a man of great, great experience and he's played at this kind of event so many times. When the captain gave me the chance to actually be paired with him in foursomes I was really happy because the format is so challenging. It is comforting and confidence-building when you partner up with a guy who plays so well and never misses a shot. I can tell you I had a lot of fun playing alongside Miguel and learnt a lot. It's a great experience to play with a man who has been playing longer than I've been alive. He's been playing the Tour for 25 years, or maybe more, so of course it was fantastic!
Sky Sports: Having experienced the team environment in Paris, I'm sure that whets your appetite even more to be part of Paul McGinley's European team at Gleneagles next year.
MM: Yes, it definitely makes me want to be at Gleneagles. McGinley was supporting all 20 players at the Seve Trophy, encouraging us to make a big effort to try and qualify for the Ryder Cup team. He wants everyone to do well, so I'm personally really keen to play on his Ryder Cup team. Everybody knows that the European Tour is so competitive and there are so many guys who can qualify - so let's see if it's going to happen! I would love to. I'll put every effort in to try to do it that's for sure.
Sky Sports: You played in all four majors this year - can you tell us how these iconic events differ from normal tour events?
MM: The conditions are at the highest possible level so we play on great courses in great conditions, but more than anything everyone is under a lot more pressure to perform during those four weeks! Everybody is there Sunday night and everyone prepares to the maximum level they can for the majors. I didn't contend at any majors this year so I don't know how it feels to be in the hunt on Sunday, but I guess when you come down the final stretch at the top of the leaderboard with a fair chance, that's when you feel that a major is completely different. It just changes a career - it puts a mark on your career if you win a major...or if you don't. That's where everything changes. In general we all try to take majors as a normal event so we don't put too much pressure on ourselves, but we care a lot about it, so you can't be just normal!
Sky Sports: Which majors do you see yourself having the best chance of winning?
MM: I think I have the most chance in the US Open and The Open Championship because that's where accuracy is most rewarded. At Augusta you have to hit the ball a long way, usually, because the course doesn't often play firm - only the greens play firm. The PGA Championship depends on the venue - it might suit me, it might not. This year wasn't a great course for me - it's usually a pretty long course and that's not the best for my game. The US Open - sometimes it's long, sometimes it isn't, but it's always really tight - in general long players struggle in those conditions. The Open Championship is probably the one I like most to play because I like links golf. It suits my game better - I feel like if I had a really good week there aren't many guys who could play a links course better. Not many of the American guys have much experience on links courses either - they can find themselves out of place sometimes. But I'd take any of the four! It doesn't matter which!
Sky Sports: Talking of big events, you're obviously going to be playing at the Abu Dhabi HSBC Golf Championship in January. As a 'Golf in Abu Dhabi' Ambassador can you tell us what makes Abu Dhabi so special and a great holiday destination for golfers?
MM: Golf-wise it's a very special place - it's not a huge city, but you've got many different courses. The three main championship courses are all so different - you've got the magnificent Yas Links which plays like the names suggests. It doesn't play as firm as say a Scottish links, but the design coupled with the spectacular surroundings makes it a truly unique golfing experience. Then you've got the parkland feel of the Championship course and the ocean-front Saadiyat Beach. The main thing is they're all so different - each design is distinct. You can have a whole week of golf without getting bored once! On top of that, the Abu Dhabi welcome is always great and the hotels are beautiful no matter which one you go to - that's enough for any golfer!
Sky Sports: What makes the Abu Dhabi HSBC Golf Championship so special for you?
MM: The Abu Dhabi HSBC Golf Championship has grown so much. I played for the first time in 2009 and it's improved year-on-year ever since. The National course at Abu Dhabi Golf Club is always in great shape, as it was even in 2009, but the crowds, the grand-stands, the set-up of the whole club and course - it's all changed a lot. The Championship has become one of the best and most welcoming events we play all year - it shows when you see the field that plays every year - that's the best advert you can have! When you see the great players who've played over the years - that says it all.
Sky Sports: The 2013 Formula 1 Etihad Airways Abu Dhabi Grand Prix takes places this weekend. You were there last year so how was the experience?
MM: It was just awesome. I have always been very interested in Formula One and the opportunity to get up close with the cars and the drivers whom I have admired so much over the years was too much to pass. I enjoyed the race, but I also greatly enjoyed Ferrari World. And that is the thing about Abu Dhabi. There is something for everyone over here. You have some great golf courses, but then you also have cultural activities like the museums and other sporting activities.
Sky Sports: Have you always been a big Formula One fan?
Yeah, I always watch it. My dad is really into the sport. I started watching the races along with him and that was the time when Michael Schumacher was dominating and winning everything. It's even more exciting now with so many young guys like Sebastian Vettel and Lewis Hamilton, but if you ask me, my favourite is Fernando Alonso. I like his personality and I love the way he battles.
Sky Sports: We all know that the daily grind of travelling from tournament to tournament every week can take its toll so how do you like to unwind when you are not on the golf course?
MM: I relax! When I relax, I really relax. We are under a lot of pressure, and we get very tired - more than stress it's tiredness. We play a lot, we practise a lot, we work out a lot - so we need to take time off. When I want to do something active, it's all about sport - I love sport. I play football with my friends, but unfortunately I don't have many chances to do that! I support AC Milano although they're not doing so great at the moment though!
Sky Sports: You obviously travel a lot on planes - are you a movie watcher, book reader, do you listen to music or do you simply catch up on sleep?
MM: I'm a sleeper and a movie watcher. I've got long flights and I can sleep for a long time!
Sky Sports: As an Italian we're sure you are a big fan of pasta, but if you had to choose one other national cuisine other than your own what would it be?
MM: I love Japanese, and of course Italian. But only Italian in Italy!
Sky Sports: Who are you regular practice partners and who would you consider your best friend on tour?
MM: My regular practice partners on the tour are Francesco Molinari, Lorenzo Gagli, Alex Levy, the French player, and Emiliano Grillo - they are the four guys I play the most with. They're my close friends - especially Francesco and Lorenzo. But actually all the Italian players, depending on the times, we always play together if we can.
Sky Sports: You've been on a big fitness drive this year. Has this had any impact on your game and how much time to do spend in the gym when you are on tour?
MM: It's had a bigger impact on my physique rather than my golf! There's been an improvement for sure - I'm moving faster and I'm hitting the ball a bit longer, but I need to complete this long term to really see the changes in my golf. I feel better in myself - I've worked out a lot and I've seen the results and that's the main thing for me. It's not really about playing better or hitting it longer, it's about becoming a better athlete. During tournaments I spend two days a week in the gym which is Monday and Tuesday, or Tuesday and Wednesday. When I'm at home I spend three or four days in the gym and during the off-season I go every day - sometimes twice a day. Those are the four weeks when I work out a lot and don't play much golf. The two things need to be handled really well - it's not easy to work out and then play golf or vice versa.
* Matteo is an official Ambassador for Golf in Abu Dhabi - For further information on available golf holidays and 2014 Abu Dhabi HSBC Championship 'Stay & Play' packages visit www.golfinabudhabi.com
* The 2014 Abu Dhabi HSBC Championship - live on Sky Sports - takes place from January 16th - 19th - tickets are available via the event's official website - www.abudhabigolfchampionship.com - and Ticketmaster - www.ticketmaster.ae