Pavan back on top
Matt Cooper reports from the Grand Final where Andrea Pavan has put himself in familiar position.
By Matt Cooper
Last Updated: 01/11/13 4:00pm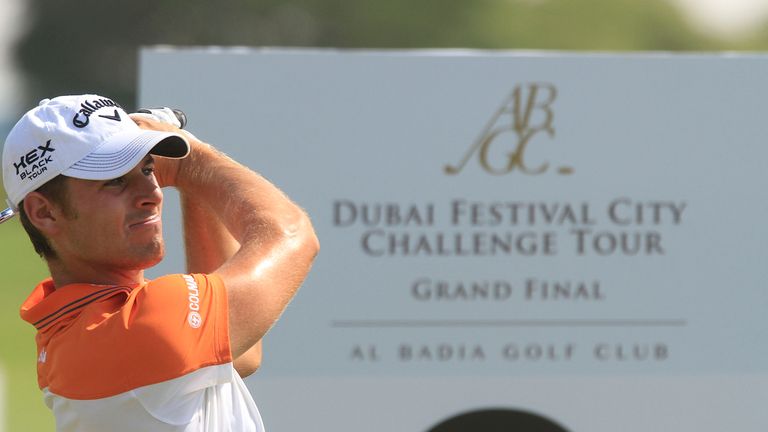 The last three years have been quite a ride for 24-year-old Italian Andrea Pavan.
A fine year on the Challenge Tour in 2011 was followed by disappointment on the European Tour the following year, but he has bounced back in style this season and his bid to win the Dubai Festival City Grand Final at Al Badia GC could not be going better as he leads the tournament by three shots on 12-under-par after 36 holes.
The upper reaches of the leaderboard in this end-of-season event is not a new position for the native of Rome. Two years ago he also approached Grand Final in high spirits: his first year as a professional on the tour had reaped one win and another seven top 20 finishes. A European Tour card was assured, but he wanted more.
He admitted San Domenico, the venue, was a favourite course and proved it, shooting rounds of 66-65-65 to head into the last round leading. A four hour head-to-head battle with Tommy Fleetwood followed and was only decided on the final green: Fleetwood faltered, Pavan struck the vital putt and unleashed a fierce roar as it dropped into the hole.
Two weeks later he confirmed his promise by finishing seventh in the first event of the 2012 European Tour season.
But it was just about his last decent result until he returned to the Challenge Tour in early 2013. The step up in class had proved difficult and, like his fellow Italian Edoardo Molinari had done four years ago, he needed to retreat to the lower level, lick his wounds and come back a better golfer.
Back in 2009, after winning the Kazakhstan Open (in a year when he won more prize money than any Challenge Tour player had before or has done since) Molinari explained to me how he had gone about revitalising his career. "2008, when I lost my European Tour card, was hard," he said, "and I was low at times but perhaps it was also a harsh lesson I needed."
He fashioned a more reliable swing and a key consequence was that, "when I played bad last year I scored 78 or 79, now I score 73 or 74. That's a big, big difference. It's why I am more consistent and able to contend more often."
In purely statistical terms, at least, Pavan has achieved something similar. This year he has once again claimed two victories and added another seven top 15 finishes. He arrived in Dubai as the leader in the season's rankings. So how would he assess his retreat to Challenge Tour? Has his experience been similar to that of Molinari?
"Towards the end of last season I was struggling with confidence," he explained in the shade of the dramatic Al Badia clubhouse. "It was very disappointing but I learned from it and worked hard in the winter. I became hungry for good results and consistency.
"My coach and I worked on making my swing simple and reliable. It is still not how I want it, but we are getting there.
"I think maybe a bigger change might be that I have stopped messing with my clubs, especially my putter. I did too much of that last year. I moved from putter to putter, that is not good. I have been more patient this year."
Casting his mind back two years offers inspiration for this week and useful comparison about the state of his game.
"My win in Grand Final in 2011 was certainly one of the greatest moments of my career, it was huge, but this year in general and my two wins were quite big.
"This year has felt better than two years ago. In the first season, you come out and there is less pressure, but when you gain your card and fall back it can get harder for you. I was proud I could make a good comeback, it's not easy to get back up and I showed I could do it. It gives me a lot of confidence, especially because I can get down on myself so I need to belief in myself more."
In both rounds one and two Pavan has become frustrated with himself on the front nine, only to be transformed into a birdie machine on the back nine (he has ten of them so far).
More of the same this week and he'll be a tough man to better as he aims to become the first two-time winner of the Challenge Tour's finale.