The last lap
Matt Cooper reports from the penultimate round of the Challenge Tour Grand Final in Dubai.
By Matt Cooper
Last Updated: 02/11/13 3:22pm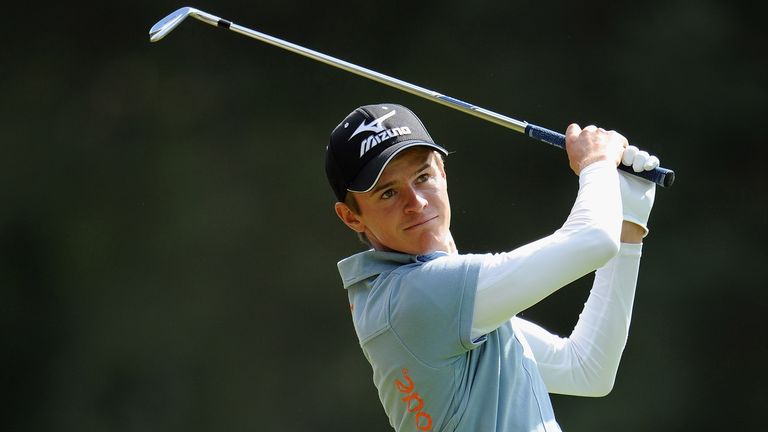 Eighteen months ago those golf observers who scan the amateur game for stars of the future had a big shining light on the radar - his name was Daan Huizing and the Dutchman had just completed victory in the St Andrews Links Trophy. His future seemed secure.
Between then and now - playing the Dubai Festival City Grand Final at Al Badia safe in the knowledge that he has a guaranteed European Tour card - has been a less than predictable journey however.
Why was he thought of so highly after the win in St Andrews? It might have been because the roster of past champions of that event includes plenty of European Tour players (Justin Rose is there, so is Richard Finch, Oli Fisher, Tom Lewis and Matthew Southgate).
But there was more to it than that because Huizing didn't just defeat the field, he obliterated it with a record low score of 23-under-par and a record winning margin of 14 strokes.
Nor was his dominance a fluke: weeks earlier he had trounced another elite amateur field in the Lytham Trophy, also by a record margin (although, on this occasion, just the eight shots).
His move into the professional ranks was expected to be smooth, but one round derailed his 2012 carnival and made 2013 that bit tougher.
Having swept through to the final stage of Q School with an assured runners-up spot at second stage, Huizing's third round 81 at PGA Catalunya left him with too much to do and he didn't just miss out on a European Tour card, he also failed to gain Challenge Tour playing rights.
So he started 2013 on the third tier Pro Golf Tour and consistent form there (nine top ten finishes in 12 starts) prompted him to take up invitations on the Challenge Tour in mid-summer. He made an immediate impact, finishing second on debut in the Karten Open and by the middle of September was a double winner (in Northern Ireland Open Challenge and the Kharkov Superior Cup).
Since then, however, his form has tailed off and the youngster is refreshingly honest about the reasons why.
"I've struggled on the greens in the last few weeks, but I think I have found it difficult after the two wins," he explained to SkySports.com after a third round 72 left him in a tie for 40th.
"I think motivation has been difficult. Of course I came here wanting to play well, but there are a few cells inside me that know that I have had two wins and had a great year. I also know I want to do well in the South African events on the European Tour later this year.
"I don't think I am playing badly - well, I'm not putting well - but I am hitting the ball okay. It's just difficult if the focus is a little off."
Viewed from one perspective the fact he admits to a lack of motivation would be a bad thing, but the Dutchman is not saying it willy-nilly; he is smart enough to have considered the situation.
"In some ways I might have found this week easier if I needed to play well, if I been outside the top 15. But I was in a better situation because I won twice.
"I do know that in the past, in my amateur career, I have been able to peak when it matters, I like playing under pressure. I also know that you cannot play at your very best all the time, you will have dips. That is how it is in golf.
"I want to play well in South Africa, that is important. I haven't deliberately slowed down, but I know it has happened."
There's a sense that rather than fight the dip in momentum Huizing is accepting what has happened and is readying himself to re-activate in South Africa. How you judge his approach will depend on your viewpoint. Some would argue it is a too laid-back, others that it reflects a confidence in himself.
What his attitude does do is contrast with the mentality of two other golfers who entered the week with guaranteed European Tour cards for 2014.
Italy's Andrea Pavan, who struggled in round three, has chosen to attack the double prize of Grand Final champion and number one spot in the rankings.
"To complete both of those would be great," he said at the start of the week. "It's something I can control if I play well and hopefully I can do that."
Meanwhile Johan Carlsson is also keen to excel, knowing that he has a chance of beating Pavan to both prizes (and, no less importantly, also aware that any prize money earned this week can act as a buffer in his rookie season on the European Tour).
For Huizing next season offers the opportunity to further not only his reputation but the sport of golf in the Netherlands.
When he won his second event in the Ukraine is coincided with Joost Luiten winning the KLM Open at home - a genuine case of Double Dutch - and Huizing knows that their success can help the sport.
"You know, when sports stars win, their sport becomes popular. It happened with tennis and it also happened with Raymond Van Barneveld. He won and suddenly everyone wanted to be darting."
So he would welcome being a star?
"I don't know about being recognised in the street, but I like winning. It is what I want to do and if that helps golf it will be a good thing."
The last lap
After 24 events the 2013 Challenge Tour season came down to the Grand Final.
And now, after three days of action, it all comes down to the final round; 18 holes to determine dreams (and maybe nightmares).
India's Shiv Kapur holds a four-shot lead on 14-under-par after 54 holes, thanks to a superb five-under-par round of 67, but 10 players are within three shots of second place.
Only two of those already have European Tour cards for 2014 which gives them one less distraction in the final round. They are the 36-hole leader Andrea Pavan and Portugal's Jose-Felipe Lima.
The others are playing for cards and most need victory to gain one. If Daan Huizing is typical of the youngsters who graduate from Challenge Tour these other golfers tell the wider tale of the Challenge Tour membership.
They include two men with Ryder Cup experience, hoping for a return to the big stage - Oliver Wilson (seven-under), who played under Nick Faldo in 2008, and Rhys Davies (eight-under), who was part of the back-up team under Colin Montgomerie in 2010.
There are three British veterans of the minor tours Jamie McLeary, Andrew McArthur and Stuart Manley. For each one tomorrow is a massive day, offering a huge opportunity.
There is Dutchman Wil Besseling, Kapur's closest rival on ten-under, who has had a brief taste of the top tier and desperately wants another.
Then there is the 2006 Amateur Champion Julien Guerrier of France, a classic example of the star amateur who has never quite translated promise into professional success.
And there is Thomas Norret, nearly forty, who actually retired from tour golf for six years to manage younger golfers, but was tempted to return and is seeking another chance to join his close friend Soren Kjeldsen on the European Tour.
All of them have hopes, one or two may realise them, most will not.
And whilst they suffer, we will watch. Sport is often cruel, card-chasing events always are.