Sky Sports talks to coach Pete Cowen on Henrik Stenson's remarkable return to form
We sit down with renowned coach Pete Cowen to find out the secrets of Henrik Stenson's success in 2013.
Last Updated: 05/11/13 3:29pm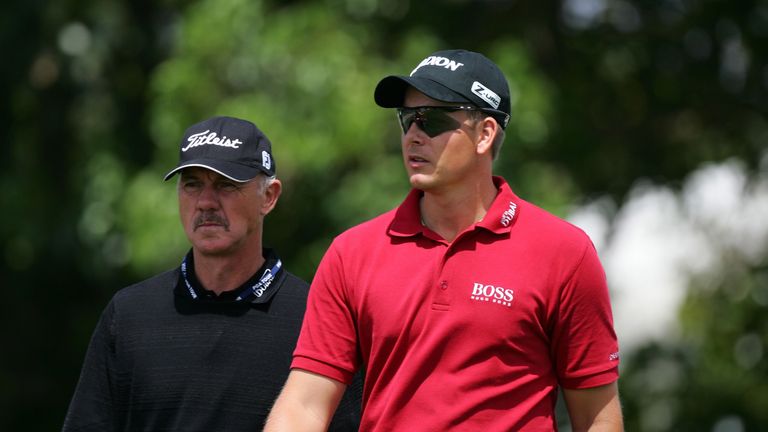 To find out, we sat down with a man who knows Stenson's game better than most - his coach, the renowned Pete Cowen - as he pointed out what took Stenson from 230th in the world at the start of 2012 up to world No 4.
There was no more consistent player on the planet over the summer, with Stenson coming second and third in the Open and US PGA Championship before going on to land the $10m FedEx jackpot by winning the Tour Championship.
Well in with a chance of finishing top in the European Tour's Race To Dubai as well, and things could not be going better for the 37-year-old, but it is not down to some magical eureka moment on the driving range.
Instead, the unfortunate circumstances of him losing a huge amount of money in the Allen Stanford financial scandal and a mysterious illness badly affected his form, but now fit and confident, he has been flying.
Circumstances
"He lost all that money in Stanford, which everyone knows about now," Cowen told Sky Sports at the PGA Golf Show. "In the mid-2000s his confidence went up as a result of his financial security so obviously it dips when the other thing goes.
"People say he won at TPC six months after, but he didn't think he was going to lose all his money, he thought he could get something back.
"But also he got a parasite in his blood from the Maldives from a holiday at the end of 2009 and it took all his physical strength and he couldn't train because he had no strength and he lost all his body presence.
"They couldn't find out what it was, eventually it must have just left him and all of a sudden once he started getting stronger again his game got better as a consequence. So that's what a lot of people don't realise - that parasite did him no good and it took him 18 months to get over it really."
And there's no good signs for Stenson's competitors, with Cowen warning that there's no obvious weakness in his game and a major title is firmly in his sights next year.
Killer Driver
"He hasn't got any weaknesses - people will say his driver but not when he's playing well," Cowen added. "He can kill a golf course with a driver - he can carry it 330 through the air on every hole if he wanted to.
"He should keep getting better, I'd say his game's only at about 70 per cent of where he wants it to be. A major's the only thing missing off his CV now he's done what he's done this year. He said to me he's got one in him so why shouldn't he win one?
"If he gets a chance he'll win, that's for sure, he'll never back off, he's not the sort of player that will try and protect a lead. He's a very aggressive player but with the confidence to keep that aggression up.
"If he has one minor weakness it's his temper, his temper is still a fraction up, but I think that's a plus in a lot of cases because that gives him the strength to commit more and move harder at the ball.
"A lot of credit has to go to his caddie Gareth Lord as well, he's given him this confidence and it's no coincidence that since they got together it's been working out well.
"He's also got his old psychologist back who understands him and gives him some stick, which is good, he is one of my players that I have to have a strong word with now and again, and I give it to him straight."