Rafa eyes big finish
We speak to two-time European Tour winner Rafa Cabrera-Bello about Turkey, Race To Dubai and surfing.
Last Updated: 06/11/13 8:59pm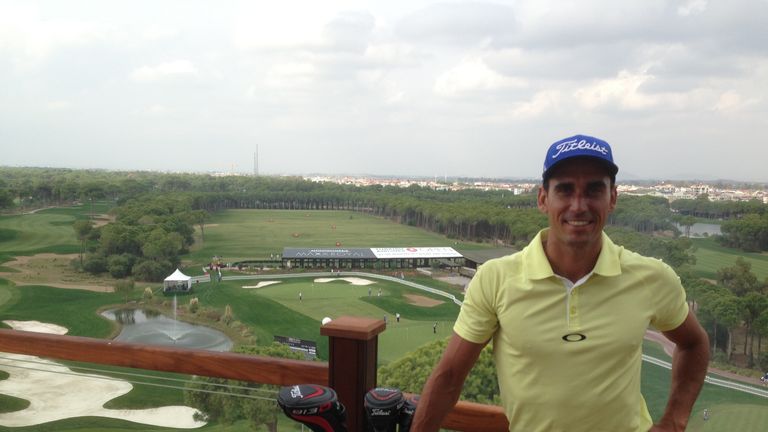 Sky Sports: You had your best two major results so far earlier this year when finishing 21st in the Open Championship and 29th in the USPGA. Was there anything that just clicked?
RCB: That was one of my goals at the start of the year to try to perform better in the bigger events and two weeks ago I also had a good finish (8th) in the BMW Masters (the first Finals Series event) in China. I always hope that the more I play those type of events the more comfortable I'm going to feel and have a better chance of playing as good as I know I can.
Sky Sports: Is there one major that you think suits your game best?
RCB: It's hard to say because many majors they change the venues. I haven't played The Masters yet but what I've seen about the majors is that they're all very tough courses and that your game needs to be very, very sharp with absolutely all the clubs in your bag working well. You won't get away with it if you're missing one thing in particular, be it chipping, putting, driving or iron play. You have to be sharp at all of them.
Sky Sports: How do you rate your year?
RCB: I didn't start as spectacular as 2013 when I won in Dubai and this year hasn't been as bright as last year. There have been some positive things like playing better in the majors. I felt I've played pretty consistent but not as good as last year. Instead of those really good finishes I had last year I have plenty of decent finishes between 15th and 30th but just not the top fives needed. I think I only have one top five and another two top 10s so my good finishes haven't been as good as last year so that's the difference. But I'm looking forward to this week and next week to try to turn the year around.
Sky Sports: Is there a particular reason why you haven't had as strong a year?
RCB: I've checked over my stats. There's nothing bad but everything is like 0.2 of a stroke worse than last year and that has a knock-on effect.
Sky Sports: Are you someone who inspects your stats closely?
RCB: Yes. I don't look at them on a daily basis or sometimes even on a weekly basis but I do keep track of them and it's definitely information that I want to use. It's a good analytical way of judging your game and making sure what you think you're doing good or wrong definitely matches with the numbers.
Sky Sports: What are the strengths of your game?
RCB: My game overall is pretty complete. I don't have anything I completely excel at and there's no major flaws in my game. I'm pretty consistent with everything and that's also why I'm a consistent player as every week I'm doing something good enough that will get me through. I'm not sharp at one thing so the biggest strength of my game is just being pretty consistent.
Sky Sports: You're 29 now so, as with lots of recent major winners, do you think you're coming into your prime as a golfer?
RCB: I'd like to think that. For most people, their prime is between low 30s and high 30s. I feel like I've been accumulating lots of experience, playing many, many tournaments. I've already had a couple of wins (2009 Austrian Open, 2012 Dubai Desert Classic) and been up there several times as well. I want to think I'm getting better every year and that I can be contending for the best events the sooner the better.
Sky Sports: You're 42nd on the Race To Dubai so you're definitely through to next week's big finale. Having won in Dubai, are you excited at the prospect of getting back there?
RCB: Yes, it's a good place, good weather, similar to this and it reminds me of the Canaries with the Palm trees as well. I feel comfortable there as it's the climate and weather conditions I like to play in and am used to playing in. I like the course as well so I'm definitely looking forward to it... but from Monday only. For now the focus is here in Turkey.
Sky Sports: Have you worked out where you could finish in the final Race To Dubai standings?
RCB: I could finish very, very high, that's all I need to know!
Sky Sports: Because of where you're from in Spain, who is your football team?
RCB: I'm from the Canary Islands. We have a team Las Palmas but I have to say I support Real Madrid. I'm not the biggest football guy though.
Sky Sports: What other sports do you like best?
RCB: I like skiing. I ski pretty good but I'm big-time into surfing as well. Those are my best two hobbies.
Sky Sports: So you don't get put off by the fact that Miguel Angel Jimenez broke his leg skiing?
RCB: There is definitely some risk in skiing but I learnt to ski before I learnt to play golf so I've never really felt any danger skiing. I am aware you have to be careful so I am cautious but nothing has ever happened to me skiing, even an injured wrist or anything. I feel pretty safe. As for surfing, I try to surf in safe spots. I don't try to surf in shallow reefs. Surfing is pretty popular in the Canaries, it's a good surfing destination as we've probably got the warmest water you can find in Europe so it's nice there.
Sky Sports: So when you're playing in events around the world do you ever think this is a good chance to do a bit of surfing as well?!
RCB: Well, for example, last week I was in Bali. When we come to Asia and have a week off I can go to Bali and practice golf there and I can surf too. And I'm going back there again after the World Cup and before Hong Kong.
Sky Sports: This week's course and venue, because of the weather and maybe the trees, does it remind you of Spain at all?
RCB: Well, it does have an air of Valderrama a little bit with a few trees coming down the middle of the fairways. Definitely the weather reminds me of home and it's absolutely perfect right now. So the dry course here, yes it does have an air of Southern Spain.
Sky Sports: Have you had a practice round?
RCB: Yes, I played the pro-am on Tuesday and I had a practice round this morning as well. It went well. The course is in great shape, it's looking very good, it's a good design. I enjoy playing and I'm playing good as well.
Sky Sports: Do you like to see lots of par fives or do you prefer par 70s with just two?
RCB: I have no preference at all. I think par fives are fun, they give a lot of opportunity and risk and reward and that's the case here.
Sky Sports: Could you make a guess at the winning score?
RCB: I think it's going to be pretty low. You can't always tell but I think we might get to 20-under. There's five par fives and a few other short holes as well so I think there's many birdies out there.