Ryder Cup 2014: Paul McGinley on Race to Dubai, rookies and golf in Turkey
Paul McGinley talks to us about the Race to Dubai, Ryder Cup rookies and Turkey hosting the contest.
Last Updated: 14/11/13 1:04pm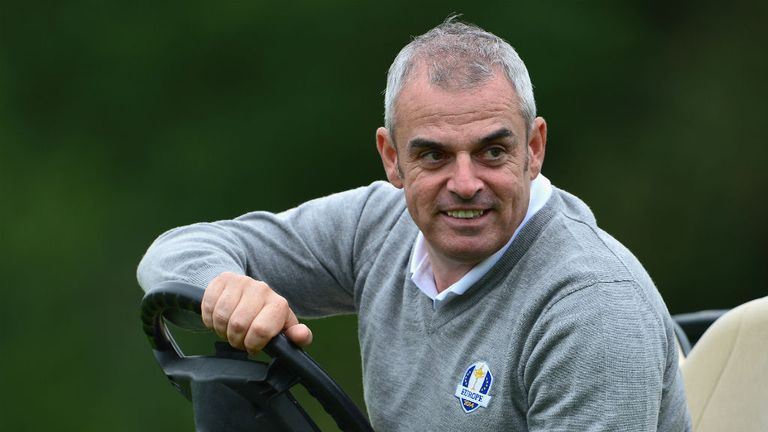 With significant Ryder Cup points up for grabs - and a selection of Europe's finest players in contention for the big-money prize - McGinley could learn a lot from the Earth course contest.
Ahead of the tournament skysports.com caught up with him to get his views on the Dubai event, the roles rookies could play in his Ryder Cup team and the potential for a nation such as Turkey to host the Europe v USA competition in the future...
skysports.com: Paul, it's been just a over a month since our first Q and A with you, what have you been up to in that time?
McGinley: Oh boy, I've been busy! I've been doing a number of commercial things for Ryder Cup partners, I've played in the BMW Masters in Shanghai and I've just flown in from Ghana, where I've spent the past five days doing some of my own personal golf course design work. My life is very busy, as you can imagine, and I wish I could divide myself in four to get more work done!
But I'm enjoying it and it's nice to have the different hats to wear. The Ryder Cup captaincy role has evolved so much over the years and there is a huge commercial aspect to it, in terms of what the Tour need you to do with the partners, which means I'm as busy as can be.
skysports.com: You're in Dubai this week and it must be pleasing as Ryder Cup captain to have so many talented European names vying for top spot in the Race to Dubai standings?
McGinley: It is and they're quality players for a reason. If you look at the make-up of Ryder Cup teams generally, year-after-year eight or nine players from the previous competition go on to make the following team and my team will be no different. There will be some rookies in the team - there always are - and the usual suspects, who are class players and because of that play well in bigger tournaments. At this stage I'm watching, observing, encouraging and letting things evolve at their own speed.
skysports.com: How important is the presence of youth in a Ryder Cup team?
McGinley: It is important to have younger guys coming through. I'd certainly welcome rookies if they play well enough to make the team and I wouldn't be afraid to pick a rookie. I'm certainly very welcoming to anyone who plays well enough to make the team because it's going to be a very difficult team to make.
skysports.com: Following last week's Turkish Airlines Open, Ahmet Agaoglu, the president of the Turkish Golf Federation, has said Turkey would like to host the Ryder Cup as soon as 2022. What are your thoughts on that?
McGinley: Well, as you know, half of Istanbul is in Europe and half is in Asia and there's no reason why it couldn't happen. There are a lot of steps to go between now and then, though.
They had a successful tournament there last week but talk of a Ryder Cup is premature. Let's let things evolve at their own speed. I know they're hopefully going to have another two or three editions of the tournament they had last week and, like all tournaments, it will build, get momentum and improve.
There's no reason why, down the road, we can't have a Ryder Cup in Turkey.
skysports.com: It is testament to the popularity and importance of the Ryder Cup, though, that countries outside of golf's heartland, such as Turkey, are so eager to get involved.
McGinley: Yes, and this is one of the reasons why the Ryder Cup is so important to the European Tour.
Hopefully there are a few more countries out there which will see the success Turkey had last week and think 'you know what, we're going to have a go at hosting a tournament. Turkey have done it well. Let's see if we can do it, too'.
And if other countries rise to the challenge, with hosting the Ryder Cup down the road being the objective, well that's all good news for the European Tour.
skysports.com: Finally, Paul, what's next for you after this week?
McGinley: This one is a big one for me, with a huge amount of Ryder Cup points available this week. I'm then playing in South Africa next week. But after that I'm not doing anything until after Christmas.
I will be heading home for a well-earned rest after a very, very hectic year and trying to recharge the batteries. It's been a very busy ten months, getting my head around the job first of all, understanding it and then doing all the things the job entails such as travelling, media work, work with partners and sponsors and so on.
It's been a lot of work but I've really enjoyed it and I'm enjoying the role of captain. I've got a big year ahead of me in 2014 and I'm looking forward to the challenge of it.
Watch the DP World Tour Championship from Thursday, starting 8am, Sky Sports 4