Reunited
Caddie Billy Foster speaks exclusively to Sky Sports about his reunion with Lee Westwood.
Last Updated: 27/11/13 12:37pm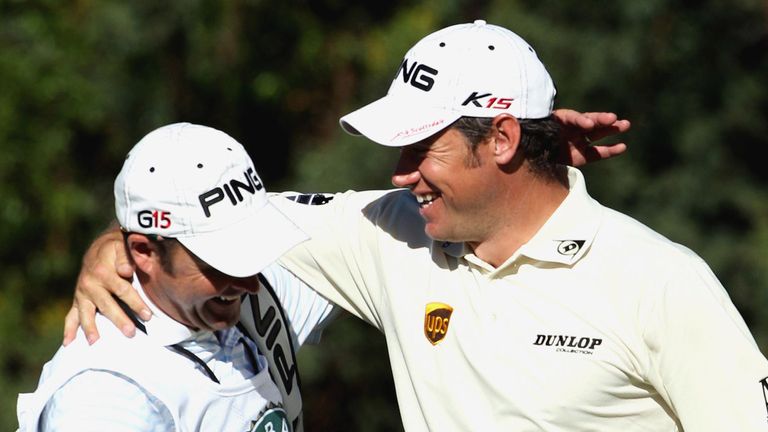 After taking the difficult decision to split last November, Lee Westwood is to reunite with long-time caddie Billy Foster.
While Foster took longer than expected to recover from a freak knee ligament injury, Westwood opted to join forces with Zimbabwean Mike Kerr for the 2013 season.
But, having slipped down to 23 in the world rankings after a somewhat disappointing campaign, Westwood has decided to reprise his partnership with Foster in a bid to improve his fortunes in 2014.
Dave Tindall caught up with Foster to talk about the reunion of one of golf's great player-caddie double acts.
Sky Sports: Do you think it was always on the cards that you would get back together with Lee at some point?
Billy Foster: There's only one way of looking at it. When I had my freak accident he was playing the best golf of his career. He'd just finished third in the 2012 Masters and the last tournament I worked for him was in Indonesia (April 21-24) and he won the tournament. I actually said to him you're playing that well you could do another Byron Nelson (win 11 events in a row); I actually started calling him Byron. Obviously I thought he couldn't win 11 tournaments in a row but I actually believed he could win five or six tournaments and a major that year, he was playing that well. For me to do what I did, I couldn't have timed it any worse for myself or for Lee. It was a bit of a travesty really as we were getting on fantastically well and his game was exceptional to say the least so it was a massive blow for both Lee and myself. So you'd have to say that once I proved my fitness again maybe it was always written in the stars a bit I guess.
Sky Sports: Have you kept a close eye on Lee's performances in 2013?
Billy Foster: I haven't, no. I've just got on with what I had to do and just got on with my life basically. Once Lee made it apparent to me that he wanted me to come back then you've got to say what had to be said, clear the air, dust yourself down and try and get on with unfinished business basically.
Sky Sports: You had a few weeks with Branden Grace so I guess he always knew the situation and that it was a temporary arrangement.
Billy Foster: I've ducked and dived all season and worked with a few different lads to, for one, try and do a bit of a schedule that I can almost pick and choose where I want to go myself to try and protect my knee and not overdo it and to stay fresh and enjoy it again and wait for the right opportunity. Obviously when Branden came along I told him that I'd do until the end of the season and then see how things went so he was under no illusions.
Sky Sports: So regarding your knee, is it back to full working order?
Billy Foster: Yes, it's fine. Obviously I've just done five weeks in a row in China (twice), Turkey, Dubai and Australia and it's not been causing me any grief at all. The mechanics have changed a little bit and it has a little bit of a creak and a crack here and there but it's not causing me any grief. Five weeks in a row means it's gone through the test.
Sky Sports: You start again with Lee next week in Tiger's event (the North Western World Championship) in California. Have you caddied there before?
Billy Foster: Yes, Lee had a great chance to win that tournament a few years ago. He was tied for the lead with a couple of holes to play; in fact he had a putt at the last to get in a play-off but he three-putted it as it happens. He gave it a run and knocked it three-feet past and missed the one back so he has played well there before.
Sky Sports: With Lee now based in America rather than Europe, does that make it at all difficult for you?
Billy Foster: No, not at all. It's not difficult working for Branden Grace living in South Africa so why should it be any different for Lee Westwood living in Florida?
Sky Sports: Does Lee know his schedule for next year?
Billy Foster: I'm sure he does but I haven't spoken to him about it yet. When I see him we'll see what happens and come up with a schedule. If it gets a bit tricky I'll take the family out to America for a week.
Sky Sports: Everyone's willing Lee on to win that first major so do you think any of next year's courses (Augusta, Pinehurst, Hoylake, Valhalla) are particularly good for him?
Billy Foster: Every course is a good course for Lee Westwood, he's a quality golfer.
Sky Sports: Good answer! Obviously Augusta will the first one and I imagine you'll be very excited to return and also to the Ryder Cup later in the year.
Billy Foster: Obviously you want the best seat in the house with the best players in the biggest tournaments, whether it be the Ryder Cup or The Masters or The Open. It's great to be in those tournaments and genuinely thinking you've got a chance to win them. I'm looking forward to the challenge and can't wait to get back into it to be honest.
Sky Sports: Finally, Billy, what makes you and Lee such a good partnership?
Billy Foster: We're very similar characters. We've got the same sense of humour, the same wit and we have fun on the golf course basically. I really enjoyed the three years with Lee and every day was a pleasure going to work and we had such fun doing it. Through having the fun he was successful with it so hopefully those times will come rolling back.