Abu Dhabi HSBC Championship: Ewen Murray reflects on the final round
Ewen Murray reflects on what might have been for Rory McIlroy and Phil Mickelson in Abu Dhabi.
Last Updated: 19/01/14 3:34pm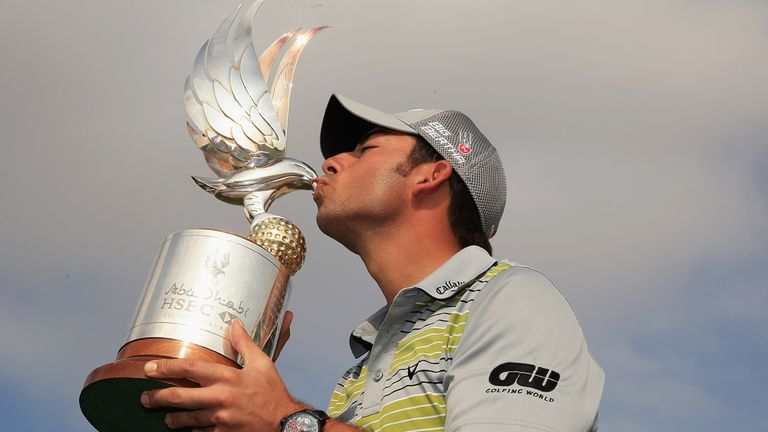 McIlroy described the rules of golf as "stupid" after incurring a two-stroke penalty for an illegal drop early in his third round, while Mickelson received the same punishment for a rare double-hit on the 13th on the final day.
It all went wrong for overnight leader Craig Lee, but Ewen took nothing away from a superb performance from Larrazabal as he clinched his third European Tour title.
Speaking to Sky Sports News, Ewen said: "All eyes were on Rory after his two-shot penalty for an incorrect drop. How would he react?
"Also, could Mickelson follow one good round with another? Or would Craig Lee defeat a stellar field and secure his maiden victory?
"The overnight leader struggled over the opening few holes and after bogeys at 4 and 5, Lee had lost the lead. It was to be a tough day for the Scot.
"First out of the blocks was Joost Luiten who went out in 32. Miguel Angel Jimenez birdied three of the first six to move alongside him and they trailed Mickelson and Raphael Cabrera-Bello by one.
"After the first third of the round, Mickelson looked the most comfortable hitting every fairway and finding the first six greens in regulation.
"Rory birdied the second to get his own back on the par five that cost him a penalty in round three. A wayward drive cost him a shot at five, but he got that back with a sumptuous two at the seventh.
"George Coetzee skipped to the turn in 33 to get within two and at this point you couldn't take your eyes off the ever-changing leaderboard.
"When Cabrera-Bello dropped a shot at nine, Mickelson had the lead on his own for the first time. It lasted all of a minute. Rory followed his two at the seventh with a birdie at eight and they shared the lead. A sponsor's dream and the sizeable galleries had what they came to see.
"Larrazabal would birdie eight to join them. I've had the pleasure of watching some marvellous tournaments over the last 25 years, but I couldn't remember so many changes happening so frequently. It was tournament golf at its best.
"Five minutes later, Mickelson took care of the long eighth and once again he was looking down on the rest. There are many sporting cliches used too often, but "it all happens on the back nine on Sunday" was never more apt as we headed for home.
"One by one the challengers fell. Coetzee posted 12 under and Cabrera-Bello matched it, which left Larrazabal, Rory and Phil to go head to head.
"The telling moment came at 13. Mickelson had hit the first 12 greens in regulation only to hit his worst drive into a bush. Up ahead, Pablo hit a nine-iron to 12 inches. Phil, as one would expect went for broke. With the toe of the club turned the other way round, a right-handed effort saw the ball pop and hit the club again on the through swing. It ended in an ugly seven, and a four-shot swing.
"McIlroy was back in it, but could not force the necessary birdies, while Pablo hit two sensational shots to find the 18th and, two putts later, he had done enough. Three birdies in the last five left Mickelson one shot shy.
"Rory of course will reflect on the two penalty shots for an incorrect drop in round 3. In the end, that was to prove costly, but he is back to somewhere very close to his best. He will never make that mistake again.
"The first event of three that make up the Desert Swing was once again a great success. If I was a player, outside of the Majors, these events would be the first to be penned in the diary.
"The Abu Dhabi golf course was a true test of every department of the game and it comes as no surprise the pure ball strikers were up there at the death.
"It was a thrilling week from start to finish. Pablo beat the cream of the crop in Abu Dhabi and that will give his confidence an enormous boost.
"We shall speak again next Thursday from Qatar."