Coltart casts his eye
Sky Sports golf pundit Andrew Coltart talks Tiger, Rory, majors and Ryder Cup in his preview of 2014.
Last Updated: 24/01/14 9:35pm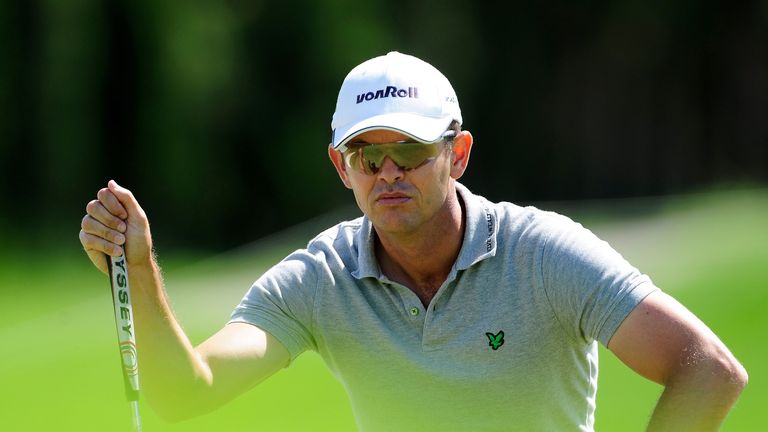 Sky Sports: What do you expect from Tiger this year?
Andrew Coltart: He's back at the top of the tree, world number one. When you take into consideration last year the phenomenal season Henrik Stenson had and yet he didn't match the wins Tiger had (Woods won five times to Stenson's three) or the amount of world ranking points, it gives you an idea the strength of the performance that Woods put in. Off the back of five victories, Woods himself has got to be looking to a bright, rosy future and I'm sure from his point of view he's certainly thinking fairly quickly about knocking off that 15th major. I obviously see a continuing battle between him and Rory but I see Tiger going into this year feeling pretty optimistic.
Sky Sports: Tiger has won at three of the four majors venues being used this year (Augusta, Hoylake and Valhalla) so it looks a good chance for him to add to his majors tally.
AC: That's right. I think it's perfectly set up for him from that point of view. And, of course, the venue that he's not won around (US Open course Pinehurst), he's finished second (2005) and third (1999). He's got to be rubbing his hands at the prospect of this season's majors. Of course there'll be challengers coming from all over the place but he's got to be optimistic about the year ahead.
Sky Sports: So, yes or no, does Tiger win a major this year?
AC: I think Tiger will win a major this year. Not that I'm into horoscopes or anything but his stars are possibly aligned given that he's won or produced good performances at all these majors venues, he's playing well and is back to the top. You add these things together and there's a strong suggestion that the drought (Tiger's last major win came in 2008) is going to come to an end this year.
Sky Sports: As for Rory McIlroy, he ended a difficult 2013 by winning the Australian Open and opened 2014 with a near-miss second place in Abu Dhabi. Do you predict a big year for him?
AC: Yes, in Abu Dhabi he was first but not quite (Rory lost by a shot after suffering a two-shot penalty in round three) but I think things are going better for Rory. He seems to be happier in his private life, he's obviously happier with the equipment he's using after changing last year, obviously he had problems off the golf course with management issues which would have been a bad distraction for him. He now seems to be in a good place. The golf he's playing is of the highest quality again and I see him also winning a major and I see Rory and Tiger continuing their battle for one and two in the world.
Sky Sports: Breaking down the year major by major, do you think we might get the fantasy, Hollywood showdown between Tiger and Rory in The Masters?
AC: Based on what I've just said, yes, but we've not got to be disrespectful to the rest of the field. Henrik Stenson can take on absolutely anybody on his day. For six months at the end of last year he was the best player in the world, better than Tiger and better than Rory. I fancy him for a major championship this year and I think Augusta would be quite a good fit for him. He potentially is the cat amongst the pigeons there.
Sky Sports: As for the US Open at Pinehurst, Phil Mickelson has said he fancies his chances given the shaved run-off areas and upturned greens that will put a big emphasis on short game. Is this his year after six runners-up finishes?
AC: It's interesting because I always thought Mickelson was a stick-on for an Open Championship because he has phenomenal touch round about the greens and up until his win last year he'd always flattered to deceive in Opens and I couldn't figure out why - wonderful touch, great feel, great imagination but he hadn't managed to do it. Well, we all know now that he is an Open champion and, as you've just said, the demand is very similar at a club like Pinehurst with its upside-down saucer greens, big run-offs, a multitude of shot varieties to hit into some of these pin positions. The difficult thing from Mickelson's point of view is dealing with this 'Slam'. This'll be the equivalent of Mickelson winning his first major because there's only five other guys - Sarazen, Hogan, Player, Nicklaus and Woods - who have previously won all four majors. His challenge will be to keep this out of his head. It's a tree-lined golf course but the fairways are actually quite wide so, yes, the course sets up perfectly for Phil and in 1999 he was only just beaten by the late Payne Stewart. He's going to draw on all these positives - and he's always very positive when he does his interviews - but nobody has ever finished second so many times in a major and gone on to win that major so I wonder if it's going to be one hurdle too far - a bit like Arnold Palmer with the US PGA Championship. It will be a real shame for someone like Mickelson to go through his career and not win his national championship.
Sky Sports: Looking to The Open Championship, we're back to Hoylake for the first time since 2006 when Tiger won with a wonderful display of long irons when the ground was rock hard after a long, hot summer. Have you played or seen Hoylake in different conditions?
AC: I was down there when the British Boys was on there last year and it was a completely different proposition. It was lush, it was green, it was lovely. Based on the winter we've had and the amount of moisture in the soil you would guess it would take an exceptional summer to turn the golf course out the way it was way back in 2006. So it's going to be a different golf course and a completely different test from back then.
Sky Sports? Does that go against Tiger?
AC: Yes, I think that probably does go against him. (US commentator) Gary McCord came out with a great statement recently. If you consider the great career Phil Mickelson has had and yet he's only won five major championships. We're continually looking at Tiger (14 majors) emulating Jack Nicklaus but from here, at 38 years old, Tiger's got to have a career like Mickelson in order to beat Nicklaus' record of 18. I see Tiger's best chance this year coming at The Masters.
Sky Sports: If not Tiger then, is there anyone you have in mind as the potential winner at Hoylake?
AC: (Pause) It's so very unpredictable, isn't it. Rory's gone on record as saying he doesn't like the links although I'd like to think he's going to win one of our Open Championships. Stenson finished second last year so if he can tap into something like the form that he had at the end of last year he's got a great chance.
Sky Sports: Finally, the US PGA. All the previous big events at Valhalla have been won by Americans - Mark Brooks (1996) and Tiger (2000) winning the two US PGAs and the US capturing the 2008 Ryder Cup there. Is there a reason for this home dominance?
AC: I played in the 2000 US PGA (finished 51st) there. It's a very American style golf course but, then again, why should that be a reason as all of our players are playing in America these days. I've no reason to think that a European couldn't win there. Obviously the Americans feel at home there - Kenny Perry nearly won it in 1996 when Mark Brooks won, Bob May pushed Tiger all the way although he was playing the European Tour at the time.
Sky Sports: 2014 will be particularly exciting as it's a Ryder Cup year. Looking at the betting, it's very close with the Europeans slight 10/11 favourites and the USA 6/5. Those odds suggest another thriller so do you see it panning out like that?
AC: Yes, I see it being quite close as you'll have two fairly evenly matched teams. Europe are seen as slight favourites but certainly that doesn't curry well with the Europeans as they like to feel they're the underdogs a little bit - it's just the way they like to go about that contest despite some great performances over the years. I do see it being a very close run thing. Everybody's obviously praying weather-wise it's going to be fantastic and that the end-of-season bad weather is going to hold off and show Scotland in a great light.
Sky Sports: Is it a course you've played much yourself and who do you think it might suit?
AC: I've played a few Johnnie Walkers around there over the years. Jack Nicklaus designed it so what does that say? It's more of an American-style venue than some of the places that it could have been. Of course, it depends how Paul McGinley asks Gleneagles to set it up. It's his right to do what he wants with green aprons and green fringes and thickness of rough and stuff like that so he could still turn it into something that requires different shots round about the greens. That tends to be the way European captains have gone about things in the past, they create a variety of shots you can play around the greens that the Americans aren't used to and it raises doubt in their minds as they try to execute the shot.
Sky Sports: Europe have got a pretty established side and you could probably name eight or nine of them now but are there any young players that have caught your eye who could grab a place on the team?
AC: Very much so. Dutchman Joost Luiten is a fantastic young player, Jamie Donaldson from Wales who's had some great performances in good fields and obviously the young Frenchman Victor Dubuisson, who made everybody sit up and take notice when he destroyed everybody at the Turkish Airlines Open.
Sky Sports: When Gleneagles held the Johnnie Walker Championship last year, Tommy Fleetwood won so could the young Englishman be in the frame when it comes to, say, a wildcard pick?
AC: I honestly believe, and I could be wrong... Paul McGinley has been a European Tour player all his life. He's never gone off to play the PGA Tour in America, he understands the importance of what a European Tour means for future generations so I think one of his picks will be from somebody that has performed great, has just missed out on automatic selection, but has put in his performances in Europe. You know, give that person something they deserve for a sterling season back home.