Paul Casey talks to Sky Sports about his major ambitions for 2014
Paul Casey tells Sky Sports he can challenge for majors again by taking inspiration from Henrik Stenson.
Last Updated: 14/02/14 1:56pm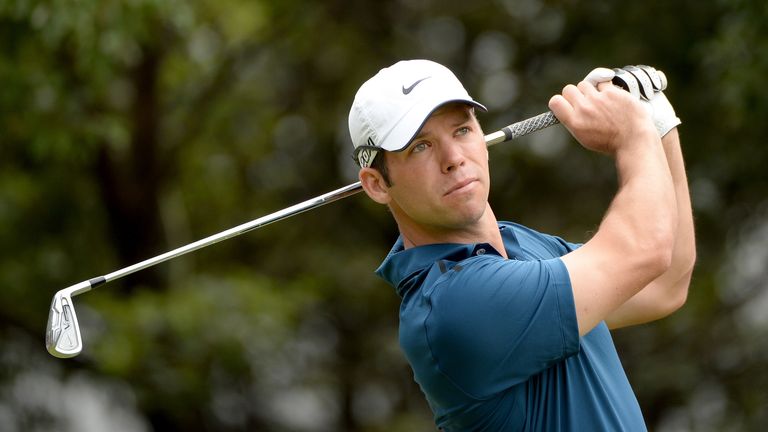 The former world No 3 won his 12th European Tour title at the Irish Open last June to end a two-and-a-half-year winless run and signal his return to winning form after bad times both on and off the course.
As well as some personal issues, Casey suffered a shoulder injury when snowboarding which cost him some valuable time, but now things are really looking up as the 2014 season starts to get serious.
Like Rory McIlroy, Casey has also recently got engaged, and life could not be better for him as he told Sky Sports that he fancies 2014 could be a cracker after finding inspiration watching Henrik Stenson's remarkable return to the big time.
"I'm hitting it as well as I ever have and I understand my game more than ever," Casey told Sky Sports. "I was disappointed not to win last season because I was playing some really good stuff.
"It's also good though because I know that 2014 is going to be really good.
Major goals
"The goals are always there - after watching Justin and Adam Scott's major victories and Henrik going bananas! And actually Henrik going bananas was brilliant because he's been in my position as well - he's had injuries and he's really struggled with his game.
"But to see how he's worked incredibly hard to get back and to see the way he's been playing and how he's built up such confidence and to see what he produced at the end of last season I find that very inspiring.
"I'd never finished a season before really being excited as I am about the following season, usually I'm just completely worn out, had enough of golf and wanting time out to go snowboarding. But this time I was raring to go."
Although Casey is down at 92 in the rankings, he now feels he has the game to once again get back to the upper echelons of the sport and also challenge for majors, which would also help in his bid to make a fourth Ryder Cup.
"This year I've got a game plan formulated of what do I need to do to achieve what I want in 2014 which is pretty simple. I need get back into the top 50 as soon as I can and then I believe I'm able to compete and give myself a chance to win majors once I get back in there.
"And who knows where I'll get to? Whether I get back to No 3 in the world or whatever because that's a difficult measure, you never know how other people are going to play, but I really believe I can play that level of golf that I played in 2006 or 09 and be more consistent than ever.
"Of course it's also a big year with the Ryder Cup on again, but really all you can focus on is playing consistently well before you can even think of that, but it's always on everyone's mind in Ryder Cup year."
Stand by me
Casey has been a long-time Nike golfer, and he has worked closely with designers on a lot of the new 2014 range he will be using.
He also has them to thank for sticking by him during his loss of form and especially the injury - although there may now be a new clause in his deal to limit his passion for extreme sports.
"No snowboarding is in the contract now!" he joked. "But seriously Nike were incredibly good about what had happened and they understand athletes, we like to play other sports, and this was just a pure accident and they were incredibly supportive.
"It hurt me physically but it hurt my career, and it was disappointing for Nike too because I'm out of action and they're paying me money and they're not getting exposure but at no point did I get a telling off about it - Cindy (Davis - head of Nike Golf) was very good and keen to help in any way to get me back.
"I've always been very involved. As soon as I started at Nike they wanted to hear feedback, but not only that, seeing that they've used the feedback we've given them to develop new gear is really great and gives you extra confidence in what you're using."