Rory McIlroy to shine in 2014 says Nike Golf president Cindy Davis
Rory McIlroy is set for an exciting 2014 according to his boss, Nike Golf president Cindy Davis.
Last Updated: 18/02/14 6:52pm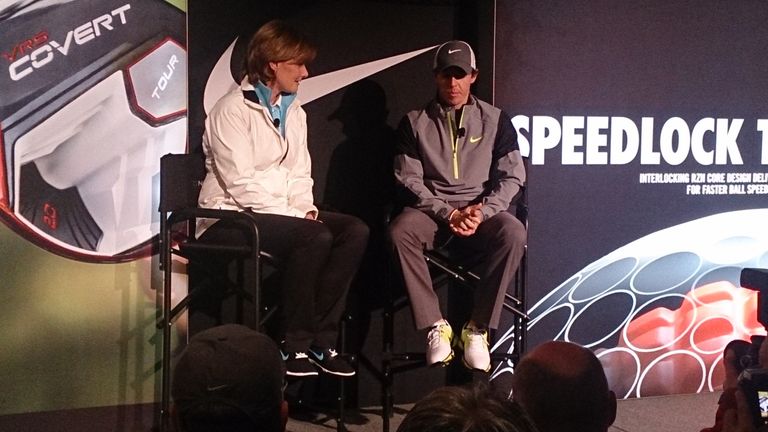 Davis presented McIlroy as Nike's new big-money signing at the start of 2013 in a blaze of publicity, with the then world No 1 joining Tiger Woods at the company, who then had the two biggest stars in golf on their team.
As everyone is fully aware, McIlroy did not enjoy his first season as a Nike golfer, but he showed signs of recovering at the end of last year and now, being more settled with his new surroundings and equipment, he has vowed to come back strong in 2014.
And his boss certainly agrees, with Davis being impressed with how hard McIlroy has worked alongside Nike boffins to develop the new 2014 range of Covert 2.0 clubs and RZN golf ball that he says feels as good as anything he's played with.
"He started last year as the No 1 player in the world, it was the first time he's ever kicked off the year like that and lots come with being No 1 player in the world," Davis told Sky Sports at Nike HQ in Oregon.
Tiger help
Of course, having arguably the best golfer ever and definitely the most high-profile player on the planet in the same stable can obviously help matters.
"There's a lot that comes with being the number one player in the world that I think any athlete in any sport has to come to terms with," Davis added. "Having Tiger around for sure has helped and he's surrounded himself with some pretty good people too.
"What we're most excited about with Rory, and we've worked with him throughout all this, is that he's very engaged with the equipment. What we look at in an athlete is when they're so vocal with what they like and don't like.
"He's been heavily involved and now he's said he's got the best ball and club combination he's ever had in his career and that's probably the best compliment we could have received from him.
"He's been on the record saying he loves the equipment and loves being with Nike and has never said anything other than that. But what I'm looking at is I'm watching Rory and you can see what's beginning to happen more and more, you can see his confidence.
"He's talking a lot about what he's done with his golf swing, he's talked about changing his schedule, he's talking a lot about how he's going to play in 2014 and I think you're going to see a pretty exciting Rory McIlroy in 2014."
Full support
While you would have forgiven Davis for sitting a bit uneasy after shelling out so much cash on an under-performing McIlroy, she says his work ethic behind the scenes meant they had no doubts he would turn things around.
A relatively new player in the golf club and golf ball manufacturing market, Nike are keen to get as much feedback and input as possible from their team of players, and McIlroy has certainly kept up that end of the bargain.
"There were a number of reasons he decided to join Nike - he loved the brand as a kid, he's been super impressed with the products, but he's also been very proactive in our new developments.
"He was pretty keen in engaging with our designers in most of the products, he's got an appetite to be involved and he's got his own definite opinions so I think you'll see as we evolve more products you'll see his insights being used more in them."
Using player insights is a sure-fire way of improving your products, but not all players can provide the feedback necessary. McIlroy is already showing intuitive signs, much like his Nike team-mate and the man who has helped fly the flag for the brand for years.
"Tiger is one of the best athletes at giving insight for us for developing any new product, we like to say he's got this sixth sense, he hears things, sees things and feels things that frankly a lot of other athletes can't," said Davis.
"And then he's able to articulate that back to our designers and engineers and that often ends up in some new ideas. So he's pretty special from a product feedback standpoint as well as everything else."