Paul McGinley Q & A: Ryder Cup captain on match play, vice-captains and bad weather
Paul McGinley tells us what he learned from the Accenture Match Play and why vice-captains are vital.
Last Updated: 24/02/14 12:21pm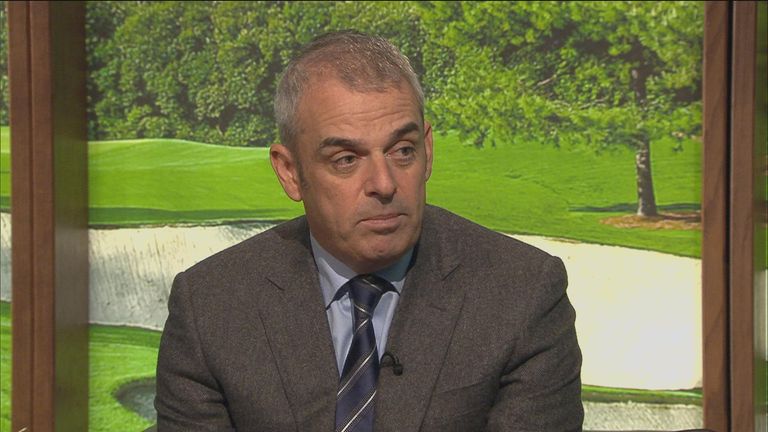 The European captain was in Sky Studios to see French ace Victor Dubuisson excel at the Accenture Match Play in Arizona, while a number of other Ryder Cup hopefuls seized the chance to impress in the head-to-head format.
Here, McGinley tells skysports.com about what he learnt from the event.
He also lifts the lid on his plans for announcing his vice-captain policy in March, his hectic schedule and whether he reckons Gleneagles will be affected by the recent wretched weather...
Hi Paul, the WGC Accenture World Match Play was a rare opportunity for you to see your potential players and opponents in action in this format. How much will you have learnt from the week and what are you looking for in potential wild card candidates?
PAUL McGINLEY: I understand the volatility of match play and that you don't get a second chance, so I've observed the week but not made hard, cold and fast decisions based on what happened.
Of course, performing well in this one gives you a big tick if it comes down to a pick and it looks like now, with the points Dubuisson has accumulated, he's nailed on for a Ryder Cup spot. If he was 90% before the week he's 99.9% now. With all the evidence we've seen this week I think he'll be a very welcome addition to the team.
There are no hard and fast rules when it comes to the type of player I'm looking for, though. Ideally what we're looking for is people to be able to do what Graeme McDowell did in his first two matches, where he was two down with four to play and two down with three to play and won them both! That's incredible.
Graeme is a hardened match-player but there are different ways to win matches, whether you start off fast or finish strongly. The important thing is to hang in and hang in if it's not going your way because you never know when things may turn in your favour.
Earlier this month Tom Watson added Raymond Floyd as his second vice-captain, joining Andy North in his ranks. What plans do you have in terms of vice-captains - and how important is that role?
PM: On March 6 I'll be announcing my vice-captain decision. I'm not going to say whether there will be one, two, three or four vice-captains now but I'll be announcing a decision about how I'm going to approach it then.
The vice-captaincy role, like the captaincy role, has evolved a lot over the years as the Ryder Cup has grown. The demands of the Ryder Cup inside the ropes have grown and so have the roles of the captains and vice-captains. I've been vice-captain twice so I know what the role entails and I know the personalities I'm looking for and the traits I'm looking for in potential vice-captains, too.
How is the Gleneagles course holding up with all the bad weather we've been experiencing?
PM: I was up there last weekend and there was six inches of snow on it! But it's ok, the course is going to be terrific and I've no doubt the drainage system will work great. I've no issues about bad weather. Just like in Wales [at the 2010 Ryder Cup], inside the ropes will be perfect. Hopefully the weather is good so that outside the ropes it's good for the crowd, too.
Last time we spoke you said you were eager to be competitive with the clubs yourself - and then went on to shoot 67 at Pebble Beach. How's your game going and how important is it for you to continue playing at a high level in this Ryder Cup year?
PM: I played very well on the first day at Pebble Beach but then the bad weather came in and I didn't handle that very well, which is disappointing. I actually played ok in the next few days but lost my putting when the weather turned nasty. But I'm really keen to be competitive on the course this year and to try to play with as many of the players as I can. That's an important part of my role as captain.
Unfortunately I'm not getting to play as much as I'd like. My next tournament looks like Morocco, if not Spain, and that will mean three events in the first five months of year - but I guess when you're captain some other things have to take priority.
At the end of last year I played with Peter Hanson when he shot 63 and that was because I played well, made the cut and was drawn with him at the weekend. It's really good to play with the potential Ryder Cup players on tour, speak to them on the range and so on.
You say you've not been able to play as much as you'd like, how's your schedule looking over the next month or so? This must be a very busy period for you?
PM: You should see my diary! I've done a lot of the stuff off the course in terms of hotel rooms, logistics for the week, team rooms, uniforms and so on. But I'm going to the EC in Brussels to represent the Ryder Cup, Scotland and European Tour and make a speech to European parliament in a week's time. I've then got the vice-captaincy announcement, I've got work to do for sponsors - every week there's things going on. There's also my golf course design business in Ghana, where we're just about to open a course at the end of April.
It's a busy time - but if I'm not busy now I'll never be busy! It's very enjoyable though.