Life changing
The Kenyan Open starts the 2014 Challenge Tour - and challenge is a thing some of the caddies know all about.
By Matt Cooper
Last Updated: 06/03/14 5:08pm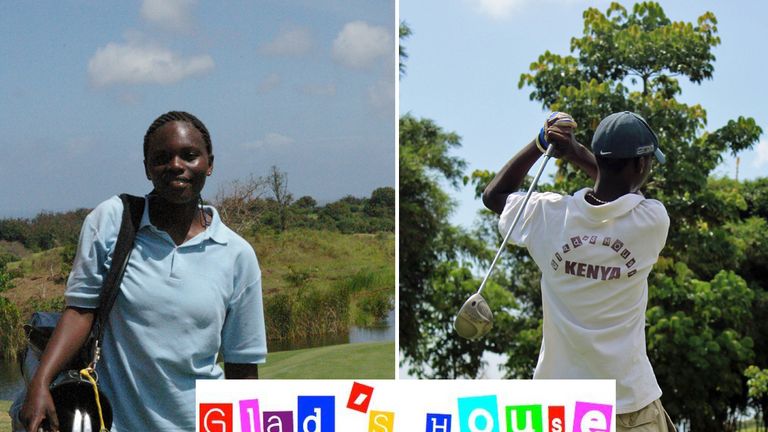 Caddies come in all shapes and sizes, and from all sorts of backgrounds.
There are wily craftsmen and youngsters who study psychology. Lifelong caddies and city dropouts. Haggard old guys and fitness freaks. At any professional golf tournament the widest spectrum of human life will be found in the caddy shack.
But at this week's Barclays Kenya Open there will be six youngsters whose route into the bib has been more remarkable than any of their fellow bag carriers.
Glad's House
The story began nine years ago when Vicky Ferguson spent her gap her working with street children in Mombasa. The experience was so inspirational it changed her life. She scrapped plans to become an actress and instead formed a charity named after her grandmother - Glad's House - which would provide support for the children she had met.
The charity was always closely linked with sport: an early, and continuing, partner was the Mombasa Olympic Youth Organisation. Football and cycling have also been become integral to the programme. And so, too, has golf with a remarkable initiative that takes children off the streets and gives them hope for the future via the caddy shack.
The scheme is twofold: by day they learn the trade of caddying at Vipingo Ridge GC, the rest of the time they find safety, education and the care of a house-mother in a home on the outskirts of Mombasa.
Supported by the Challenge Tour (which co-sanctions the Barclays Kenya Open), the European Tour Players' Foundation (an official charity of the European Tour, which has financially backed the programme) and the European Tour Caddies Association (which has provided donations and expertise) young caddies from Glad's House have been working at the Kenya Open for a number of years.
Transformation
But perhaps the greatest success of the scheme has been the transformation in so many young lives, as they both caddie and play golf (because inevitably they don't just want to carry clubs, increasingly they wanted to hit balls with them).
Take Julius Simiyu, 24, who spent 12 years on the street of Kenya's cities, away from his family, scavenging scrap metal, sometimes turning to crime to fund substance abuse which masked the pain, fear and shame he felt on a daily basis.
Julius was one of the first caddies enrolled in 2009 and he has transformed his life. Thanks to Glad's House and he is now back in contact with his family, supports his two younger siblings through school and has learned to read and write. He will be working at the Karen CC this week, using the skills he has learned at Vipingo Ridge.
So, too, will Mercy, who is in her early 20s and first went to Vipingo Ridge less than a year ago. "I like caddying and playing because I meet so many nice people who encourage me," she says. "Playing golf makes me a better caddie because I understand distances and clubs better so I can explain to my client.
"Life was hard out there, but now I have a new life with goals and a new belief that I can reach them. I want to work and then I can save money and buy my own house and be independent."
For some of the caddies their future will be in golf, but for most the caddying provides confidence to take brave steps away from their past.
Janet Otieno is an example of a caddie who has progressed right through the scheme. She worked for Chris Lloyd at the 2012 Kenya Open and says: "I was so nervous at first caddying for a professional! I was shy and shivering but Chris calmed me down."
Now, two years on, she is working as a trainee social worker with Glad's House. "My ambition is to finish school and then to go to university to study social work," she says.
Using both her training and past experience of working at the Open Janet will be at Karen CC to assist this year's caddies, providing support and expertise.
It will be a big week for the Challenge Tour field in Nairobi - the start of a journey that might end with a treasured ticket to the main tour. But none of the golfers will be completing a journey as life-changing (and inspiring) as the Glad's House caddies.