Marvellous Masters
Dave Tindall's first Masters blog looks at the journey to Augusta and Tuesday's practice round.
Last Updated: 08/04/14 11:59pm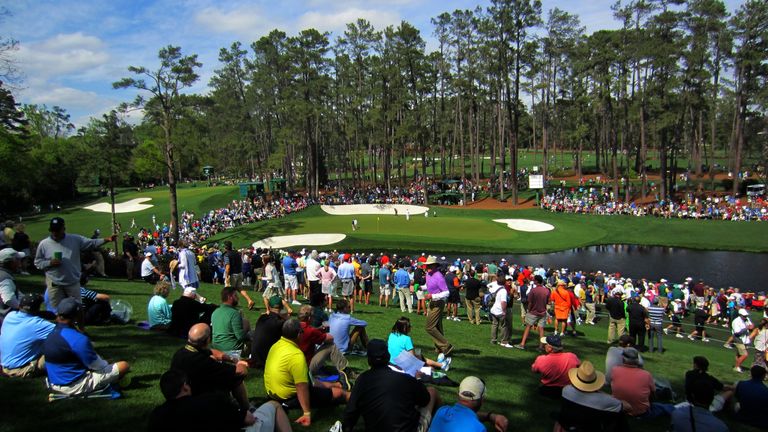 It wouldn't be a lie to say I start thinking about the next Masters tournament the day after the previous one finishes.
As a sporting event it's one of the true highlights of the year so to actually be here is an absolute treat.
This is my fourth time at The Masters and the rush of excitement that's been there from the first is now augmented by a pleasing sense of familiarity. Like a Carry On film you know what you're getting from a great cast of characters so, from the same welcoming faces at registration to the magnificent course itself, you're engulfed by this feeling of 'it's great to be back'.
I arrived at the course early on Tuesday morning having, thankfully, got the one negative out of the way - the final leg of the journey which involves a two-and-a-half drive from airport to hotel.
There's no main airport at Augusta so the vast majority of journalists arrive at the big hub in Atlanta. Forgetting just how vast the United States is, I initially presumed the drive would be a short one given that both Atlanta and Augusta are in Georgia. Wrong.
I guess it's not exactly that far but when it's tagged on to the end of a journey which began with a 3.30am wake-up call in Manchester it's not ideal.
That said, the drive is pretty innocuous and there's certainly no panic-inducing weaving in and out of thick traffic in downtown Atlanta. Pootling along the I20 in lanes of two, sometimes three at no more than 70mph (America has surprisingly low speed limits) is pleasant enough and, as I was travelling alone, I took the opportunity to hone some impressions (Michael Caine, Ronnie Corbett and Woody Allen the main three since you ask - probably a result of watching The Trip a couple of days earlier. I also tried a Colin Montgomerie. Needs work would be fair comment).
Apart from the number of miles to Augusta, the sign I'd made a note of trying to see was the one advertising the Laurel and Hardy museum.
I've been to the version in Ulverston - Stan's birthplace - so am keen to bring up the double and see if they've done as good a job of celebrating Ollie. Hopefully I'll get the chance on the drive home next Monday.
Oliver Hardy was born in Harlem, Georgia in 1892 and it did occur to my wandering mind that had they not found a suitable location, the undulations at Augusta National would have been easily steep enough to film that fantastic short when he and Stan are hauling a piano up those steps.
Youtube it. The quite clearly a dummy of Ollie disappearing down the steps as he holds onto the piano going 'ooooohhhooohhh' is comedy at its finest. Far better than this modern trend of young blokes in t-shirts observing things.
A lot of the journey was also spent looking for omens which would help lead me to this year's Masters winner.
On the plane I watched 'Inside Llewyn Davis' (7 out of 10 but no omens) and The Graduate (10 out of 10) and a definite omen given that it stars Dustin Hoffman.
I asked on Twitter a while back if anyone could think of some famous Dustins as it's a pretty rare name. Dustin Johnson, Dustin Gee and Dustin Hoffman were the only three I could muster although some Irish friends did point me in the direction of Dustin The Turkey, their Eurovision Song Contest entry in 2008 and a regular on Irish TV since 1989.
In the end I haven't backed Dustin Johnson (I think, like me on a long car journey, his mind wanders too much to succeed on this course which requires such mental precision) although I will be kicking myself to pieces if he goes on to win now.
It was overcast on the course this morning so I decided to put my plan to photograph Augusta National in all its splendor on hold.
Thankfully the sun arrived shortly after the announcement of the Thursday/Friday tee-times so I walked the front nine. Cameras aren't allowed on tournament days so all those snaps have to be bagged today and Wednesday (when I'll do the back nine).
Golf-wise I saw Lee Westwood drive the ball beautifully but struggle with his short game (a poor bunker shot at the par five second and two underhit chips at the short par three fourth which didn't have enough juice to reach the green which is perched up a hill).
Jason Day had to re-load after hitting a crooked tee-shot at nine while Ernie Els drove into sand at the eighth.
The first shot I saw hit today was a glorious, towering iron from Rory McIlroy which landed about 12 feet from the first flag.
I've backed him so that was promising although he did sound a little flat in his press conference. Normally Rory prezzers fly by as, like many Irish people, he's very good at talking. Today though he ummed and aahed a bit and kept his head down.
There was at least one good moment when he was asked how many in the field could realistically win. After guessing '70' he started running down the hot-off-the-press tee-times but after giving the nod to opening pairing Tim Clark and Stewart Cink he got to Ian Woosnam and said 'no'. Cue laughter and a slightly embarrassed Rory wriggling out something about "no disrespect to Woosie".
Rory was followed into the press room by three-time Masters champion Phil Mickelson.
As expected, the left-hander raved about the course and the tournament but he also said something which got my attention. Rickie Fowler is another of my picks this week and Mickelson said of the youngster: "Rickie Fowler and I were partners today and he went on a tear. He shot 30 the front nine, he eagled 13, he birdied 17 and 18, threw another one on 15, I think. Just played remarkable golf. It was fun to have him as my partner." Save it for the real event Rickie!
Mickelson also said: "This is the best week of the year if you're a golfer."
As much as I love The Open, I would say that Mickelson's statement also applies if you're a golf fan too.
Wednesday: In the next blog I'll be discussing the Par 3 tournament and how to re-create Augusta National in your own back garden (if my friend Emma, who runs a flower shop, gets back to me).