The Masters: Kirsty Gallacher answers your questions live from Augusta National
Kirsty Gallacher answers your questions and gives her thoughts on the great start by cousin Stephen.
Last Updated: 10/04/14 11:48pm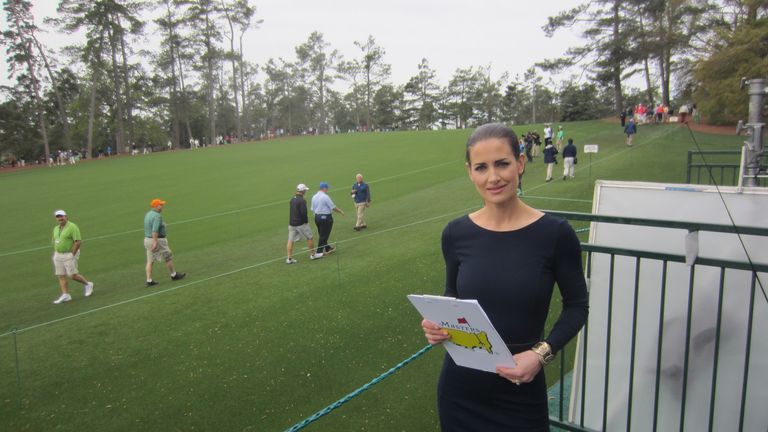 To put your question to Kirsty, use the hashtag #MastersQA.
Q: Will victory be devalued for the winner this week given that Tiger Woods isn't in the field?
KG: No, not at all. The game's opening up much more now. That's evident from the amount of new and different winners we've had this season on both the European and PGA Tour.
Q: Can a debutant win this week?
KG: It's obviously an advantage to know the course but, yes, I think a debutant could do it. There are 24 in the field this week and we've got some fabulous new young talents in the game such as Patrick Reed, Jordan Spieth and Victor Dubuisson. Those three are all Ryder Cup contenders so it's certainly possible that Fuzzy Zoeller's record could go and we'll see a debutant win for the first time since 1979. There are several near the top of the leaderboard after day one so we'll see if they can stay there.
Q: Is The Masters your favourite major?
KG: Yes, there was always something truly magical about watching it on TV as a child and the whole place is just wonderful. The course is breathtaking and you really get that feeling as a viewer too. Even non-golf fans tune into The Masters because it has this unique appeal.
Q: How many Masters have you attended and which was your first?
KG: I first came here in 2012 when Bubba Watson played that amazing shot to beat Louis Oosthuizen in a play-off. It certainly lived up to my expectations and, now I'm at my third Masters, that excitement hasn't worn off. The players feel it too, even those who are coming here for the 10th time.
Are you a fan of the famous pimento cheese sandwiches you get at The Masters?
KG: They're lovely but I'm more of a mature cheddar girl to be honest!
Q: How easily has Stephen (Kirsty's cousin) taken to his first Augusta experience?
KG: Stephen's a very cool customer. He's very laid back and Paul McGinley said he even reminded him of Ernie Els. He had a very clear gameplan in his head when he came here. He pencilled in the sight-seeing, didn't overdo it in practice and played the course with some past Masters champions who know it so well - Sandy Lyle one day and Jose Maria Olazabal the next in a three-ball with Miguel Jimenez.
So excited for Stephen
It was wonderful to watch Stephen hit his very first tee-shot at The Masters (a fine drive straight down the middle).
The first fairway is next to our TV platform so I was able to see his opening drive and then his excellent approach to the heart of the green before heading back to do my next live report from the course.
It was quite a family scene at that first hole. Stephen's young son Jack, who was with my cousin Chris, was also watching and, to add to it all, I even got chatting with an American cousin I never knew I had!
Then to see his name on the leaderboard in the media building after he'd had that brilliant front nine (he birdied the second, sixth and ninth) only increased the excitement levels further.
I went out to watch him on the back nine and he found life a little harder but to shoot under par on your Masters debut (Stephen carded a 71) in such tough conditions... I'm very proud!