The thrill of Phil
Dave Tindall's day one Masters blog includes Phil Mickelson, Stephen Gallacher and a startling stat.
By Dave Tindall
Last Updated: 11/04/14 1:27am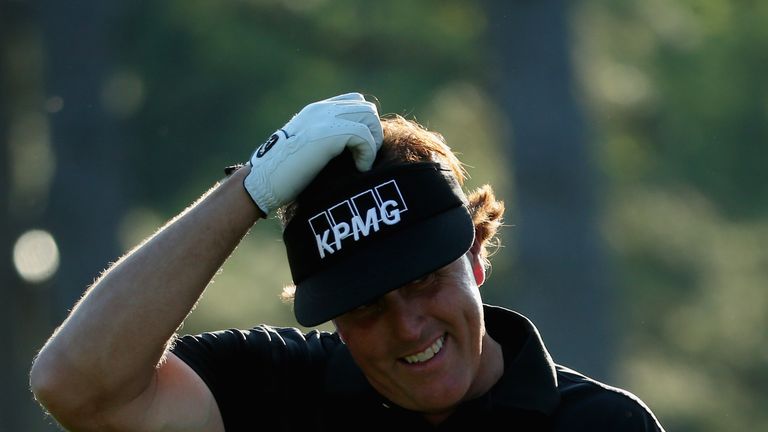 Going to The Masters and not watching Phil Mickelson is like visiting Paris and giving The Eiffel Tower a swerve.
So this afternoon I made a beeline to watch the three-time Masters winner perform on the stage he loves best.
A nonsense triple bogey seven had left Mickelson reeling at three-over par when I caught up with him at the ninth and he had to hole a nervy par putt just to stay there.
Mickelson has an amazing ability to forget any bad that's just occurred so after fading a lovely 3-wood around the corner on the 10th tee, he didn't let a poor approach long and left throw him further off balance.
Instead, he decided to hole the impossible 50 foot downhill birdie putt and get back to two-over.
As he climbed magically into view on the steep uphill 11th tee like Ursula Andress coming out of the water in 'Dr No', it felt like one of those perfect Augusta moments. Blue skies, a golden sun, birds tweeting and Phil Mickelson about to make the walk down to Amen Corner.
A bail-out, avoid-the-water second to the 11th (which played half a shot over par on Thursday) saw the threat of bogey rear its head but a bit of short game magic gave Phil his four.
With a cacophony of 'Go Phil' roars from the Amen Corner crowd, Mickelson then plonked his tee-shot to about eight feet at the par three 12th.
The script said he'd hole it but, the idea that this wasn't his day, was confirmed as he knocked it past.
Two good hits and more wedge wizardry from just off the left edge of the green set up a another birdie at 13 and it was there I left him, satisfied that Phil had given me what I wanted. I'd watched him play a tough stretch in two-under to get back to +1 and, who knows, maybe he could even get into red figures.
He couldn't.
In fact the mercurial left-hander made a horlicks of the 15th, racking up his second seven of the day, and posted a four-over 76 - his joint worst ever start to a Masters.
I doubt this is Phil's year but, in the absence of Tiger (arguably even with Tiger), he remains Augusta's biggest attraction.
Bliss family Gallacher
I'm sat with Sky Sports colleague Kirsty Gallacher (the lucky girl) in the media building so I went with her to watch Stephen (her cousin) hit his first ever shot in the Masters.
A very excited and nervous Kirsty could see Stephen away in the distance up on the first tee and was willing him to hit a solid opening shot.
Her much calmer cousin obliged and, not only that, fizzed a lovely second to about 20 feet producing a hearty clap from the Gallacher clan which now included Kirsty, Stephen's son Jack and another cousin Chris. In fact, an American lady then also claimed she was a cousin. This was getting out of hand.
Kirsty had to do a live broadcast as Stephen putted out for par at the first so I followed him to the second where he made birdie and reported back.
He added another birdie at six to get his name on the big scoreboard in the media building, prompting further excitement, and when he made another at nine to move into second place I took a photo to record the moment for posterity (Kirsty was too giddy to hold a camera by this stage).
And, who knows, it may get even better. Although Stephen fell back to one-over on the back nine he finished the day in tied 12th and just three off the lead.
Mixed start
My five picks this week were Brandt Snedeker, Rickie Fowler, Rory McIlroy, Luke Donald and Sergio Garcia.
It was probably a good idea to spread the risk as it didn't all go to plan.
However, Snedeker (-2) finished the day in tied fifth and Fowler and McIlroy (both -1) in tied 12th so I'm seeing the glass as three-fifths full.
Sergio (+2) is down in 40th after a poor finish while Donald had a shocker. He took 77 strokes but to compound the misery was handed a two-shot penalty for grounding his club in some sand so it became a 79. That leaves him tied 87th of the 96-man field.
A word of warning though for those trying to play catch-up. It's hard to do on a tough course, especially this one.
I've just checked my database and after a lot of whirring noises it spat out this fact:
R1 positions of last five Masters champs when they won: Scott 10th, Bubba 4th, Schwartzel 7th, Mickelson 2nd, Cabrera 6th.
If that's the case the winner will come from this list: Haas, Scott, Oosthuizen, Bubba, K Stadler, Blixt, Woodland, Walker, Choi, Snedeker and Leishman.
So Snedeker it is then!