Jack Nicklaus: Golden Bear says Tiger Woods will still break his Major record
Six-time Augusta champion reveals how to play course's greens...
Last Updated: 26/03/15 12:18pm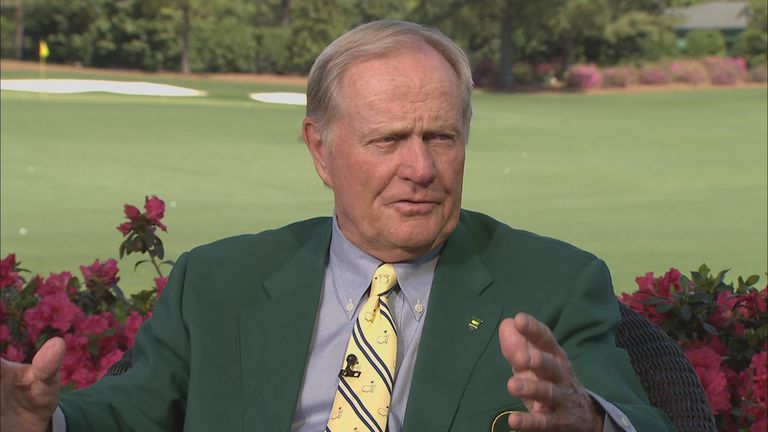 Sky Sports kicked off its Masters coverage in the best possible fashion.
That's because we enlisted the services of six-time Augusta champion Jack Nicklaus, with The Golden Bear talking about myriad subjects, including the man chasing his record of 18 Major titles.
Tiger Woods, who has 14 Majors to his name, pulled out of this year's Masters with a back injury and while Nicklaus believes the World No. 1 will eventually topple his tally, he says the 38-year-old's fitness is a concern.
Nicklaus also discusses how to approach the greens at Augusta, and reflected on his final Masters triumph in 1986 when, at the age of 46, he beat Tom Kite and Greg Norman by one shot and Seve Ballesteros by two...
Jack on... Tiger Woods
Any time Tiger doesn't play it is going to impact the tournament as he has been the biggest draw in golf for a long time and will continue to be so for a while yet.
Jack Nicklaus
"I know Tiger has a great work-ethic and a desire to keep himself fit but whether he does it correctly, I don't know. He has been injured a lot lately - he has had several operations on his knee and now has a back problem - and I was shown a picture of him recently by the guy that is taking care of him where his legs were straight but his back was out ahead and not supporting his torso properly.
"So I'm not sure what's going to happen with Tiger and where he is physically, but he has 10-15 years of golf left in him and is going to be competitive. Tiger is a terrific player and we all know my record has been on his closet door since he was a little kid, but maybe too much of my record has been on it and he has been too focussed on it. However, I've said it many times and I still believe that Tiger is going to pass my record, but he has to go and do it."
Jack on... Augusta's greens
"A lot of young guys have asked me how to approach the pin positions at Augusta and I say: 'Go for the middle of the green'. If you do that at number one you've got a fairly easy putt in four directions and the same at number two, three, four and five. At six they put the pin on the top or the bottom so you have to try and be one side or the other but if you hit the middle of the green on most holes you won't have that difficult a putt.
"It is not the type of course where the ball falls off a cliff, but the difficulty comes when you really start going for the pins and miss it on one side as you are then as dead as a doornail. You have to work out whether you can putt the ball and that is hard because the greens are so sticky compared to other courses."
Jack on... his 1986 Masters win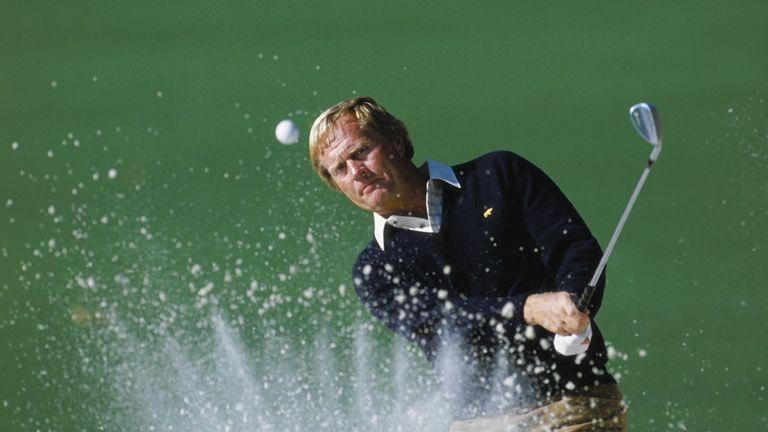 "I have all the clubs I have won Major Championships with, except for one, the putter I won the Masters with in 1986! I'm sure when I stopped using it and it went on a shelf at home, one of my kids picked it up and gave it to someone. I'm not sure who to and it's the only club I can't find!
"Thinking back to that win, I never knew I had the job done but Seve, who was leading at the time, told me earlier in the week he wasn't that confident and didn't feel ready to win, and he backed off, quit on his shot at 15 and hit the ball onto the lake. I heard a mix of groans and cheers, as there were people who wanted me and Seve to win, and knew I was in the tournament."