Fred cruises on
Dave Tindall's Masters blog discusses the incredible Fred Couples and the theory of evolution.
By Dave Tindall
Last Updated: 12/04/14 2:01am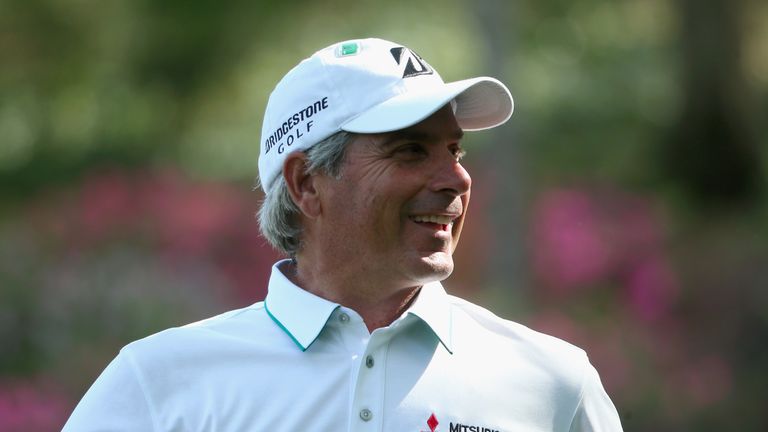 One day, we'll watch the first two days of The Masters and Fred Couples won't be on the leaderboard.
Freddie turned 50 in 2009 and therefore you'd expect his golden days at Augusta National, highlighted by a win in 1992, would be a thing of the past.
But, remarkably, since reaching his half-century five years ago, he's been inside the top 10 of The Masters at the halfway mark every single year - 9th in 2010, 7th in 2011, leader in 2012, second in 2013 and tied seventh this year.
Golf's coolest, most laid-back swinger was at it again today as he strolled around the immaculate fairways of Augusta National as if playing a Sunday morning game with his pals.
My plan this afternoon was to follow the Rickie Fowler-Jimmy Walker-Graeme McDowell group from the 10th for a few holes.
But after watching Fowler and G-Mac bogey the 10th and double the 11th, my attention switched to Freddie in the group ahead.
The roars were enormous as he marched onto the 12th tee and although he tugged his shot left, there was still a huge cheer as his ball clung onto the bank and somehow failed to trickle back into Rae's Creek - a reprise of his famous shot on Sunday in 1992 which defied gravity and helped him claim the Green Jacket.
He could only make bogey this time but the 'Freddie, Freddie, Freddie' roars soon returned at 13 as he stroked in a birdie to get back to three-under where he stayed to lie just four shots off the halfway lead.
Freddie really doesn't seem to age. Whereas a current picture of Lee Trevino looks like a CGI taken 20 years ago of how he might look in the future, Couples still carries that air of the easy-smiling housewives' favourite flipping burgers at a barbecue.
Father Time does catch up with all of us though and, judging by previous years and Freddie's own admission, he does normally tire over the weekend.
There might still be a bit of magic on Saturday but the reality is that he's more likely to finish tied 12th than become the oldest Masters winner in history.
As usual with Couples though, we've enjoyed the ride.
Forever in Blue Genes
The theory of evolution says each successive generation is an improvement on the prior one.
Listening to a Julian Lennon album may suggest otherwise but the theory did enter my head when I saw Craig Stadler on 18 earlier today.
While Craig struggled round in 15-over and missed the cut, son Kevin goes into the weekend on one-under and inside the top 10.
But it's not really that which proves the theory as Craig is now a senior citizen and won The Masters back in 1982.
I'm thinking more of the 'disappointment' gene.
No-one does hacked off like Craig Stadler. His appalled body language and severe self-loathing suggest the world has ended when actually he's only missed a six footer for par.
I saw the slumping shoulders, bristling moustache and dejected club toss when walking back up 18 today. Craig had hit a shot he didn't agree with from just under some trees and looked ready to explode. The world hadn't ended though. I checked the leaderboard later and Craig had made par.
Kevin may be a chip off the old block looks-wise but he's a much, much calmer customer and maybe the evolutionary improvement of the Stadler disappointment gene may help him make a big challenge for the Green Jacket over the weekend.
And then there were three
Talking of disappointment, my Masters picks haven't exactly covered themselves in glory today.
Sergio Garcia and Luke Donald have missed the cut while Rory McIlroy made it by the skin of his teeth.
Rickie Fowler went backwards after a 75 to drop to 26th although at two-over he's only six off second place.
Brandt Snedeker looked set to add to the frustration too after shipping four shots in his first 10 holes but he birdied 15 and then almost holed his second for eagle at 18.
The tap-in birdie got him back to level par and into tied 15th.
That's seven back from three-shot leader Bubba Watson but if the left-hander can't keep it going then the chasing pack have the opportunity to pounce.
If the course is set up a little easier tomorrow (that's a big 'if' by the way), I still think Snedeker can play a big part in this tournament.
That's the thought I'll take away as I head home. Hopefully tonight I won't order some Chicken Wings from room service and lock myself out of my room as I place the half-eaten collection of bones and gristle in the corridor outside and the door slams shut behind me while I'm only wearing underpants.
And if I do I'll try not to swear as I fall into the sauce after being smashed in the backside by the closing door as a really attractive woman walks past.
Because that couldn't happen could it.