Over to you Rickie
Dave Tindall's latest blog features the rise of Rickie Fowler, the horror five-putt and a new cult hero.
By Dave Tindall
Last Updated: 13/04/14 5:34pm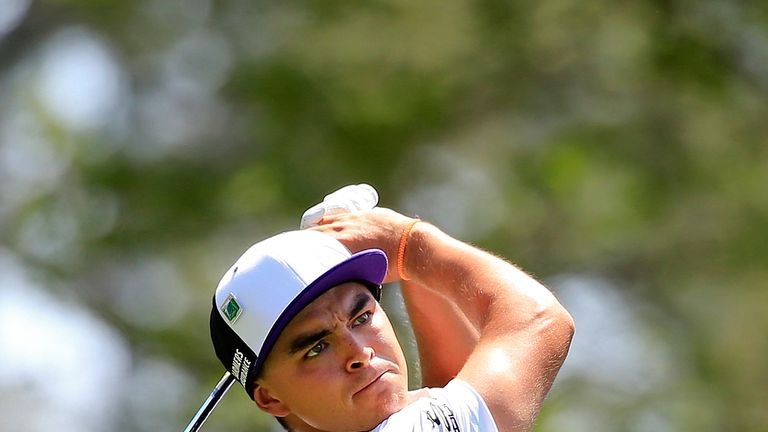 There was some fantastic golf played at Augusta National on Saturday but I seemed to get mixed up in the stranger side of it.
Along with several other UK journalists and seemingly thousands of patrons, I decided to watch the very first group of the day which, bizarrely, given that he was the pre-tournament favourite, featured Rory McIlroy playing alongside a marker.
Rory was the 51st and final player to make the cut on Friday so, as the players go out in two-balls on Saturday, he was the odd man out. The rule at The Masters in such circumstances is that a marker is used rather than have one player go out solo. And for the last few years this role has been fulfilled by the same Augusta club pro.
Jeff Knox is something of a mystery figure as he doesn't speak to the press but he does have a rather special claim to fame. Knox is the Augusta National course record holder having once negotiated this course in a stunning 11-under 61.
Despite that, you'd imagine he'd be a bag of nerves with packed galleries watching him play alongside a former and future world number one like Rory but, having done this before, 'Knoxy' - as the walking UK press immediately crowned him - was ice cool.
He calmly fired his approach onto the first green and matched Rory's par, traded birdies with the two-time major winner at the second and, showing more local smarts, made par to Rory's bogey at three.
"Knox wins the hole in par, one up," whispered the PA's Phil Casey as the local hero edged in front.
And, remarkably, there he stayed. Knox played the outward half in 35 to Rory's 37 and kept going to outscore Rory 70 to 71.
His score doesn't officially count as he doesn't officially exist (his caddie wore a white boiler suit with no name on) but what a story to tell the grandchildren.
Not a magnificent seven
Brandt Snedeker was my main, if slightly optimistic, hope for Masters glory going into the weekend, the man from Tennessee starting the day at even par (tied 15th) and seven off the pace.
A good start was vital so I headed out to will him on.
I first spotted Snedeker on the left-half of the first fairway and looking as if he was blocked out by overhanging branches from one of the spectacular giant pines which line the holes here. But, he squeezed out a low iron onto the green and it caught a slope and rolled to four feet of the hole.
Snedeker, one of the quickest players in golf, popped it in with the minimum of fuss and we were up and running. One-under and in red figures straight away. A real bonus at that first hole which is playing as the third hardest this week.
Although he missed a five-footer for birdie at the par five second, he quickly made amends with another short birdie putt at the short third after a lovely wedge.
Everything was going to plan.
The layout of the course means a nice little loop is to walk down the right of the first, cross and walk down the right of the second, do a 180 and stroll back up the third and then stand behind the elevated mound behind the par three fourth tee and watch the green in the distance.
At the second I'd bumped into Dec out of Ant and Dec and had a quick chat while, as I crossed the fairway, someone was telling Alan Shearer the football scores. He displayed not a flicker of emotion that Newcastle had lost (again) 1-0 at Stoke.
Up at four I heard Dec regaling some of Shearer's friends with the anecdote I'd told him about the marker outscoring Rory on the front nine although I was more concerned with Snedeker's tee-shot.
Unfortunately, it wasn't good, the American pulling it into sand by the left of the green. After a bit of faffing and a call to a rules official (from my position 240 yards back behind the tee it seemed as if his and Westwood's balls had landed side by side), Snedeker eventually played his bunker shot to what looked about eight feet away.
As the sun was really beating down, I thought I'd leave at that point as there was work to be done back in the media centre. Hopefully I'd get back there and find out that Snedeker had made the par putt and would still be at -2.
So imagine by utter shock when I got back and he was +2 instead. Somehow he's taken a quadruple bogey seven. How was this possible? One of the world's best putters was hardly going to five-putt so there must have been some weird rules infringement.
I took to Twitter to vent my frustration and quickly got the reply that Snedeker had indeed five-putted and there was a video of it on the official Masters website.
I like a good horror flick but this made me recoil as I watched him knock it back and forth like a toddler in the Par 3 Contest.
Predictably, he went to pieces after that and couldn't break 80. Oh dear.
Thankfully, my other remaining hope, Rickie Fowler, played some inspired golf to shoot five-under 67, the second best score of the day. That vaulted him up to tied fifth and meant he finished Saturday just two off the lead.
He'll go out in the third last group on Sunday and he's put himself in great position to win the Green Jacket.
Rickie also revealed that the person he's learned the most from about Augusta National is Phil Mickelson.
They played together in a practice match against Dustin Johnson and Jason Dufner on Tuesday and Fowler shot the lights out, carding nine birdies and an eagle to carry his team to victory.
On Friday, Mickelson missed the cut for the first time here since 1997 but just maybe he could have played a big hand in deciding this year's winner.
I had a feeling before this week that, with no Tiger, this Masters might see a symbolic passing off the baton from the old to the next generation.
Joint leader Jordan Spieth, still just 20, might be the one to fulfill that destiny and it would be a great story.
But I've been a Fowler fan for a few years now and feel his time may have come. That thought - plus the three-figure pre-tournament wager - means tomorrow I'll be rooting for Rickie to slip his arms into the iconic Green Jacket.