Sky Sports takes a trip to Hillside Golf Club for the final round of qualifying for the 2014 Open
By Mark Kendall
Last Updated: 04/07/14 11:16am
Tuesday marked the chance for 12 golfers to secure their place at this year's Open Championship.
At four venues dotted around the country a collection of players comprising amateurs, club pros, minor tour pros, veterans and the odd European Tour player did battle in final qualifying to land a spot at Royal Liverpool later this month.
In the south, Woburn and Sunningdale played host with Oliver Fisher, Paul Dunne and Rhys Enoch coming through at the former venue and Matthew Southgate, An Byeong-hun and Chris Rodgers successful at the latter.
Meanwhile, up at Gailes Links in Glasgow it was Marc Warren, Jamie McLeary and Paul McKechnie who punched their tickets.
The final venue was Hillside Golf Club in Southport and Skysports.com's Mark Kendall went down for the day to watch the story unfold...
High drama at Hillside
This was my second visit to Hillside having had the good fortune to play the course some four or five years ago.
On that occasion it was overcast and quiet, but there was a discernable buzz about the place this time around with bright sunshine having lured plenty of spectators down and preparations well underway for the Women's British Open at Royal Birkdale just up the road.
Talk of an unlikely appearance from Vijay Singh had no doubt helped swell numbers with the three-time major champion having to qualify for his first Open Championship in some 25 years.
But those hoping to stride the fairways with the big Fijian were to be left disappointed after it was quickly confirmed he had opted to stay Stateside to try and play his way in through this week's PGA Tour event.
So instead youngster Matt Fitzpatrick assumed the role of biggest draw, the teenager also having to earn himself a spot at Hoylake having invalidated his invitation as reigning US Amateur champion by turning professional after last month's US Open.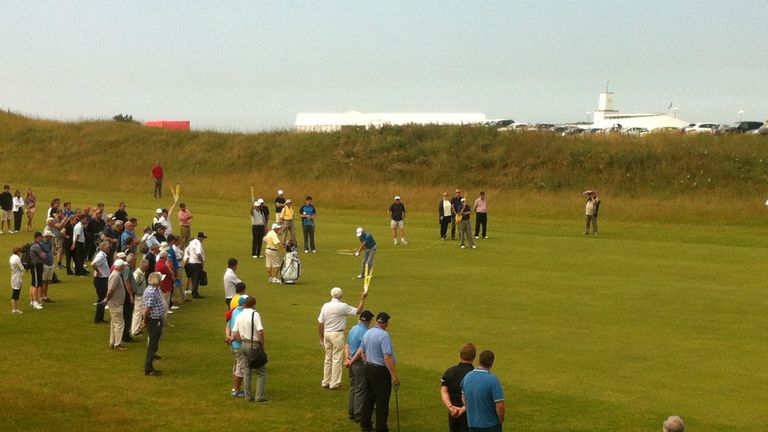 Having completed the first 18 of 36 holes, Fitzpatrick found himself seven strokes behind the halfway pacesetter (Pontus Widegren of Sweden) after a one-over-par 73 that owed much to a clumsy three-putt which cost him a double-bogey at the 18th.
Fitzpatrick had teed off with Swindon pro Martin Sell and European Tour veteran Richard Finch, yet by the time I caught them coming down 18 only Sell and the willowy Fitzpatrick – carrying a decent-sized crowd, including manager Chubby Chandler – were visible.
Early exit for Finch
A quick consultation with those lurking around the leaderboard between the 18th green and the first tee resulted in confirmation that Finch had actually withdrawn in intriguing circumstances, although as ever on days like this, where word of mouth is king, the exact turn of events depended on who you talked to.
The bottom line was that having played his first nine holes in one-under, Finch had rather spectacularly fallen out with a spectator on the tenth tee and, after a frank and forthright exchange of views, stormed off the course.
A wild overreaction seemed to be the common consensus, especially given what was at stake, but there was precious little time to sit around and debate with Fitzpatrick heading back out for his second round after a 20-minute turnaround, this time starting from the tenth tee.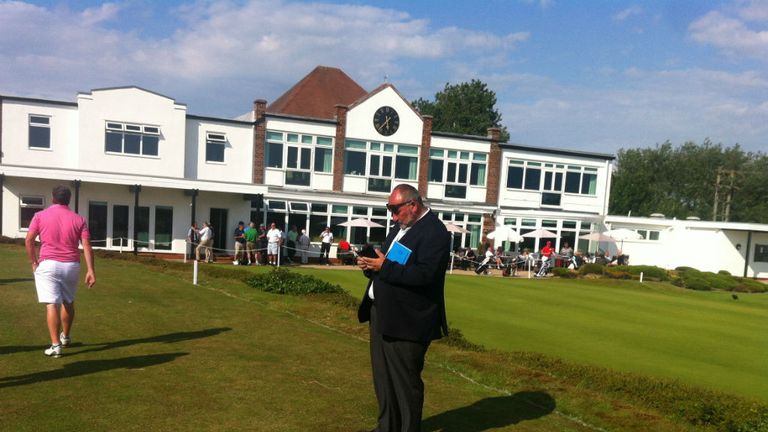 Given that Hillside boasts a back nine that Greg Norman described as the best in Britain, I chose to walk it with Fitzpatrick and watch one of golf's bright young things first hand.
Birdies at 10 and 12 quickly re-energised his bid and the wonderful tempo and balance to his swing underlined the potential that has got so many excited, including Chandler who told me: "He's got a lovely game and he's only going to get better… there's nothing of him at the moment."
However, this was not to be the teenager's day, a triple-bogey seven at the third put paid to any lingering hopes and, having eventually signed for a 75, he did not even bother with a furtive glance at the leaderboard as he made his way off.
But as the day drew on and the numbers went up it became clear a tense finish was in prospect – the kind events like these always seem to throw up.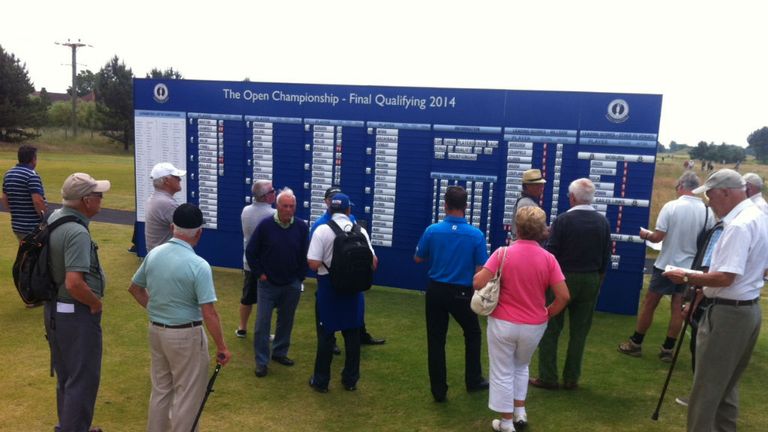 With the final two groups making their way down their final holes, John Singleton, Oscar Floren and Chris Hanson occupied the three qualifying places having finished on six-under – the only man capable of spoiling their party was Nick Marsh who required a birdie at the ninth to force a play-off.
Having left himself 20 feet for the three he needed, Marsh was already celebrating before the ball had dropped as he found the centre of the cup, prompting a celebration not dissimilar to those we have become accustomed to from Ian Poulter at the Ryder Cup and leaving all those watching in no doubt as to how much this day can mean to those taking part.
Cruel finish
Cruelly, given that heroic finish, the ninth green - scene of Marsh's jubilation barely an hour earlier – would see an altogether more painful denouement for the Huddersfield pro in the play-off as he missed from five feet to stay alive at the second extra hole.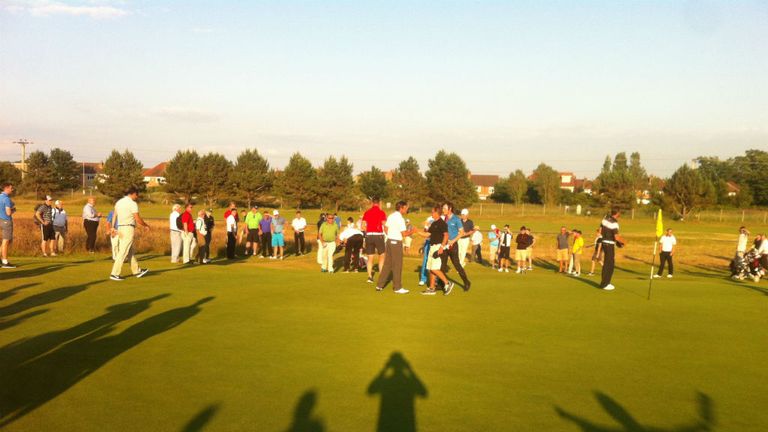 The contrast in emotions was predictably stark, the magnitude of their achievement in qualifying for a first Open Championship clearly overwhelming for Challenge Tour regulars Floren and Hanson.
So imagine the feeling for local lad Singleton, an aspiring player who chose to give up on the game as a professional option years ago and who now works full time on the shop floor of a factory at an industrial varnishing firm.
Hailing from just down the road in the Wirral, the 30-year-old – who borrowed two wedges off a friend to play and had to ring in another to caddy for him – will now make his way to Hoylake in a couple of weeks' time - provided his boss gives him the time off.
"I've never tried before (to qualify), I work full-time so I don't actually play any events," he revealed having secured his spot. "I decided to have a go (at regional qualifying) because I was playing ok and I managed to scrape through as first reserve and got the call to play here on Saturday. I'm glad I did now.
"I'm in shock really, I feel quite numb. It's just the most amazing thing ever for me. I played lovely and I'm really proud of myself."
It's the kind of story that this event throws up year after year; elation, agony and the unlikliest of heroes.