Ladies European Masters: Sarah Kemp sets the pace - but can she maintain her lead?
By Matt Cooper
Last Updated: 04/07/14 10:24pm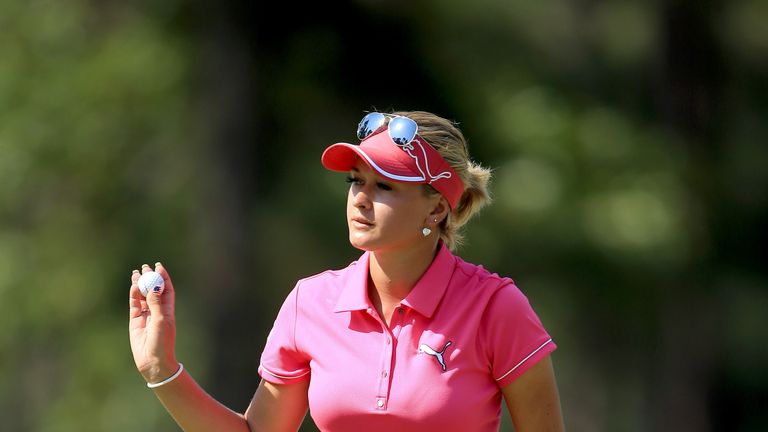 Just as the BMW PGA Championship is the flagship event on the European Tour, so the LET is seeking to turn the ISPS Handa European Masters into their key tournament.
The two weeks have much in common: both have a bustling tented village, both boast the best field of the year outside the majors and both are hosted in the Tour's backyard, in the LET's case at The Buckinghamshire GC.
Live coverage of the final two rounds is on Sky Sports 4 from 5pm Saturday, with an additional one hour on the red button from 4pm.
Matt Cooper sets the scene ahead of the weekend action.
Course specialist
Back in May Welsh rookie Amy Boulden came to the Buckinghamshire for the US Open Qualifying tournament, shot two-under-par for 36 holes and won the event.
He (Robert Rock) is aware that there isn't that much support for young professionals. It's not so much swing work as game advice, off-the-course details and managing yourself
Amy Boulden
Not surprisingly the 20-year-old was looking forward to a return to the course for this week's event, but she had a longer wait than she planned for because on Thursday morning she was still on standby as the first reserve.
But she got a late call up and has taken full advantage, shooting two rounds of 69 to post six-under-par at the halfway stage, good enough for second place, another impressive effort in a year that has also included a maiden professional victory on the LET Access Series in Switzerland.
One reason for her productive year is her association with the Robert Rock Academy, where the European Tour winner himself is her mentor.
"I work directly with Rob," she explains. "He helps me and Kelsey MacDonald, and the idea is that he wants to guide us through our rookie year.
"He's aware that there isn't that much support for young professionals. It's not so much swing work as game advice, off-the-course details and managing yourself."
Following her success at the US Open Qualifier Boulden missed the cut, but had a great experience, at Pinehurst for the main event. On her return to Europe she played well in Italy last week before maintaining the form here. There's a sense that she has benefited from taking on the toughest test in women's golf.
"Yeah, I've never played a course like that. Compared to Pinehurst saving par after missing the greens in Italy almost seemed been easy!"
Boulden is unlikely to be counting any chickens however. She seems to have a calm head on young shoulders, which Rock's expertise has helped thrive.
A golfing education
Boulden is not the only rookie in the field with a mentor. But whilst her wise voice offers advice from the perspective of a successful golfer, Sally Watson's mentor comes from a political and diplomatic background.
Watson, 23, completed her degree at Stanford University last year and throughout her time there could call on no less a figure than Condoleeza Rice for suggestions and assistance.
"We didn't so much discuss golf as talk about success," says Watson. "I think successful people have lots of attributes in common and they translates across disciplines.
"Whatever you are successful in it takes hard work and dedication. So whenever we chatted it was important to ask her what had been her keys to success in her career."
Watson is a keen learner and was it again earlier this week.
"I was at Wimbledon and I noticed that tennis players have a team of support staff, they're not one dimensional. I'm fortunate that I work with Scottish Golf Support Limited who help me with a physical trainer, a mental psychologist, a detailed statistical programme, even a guy who looks at my eyesight and my putting.
"I think you need to be doing something a little extra because at this level the standard of players is so close, to get ahead you've got to get an edge to get to the top."
Two weeks ago Watson had the best finish of her season, finishing third in Slovakia. She goes into the weekend on four-under-par, inside the top ten, with another chance to contend and continue her learning curve.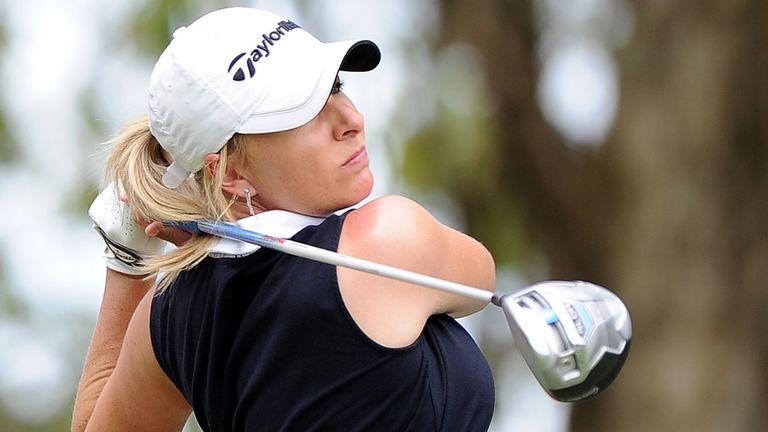 Aussie double?
Last year Aussie legend Karrie Webb claimed the title and this year her friend Sarah Kemp has the halfway lead.
She'll be chased hard by plenty of youngsters, not just Boulden and Watson. Australia's 18-year-old prodigy Minjee Lee, the world number one ranked amateur, is just four shots behind Kemp.
Homegrown star Charley Hull is not discounting herself either. She's only level par, but said after her round: "I've won from six shots back so nine shots back with 36 holes to play isn't out of the question."
World Cup fever
Back in 1996 football fan Laura Davies was desperate to keep up to date with the England-Spain European Championship quarter final so carried a portable TV during her third round at the Evian Masters.
In the second round Germany's Caroline Masson had an afternoon tee time which coincided with her nation's World Cup quarter final with France. Davies was fined for not paying full attention, but went on to win the event next day. Masson didn't carry a TV, but wouldn't mind the win this weekend.
Her inadvertent World Cup theme for the day was to shoot a 74 – a reminder that Germany won the World Cup that year. She might have preferred a 66.
Need ice
The tented village has been basking in the heat, with just about every drink screaming for ice. To maintain that theme tomorrow Eve Muirhead, skip of Team GB's bronze medal winning Olympic curling team, will be doing a Q&A there tomorrow.
A useful golfer Muirhead reported from the Scottish Open for BBC Scotland last year and once considered turning professional.
Keep hydrated
Some in the tented village thought the heat was getting to them on Thursday when Strictly Come Dancing's Anton Du Beke was seen dancing with Tiger Woods' niece Cheyenne Woods.
It might have seemed like a halucination, or even a cheese dream, but it was happening.
Tickets
If you want to attend rather than watch the action, you can get half price entry with Sky Tickets. Use the code SKYLEM6.
Click