Ian Poulter talks the Ryder Cup, his desire to see more golf tournaments in England and why he wants to see Arsenal splash the cash!
Last Updated: 15/07/14 2:46pm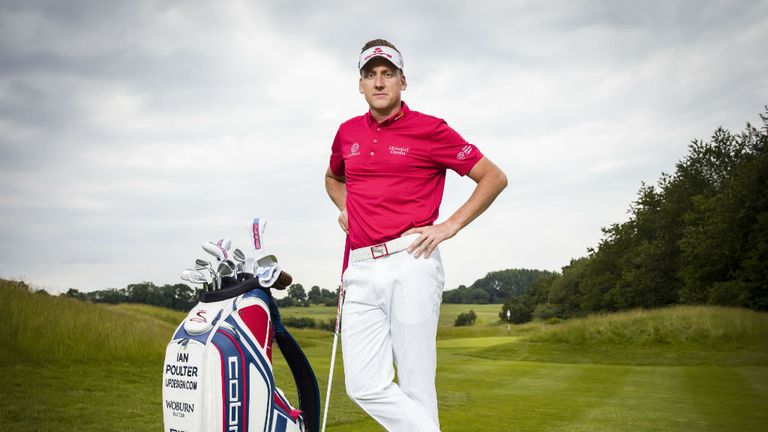 Ian Poulter is arguably the most passionate golfer on the planet, like him or not, he's great for golfing journalists around the world as, unlike many, he has opinions and is not afraid to voice them.
Sitting down with Poulter even whilst he's on a promotional video shoot for the new Arsenal kit and a long way removed from the high pressure atmosphere of a tournament, his passion and desire for golf, and the Ryder Cup in particular, comes shining through.
Even a wrist injury hasn't stopped Poulter from lining up at The Open this week at Royal Liverpool, and he will, as usual, be his tough competitive self, but there is nothing that makes Poulter's eyes light up more than talk of the Ryder Cup.
As a frustrated footballer, Poulter thrives on the competitive element of the Ryder Cup contests with America, which give him the same sense as if he was playing for his beloved Arsenal.
You could add up every major I've played to date, which is a lot, and add them all together, the intense pressures don't even come close to one Ryder Cup.
Ian Poulter
"Obviously I wanted to be a footballer and not a golfer so whenever I can mix the two together is great," Poulter told Sky Sports as he filmed a special video to celebrate Puma's new Arsenal kit launch. "I'm not complaining though I've done pretty well out of golf so I suppose I chose the right sport, or it chose me.
"In majors you've got great knowledgeable crowds who know their golf and who appreciate good shots and there's 150-odd players, but In the Ryder Cup you've got two teams and the fans are so loud and passionate it's just like a football match."
Although obviously a major is the highlight on any golfer's CV, Poulter insists nothing can compare to the intensity of a Ryder Cup match.
"No, not even close, I can't even equate it to anything like the same, because the Ryder Cup is unique, really, really unique. You could add up every major I've played to date, which is a lot, and add them all together the intense pressures don't even come close to one Ryder Cup.
"It's in every aspect, you're not playing for yourself, you're playing for 11 teammates and captain and vice-captain and a continent very passionate about keeping that trophy – there's a big difference in playing for one against playing for millions.
Ryder Cups v Majors
"You're got millions and millions times the pressure than you have in any major."
Poulter was the hero of the Miracle of Medinah, with one of the most memorable moments being him whipping up the crowd on the first tee when playing against Bubba Watson, after the American had some the same thing the day before.
"He did it the day before, so when we got paired together the following day there was no way I was going to allow that over my tee shot, so I planned to do the same," he explained.
"It was great, it was a massive adrenaline rush, you wouldn't want to do it on every tee box or you would be a bag of nerves by the end of it. He was always going to do it so I made sure I got my one in first!
"I can't put any more pressure on myself than I do anyway, I put enough pressure on myself to go out and perform so I just don't feel any added pressure on top of that. I don't even think about not qualifying for Gleneagles, by hook or by crook I'll be there."
Playing back in front of home crowds is a bonus for Poulter, although he would like to see more golf tournaments played in the UK - and especially England.
"It's always nice to play in front of home fans – this place is starved of tournaments, over the years there used to be a lot more than there are now, so the fans are always up for it and come out in great numbers.
"Money, money, money is the problem, you can't have a tournament without it. If the sponsors are there it'll happen, and I'd love for there to be more, I'd love it if they had more tournaments in England.
More signings for the Gunners
"You've got such great English golfers; Justin Rose, Lee Westwood, Luke Donald, so it'd be a great shame if there weren't more tournaments. It always comes down to the No 1 factor – money."
And what of his other sporting passion? Well his beloved Arsenal have just signed Alexis Sanchez, which should make him smile, but he suggests The Gunners still need to strengthen.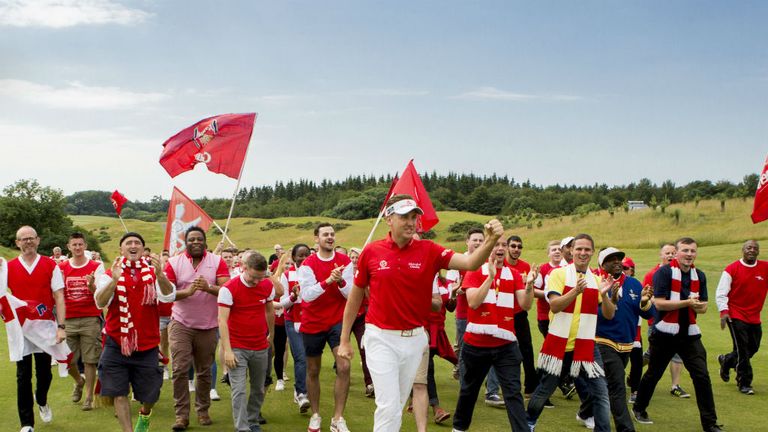 "February, March they had to play all the top teams in all the competitions so the strength and depth just wasn't there. They need to write several cheques!
"As a fan I'm happy Arsene Wenger is staying, but he needs to write those cheques! We don' know if it's him or the board, and over the last two decades he's been the smartest business manager in the league. He's so smart, there's nobody who's done a better job than him.
"The team's good, but as a fan watching Arsenal through the years winning trophies you'd expect them to have won a few more the last few years.
"They've built and paid for the stadium now, so you expect a bit more from the most expensive ticket in the Premier League. They've finally got some silverware so hopefully they just keep that going."
And on England - how does being knocked out so early in the World Cup compare with losing a Ryder Cup?
"I was disappointed with them. The Ryder Cup we get every two years, World Cup's only every four so for the players I'm guessing they're absolutely demoralised. I can only imagine from a players perspective how down they'll be.
"They're going to get criticised, if you lose two games, how can there be any positive press come out of that from such a footballing nation. The best players will take it on the chin and move forward."