Inside the ropes
Open Championship 2014: The story behind Matthew Southgate realising a long-held dream
By Matt Cooper
Last Updated: 16/07/14 4:50pm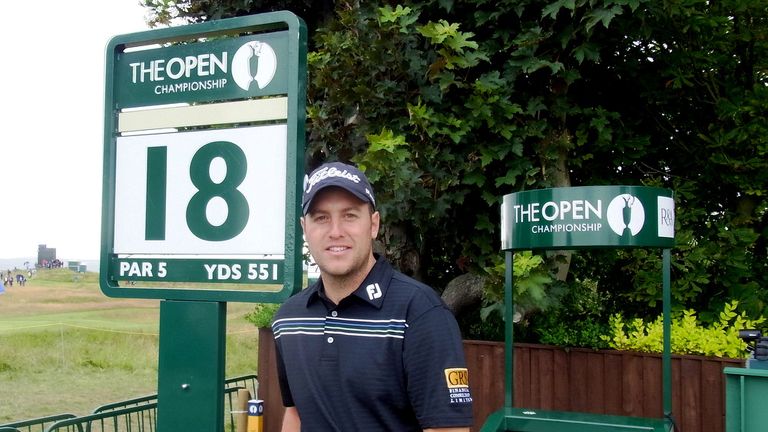 Fifteen years ago Matthew Southgate walked up the final hole at Carnoustie and made bogey five
It was 1999 and Southgate was ten years old.
It was also the Monday after the Open Championship had finished, rather than the real thing.
The grandstands were empty, the flag poles were creaking in the wind and you'd imagine that his imagination was running wild.
This week Southgate, now 25, from Southend in Essex, will walk up the final fairway for real as he makes his Open Championship debut.
Journey
His journey is a remarkable one, a classic Open fairytale and it began long before Matthew was even born, when his father Ian fell in love with the golf, the Open and, in particular, Tom Watson.
By 1984 Ian had a young family. When Severiano Ballesteros holed out on the 18th green at St Andrews and famously saluted the gallery three times, his eldest daughter Anna was in her mum's arms, in the stands, just three months old. If "My First Open" exists as a competition, it ends right there. Game over.
Thirty years later Anna was on the bag for Final Qualifying at Sunningdale, helping her brother clinch his spot in the main field, granting him the opportunity to fulfil the dreams he had 15 years ago.
Hands
His week at Carnoustie in 1999 might have ended with imagined glory on the 18th, but it had begun with a chance meeting with the then 19-year-old Sergio Garcia when he told the Spaniard that he wanted to become a professional golfer.
"Sergio showed me his hands," said Southgate, ahead of his first round tee time. "They were covered in callouses and he said: 'That's how hard I work, you need hands like this.'
"When I got on the European Tour I told Sergio about that day. He asked to see my hands. When I flipped them over he nodded and said, 'Good job!'"
Southgate's connection with Carnoustie goes further than that one glorious summer week in the late 90s because for the last ten years he has been a member there.
"My dad went to play a competition there in 1987," he explained, "and he loved it so much he joined. I got membership for my 16th birthday – it was my present for getting down to scratch!"
Links
Ahead of this week's test he returned to Scotland for some links practice and, as usual, felt right at home.
"I love it up there. I think I know pretty much every member and it's a proper golf club. It doesn't matter if you're a 20-handicapper or a professional – if you love the game, you're accepted. It's such a cool place."
His affinity to links golf, and Open rota courses especially, goes beyond membership at Carnoustie. He was the 2010 St Andrews Links Trophy winner and earlier this season claimed victory on the TP Tour at Royal St George's.
Nor is he the only member of his team with close links to the Open Championship – his caddie Josh McColl, 24, is the son of Bill McColl who won the Tooting Bec Medal (awarded to the Open's lowest round by a British golfer) when finishing T23 at the 1980 championship.
Josh is wearing the medal around his neck this week for good luck.
Southgate and McColl met at school, where they and another friend, Dave Tintori, 28, would eagerly discuss golf in the playground.
Like McColl, Tintori is still around – in fact, he is Southgate's coach. And like McColl he has Open links – his Italian father hails from San Remo where he was close friends with Costantino Rocca, who almost won the claret jug in 1995.
"I feel like I've got the best team around me," says Southgate, of his family and friends. "And my game feels great too."
The challenge he faces this week is one he thrives on.
"Links golf is like a blank canvas. You feel like an artist playing it. You can play every hole differently and I love that."
Nor is he a stranger to Royal Liverpool.
"I played the Brabazon Trophy here as an amateur and finished top ten. I also had an England squad session there."
He's expecting nerves on the first tee, but not hiding from them.
"I was nervous when I was on the brink of qualifying at Sunningdale, but they were good nerves and my sister did a great job. I want to recreate that feeling and remember her words.
"I don't want to pretend I'm not nervous. Nerves are your body telling you, 'Come on, mate, concentrate.'"
On Wednesday Southgate played the back nine. He pegged it up with Rafa Cabrera Bello, Henrik Stenson and … yes, he was playing in Open Championship week with the man who gave him advice 15 years ago.
He was walking alongside Sergio Garcia.
In 1999 Matthew Southgate played the final hole of the Open when the grandstands were empty.
This week they will be packed and many of those seats will be occupied by his proud family and friends.
On the one hand (the soft hand of a golf writer) you could say it's a bit of an Open fairytale.
On the other hand (the calloused, blistered, bleeding hand of a golf professional) you might prefer to argue it's the result of years of hard work and dedication.
Or maybe you could agree that it's a bit of both.