Open Championship 2014: Matt Cooper enjoys a round with local hero John Singleton
By Matt Cooper
Last Updated: 19/07/14 4:11pm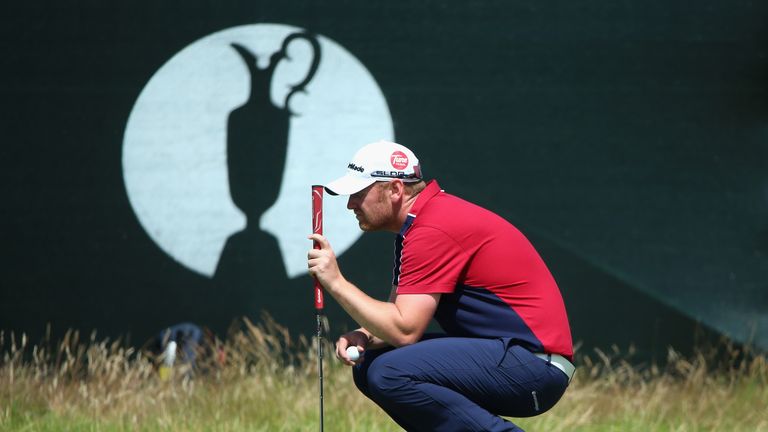 It made for quite an Open contrast: Peter Uihlein, son of the CEO of Acushnet, owners of Titleist and Footjoy, playing alongside John Singleton, the bloke who borrowed his mate's wedges to qualify at the last minute.
A bit like the contrast between Singleton's day job and his golf.
A voice on the first tee, as we awaited his arrival at 10.32, said: "It's like Hong Kong Phooey - by day a mild mannered janitor, by night Open golfer."
That wasn't quite right – by day Singleton is a factory worker, making resin.
And he doesn't play golf at night.
But everyone laughed because we knew what he meant. On Thursday morning John Singleton, who lives and works just minutes from Royal Liverpool, and who had claimed his place at the Open via a four man play-off in Final Qualifying, was living the dream.
You knew as much when he walked on to the tee.
"Aw'right Singo!" "Singo! Singo!" and "Come on Singo, la!" came the shouts from friends and family – and he hadn't even hit a shot yet.
When Ivor Robson announced his name the 30-year-old went through his routine, settled above the ball and prepared to release the trigger.
And then someone coughed.
Singleton stepped away, his caddie offered a word, and he repeated the routine. In the stands we held our breath, fearful of what the interruption would prompt.
Singo didn't appear to worry. 
He lashed his ball straight down the fairway, a glorious shot in the circumstances, but he would later admit, "Oh yeah, I had unbelievably shaky hands."
The approach which followed went through the green ("adrenalin") but he saved par with an up and down that displayed both touch and composure.
It was to be a theme of his front nine: six times he missed the green, five times he saved par.
"The ginger Seve," said one of the many friends lining the fairways.
Even those who had never heard of Singleton until the last couple of weeks were now calling him "Singo". He was Hoylake's everyman.
He also looked like he was enjoying himself, feeding off the energy of the gallery. On the fifth tee there was a wait and he stood in the shade.
"All right, la?" asked a voice.
"Sound, mate," Singo replied. "Sound."
His brother-in-law wasn't so laid back. "It's wrecking my nerves," he said with a grin.
Meanwhile, his friends from his local pub, The Willows, were becoming firm favourites with Clare Balding on Open radio.
"Get a load of this," joked one, talking of himself, "it's Clare Balding and Rab C Nesbit at the golf."
Never knew he was this good
Another Willows regular said: "John plays in our Sunday League football team and he plays in our annual golf outing too. Obviously he wins it, but I never knew he was this good."
Whilst proudly watching the action, Singo's brother Mark explained that his wife, in reference to Singo's many injuries and repairs, has nicknamed him 'Seabiscuit'.
Is Mark also a golfer, we asked. "Well," he deadpanned, "I've got a set of clubs."
As the round reached the seaside holes the wind began to blow a little harder. It was now straight into the face of the players and exaggerated any slightly off-line shot. The short game, which had been so superb in the early holes, began to struggle.
Singo made par up the last, the grandstands echoing to the whistles and cheers of the galleries who had happily supported him as he completed a six-over-par round of 78.
Singo refused to be downhearted. "I'm not some big time Charlie who's going to win," he said afterwards. "Obviously I want to win, but I'm just here to enjoy myself and soak it all up."
Was he considering another crack at tour golf?
"I don't know what my life is going to hold after tomorrow. If I play well and make the cut who knows?"
Then Singo walked away and as he did so a Scouse voice piped up.
"Great effort, Singo, la," it said. "Quality."