Open Championship: Round-up of the Hoylake headlines after Thursday's action
Last Updated: 17/07/14 10:29pm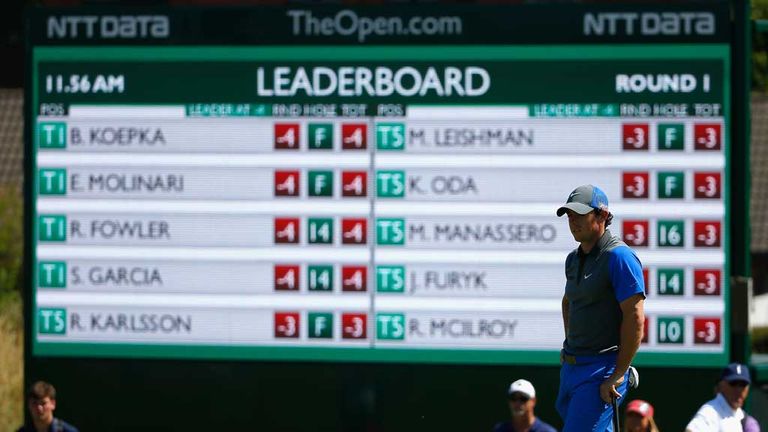 The first day at The Open is in the books, with Rory McIlroy leading the way after a sparkling 66 in some glorious conditions at Royal Liverpool Golf Club, here we run through the major headline makers of the day.
It's hard to imagine conditions will be as good as Thursday at Hoylake, with hardly a breath of wind early on and glorious sunshine throughout, so today really was the day to get a score in the bank.
McIlroy did just that and he leads the way by one shot on six-under as he made the big news of the day – alongside his Nike stable-mate Tiger Woods who recovered from a nightmare start to shoot 69.
Defending champion Phil Mickelson could only shoot 74 to trail McIlroy by eight, while Ernie Els started with a seven on the first after hitting a fan with his opening drive as he made the news for all the wrong reasons.
Here's a round-up of the first day at Hoylake.
Rory's route 66 
Rory McIlroy has no problems getting off to a fast start, and with a softer course than usual and no wind to speak of, it was always going to be ideal conditions for him to launch a serious bid for the Claret Jug. Friday's have been McIlroy's problem all year though, and he admits that he will need to buck that trend and produce a solid second round to have a chance this week.
Tiger back in action
In just his third competitive round since back surgery, Tiger Woods bogeyed the first two holes of the tournament and any talk of a miraculous comeback were thrown out of the window. However, he exploded on the back nine and five birdies in six holes put him right back in the mix as he finished just three shots behind McIlroy. There's not another superhuman Tiger display on the cards surely?
Italian invasion
Edoardo Molinari is no stranger to the operating room having had wrist and thumb surgery in a bad few years, but he returned to The Open to shoot 68. His score was matched by his brother Francesco as the siblings sit just two shots off the pace after round one, but the Italian assault on the Claret Jug was further strengthened as young Matteo Manassero went one better with his 67 the second best of the day.
Surging Sergio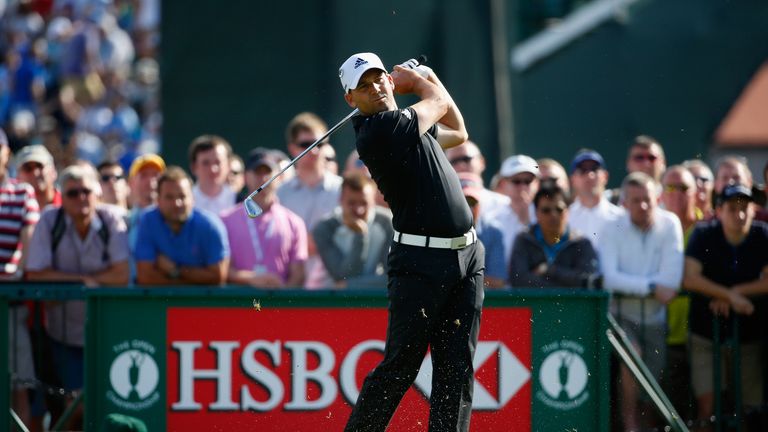 Sergio Garcia finished second her behind Woods in 2006, one of a number of close calls for the Spaniard who is still yet to win the major his talent surely deserves. Garcia loves it at The Open and again had another good start to his challenge with a 68 including a chip-in on the 11th showcasing his now legendary short game skills. He's been around for years and would be a hugely popular winnere here.
Els rattled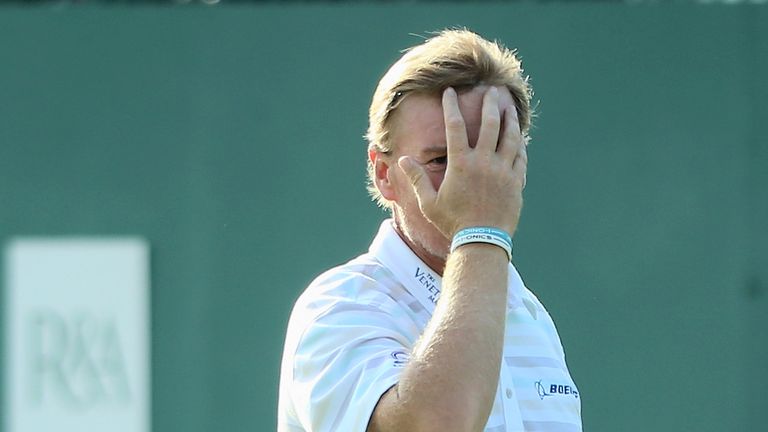 Bad starts don't come much worse than Ernie's as he fired his tee-shot into a poor unsuspecting fan's face! The 2012 Open champion was clearly rattled by the incident, as he then missed a tiddler of a putt on the green, and the one coming back as he jabbed at it left-handed. It didn't get any better for Els who finished seven-over and he can start making other plans for the weekend.
Phil floundering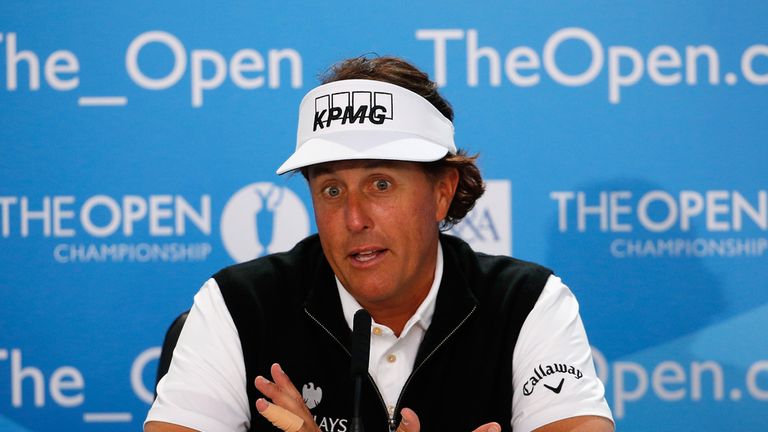 Defending champion Phil Mickelson did not state a convincing case for his defence on day one, coming up with a two-over 74 that really leaves him a long way behind the leading contenders. He's not quite totally out of it yet, but his grip on the Claret Jug has certainly loosened after that score and he'll need something special to get back into contention from here although if anyone can...
Bubba off the boil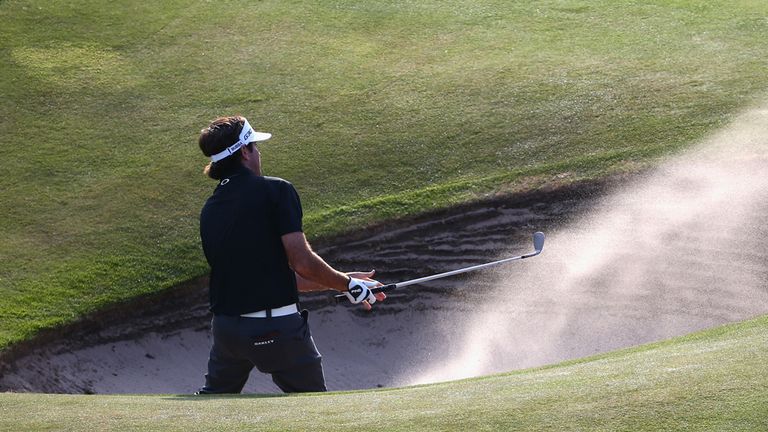 Masters champion Watson admits he can lose focus pretty quickly, and that's exactly what happened as he shot a 76, thanks to a seven on the 11th. That was the low point when he stuck it in a bunker from a great position on the fairway and then complained about the number of people following his group. "There's just a thousand people in this fairway, all I want to do is play golf, that's all I want to do."
Justin time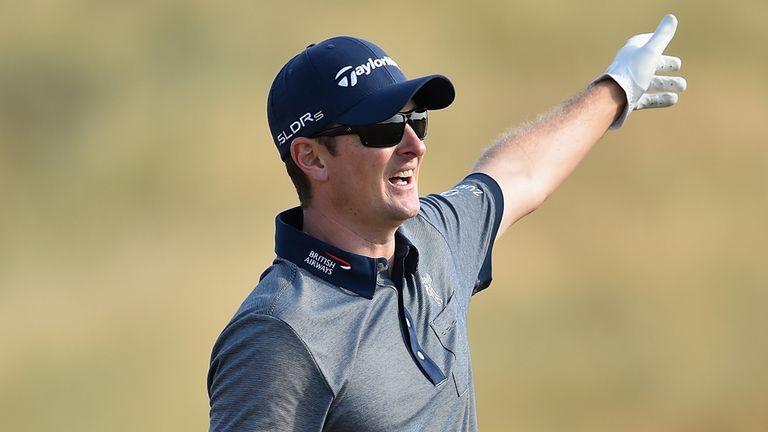 Justin Rose laughed up a bit of a club mix-up when he started his round without a driver after he mistakenly handed it over to a friend of his caddie as a gift. The driver eventually found its way back into his bag on the third hole, and he was always going to limit the use of the big stick during his first round anyway. Rose finished level par after ruond one and came out with arguably the quote of the day: "Even par always feels like a waste of five hours, really."