Open Championship 2014: Dave Tindall's diary from the third day at Hoylake
Last Updated: 19/07/14 6:05pm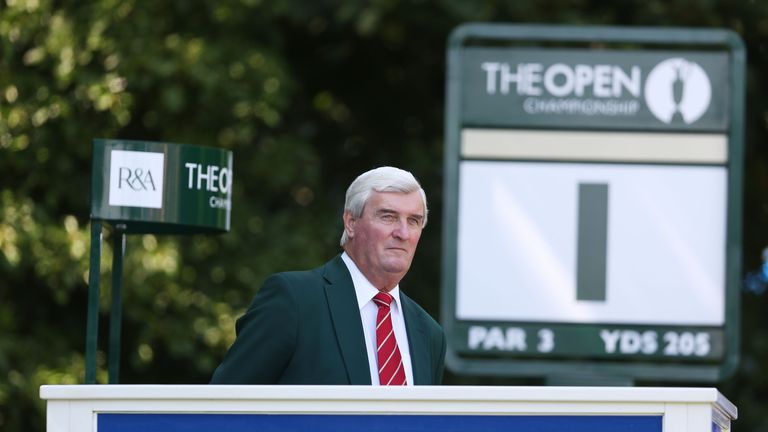 This is my 18th straight Saturday at an Open and the previous 17 had all followed the same pattern.
Set the alarm clock a few hours later than the previous two days, come to the course, follow some of the morning groups, let the anticipation build, have a bit of lunch, spot a couple of early chargers appear at the bottom of the leaderboard, speculate on how the day might pan out, make a joke about Ivor Robson needing a wee, check watch to see if it's 3.30pm yet and then head to the first tee to see the leaders go off.
But with the threat of thunderstorms in the area today, the R and A did something they've never done before. Going against years of tradition they changed the format to a two-tee start, put the remaining 72 players in three-balls and had just two hours and one minute separating the first group out and the last.
It meant four-shot overnight leader Rory McIlroy was hitting his tee-shot at just 11.01am – over four hours earlier than usual.
The knock-on effects impacted on many - especially legendary Open starter Ivor Robson, who has welcomed each player onto the first tee at every Open for the last 40 years. 
Picture the scene in the Robson household last night – the fiercely loyal and dedicated Scot is sitting in his armchair cutting a subdued figure as his concerned wife pours him a cup of tea and quietly asks if everything is okay.
"Oh, it's nothing" mutters a clearly distracted Ivor and returns to reading his newspaper – the silence only punctuated by the chime of the grandfather clock in the corner.
But, inside, his stomach is churning at the unthinkable. Not being able to announce half of the field - that's 36 players - onto the first tee. 
Later he takes a phone call from Mike Stewart – "Ivor, I'm sorry" – the man brought in to announce those going off the 10th.
Fast forward to today and while Ivor is sending off Rory from the 1st tee you can't help but think his mind is in turmoil at the thought of Stewart announcing Tiger onto the 10th at the exact same time.
Ivor knew this day would come but he wanted it to be on his terms. Tonight our thoughts are with him.
The change in schedule also caused the confusing sight of the leading group finishing their rounds when they're usually about to tee off. It was as if The Open was being played in a different time zone.
Maybe it all worked in Rory's favour as rather than stewing and waiting for his late tee-time he was able to get on with it.
Then again, maybe it made no difference at all. Even if they'd erected floodlights and teed off at midnight he'd probably still be miles clear. As he's proved in two previous majors, sometimes he's just too good.
Meeting the guru
Today I had the pleasure of meeting Keith Elliott – the man known in gambling circles as 'The Godfather of Golf Betting'.
Keith was the man who got me into golf betting with his fascinating theories such as 'The Nappy Factor' – the belief that new fathers could be energised by the birth of their first child due to the extra responsibility they now felt.
Jack Nicklaus, Greg Norman and Phil Mickelson all won their first majors soon after becoming fathers for the first time and there have been numerous examples in other sports.
Keith's 'Form Books' were eagerly awaited by golf punters each winter and ran for 13 editions before ending in 2008.
Now Keith has a new venture in the pipeline with even more concepts and ideas for punters to consider. I can't say too much for now but watch this space.   
All over?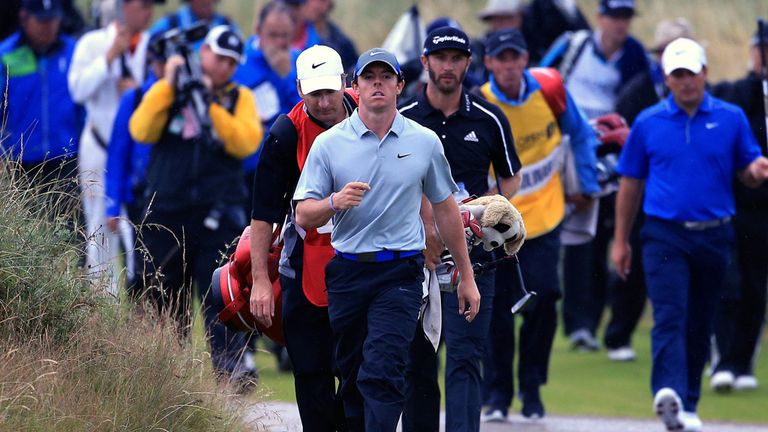 Tied for the lead after 13 holes, Rory McIlroy kicked clear in spectacular fashion over the closing holes today.
It's always a thrill to see incredible sportsmen doing incredible things and Rory's eagles on 16 and 18 were just wonderful.
Only the very great can do things like that when the pressure is on and McIlroy has shown before we should put him in that category.
After his fantastic eight-shot wins in the 2011 US Open and 2012 US PGA, he's now threatening to blitz the field for the third time in the space of 14 majors and it would be no surprise if he extends his six-shot advantage to that same margin on Sunday.
As for the odds… Sky Bet now make him just 1/16 to take victory.
Fair? Or could there be one final twist?
Greg Norman once led the Masters by six shots but fell to pieces and was caught by Sir Nick Faldo.
Then again, McIlroy hasn't got the same baggage as Norman and, with all due respect to Rickie Fowler, he isn't Nick Faldo.
Faldo was already a five-time major winner when he ruthlessly chased down Norman in 1996.
Rory's nearest challengers – Fowler, Sergio Garcia and Dustin Johnson – haven't won one between them. In fact, McIlroy will go into the final day 10 shots clear of any previous major winner.
This one really does look all over.