Open Championship 2014: A look at Rory McIlroy's dominant display at Hoylake
Last Updated: 19/07/14 7:15pm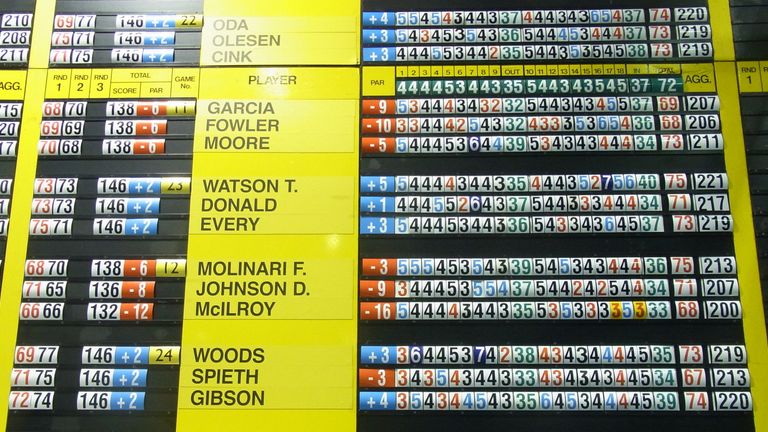 When Rory McIlroy stood on the 14th tee at Royal Liverpool in round three he was tied for the lead.
Ninety minutes later he had asserted his authority over the field in thrilling style, playing those final five holes in four-under-par. Adam Scott played those same holes in three-under-par. No-one else in the top 11 was better than two-under-par. In creating a six-shot advnatage over the field McIlroy had not exactly destroyed their chances, but he had come close.
His approach shots into the par-five 16th and 18th holes were impressively long and imperiously straight. They set up eagle opportunities that he converted with a smooth and confident putting stroke.
It was nothing less than sensational golf.
Big leads
In creating such a wide gulf between himself and the field McIlroy has reached rare heights. Only six times have players held 54-hole major championship leads since 1996 – and McIlroy now joins Tiger Woods in being the only player to have done so more than once.
Perhaps more pertinent is the fact that only one of those leaders failed to convert that lead into a win (that man was Greg Norman in the 1996 Masters).
Woods triumphed three times: in the 1997 Masters and the US Open and Open Championship of 2000.
In 1996 Tom Lehman held a six shot advantage. He lost four shots to the field but finished two clear.
McIlroy's first big lead was in the 2011 US Open at Congressional. He was eight clear after both 54 and 72 holes.
Log cabins
It always pays to be cautious however. It's a cliché to say that anything can happen, but it's a cliché because it's true. Until 2011 no-one knew there were log cabins miles wide of the tenth fairway at Augusta until McIlroy hit a ball amongst them, imploded, blew a four shot 54-hole lead and eventually trailed the winner Charl Schwartzel by ten.
There is also Norman's nightmare to consider.
And Jean Van de Velde's catastrophic 1999 Open Championship collapse too.
But the Frenchman was just the five clear – McIlroy has one more than that. If he is sensible he will take note of these problems, but also acknowledge that his position is one of great strength.
Leads
What about the 54-hole advantages the 25-year-old himself has held in the past?
He's been clear of the field seven times and won four. The Masters in 2011 was his spectacular failure, whilst the 2008 European Masters and this year's Honda Classic saw him caught and fall short in play-offs.
In the 2012 PGA Championship he turned a three-shot lead into an eight-shot canter (albeit Ian Poulter applied a little pressure). He has also converted smaller leads at the 2009 Dubai Desert Classic and 2012 Honda Classic.
This week
Finally how has McIlroy created this situation?
Errant driving hasn't been a problem: he ranks only T35th for accuracy from the tee (62%), but T2nd for distance (329 yards). He's hitting plenty of greens (70%) but it is only good rather than brilliant in comparison with the field (he ranks T14th).
The real standout is his performance on the greens.
He has taken just 80 putts all week – no-one has taken fewer. But the killer aspect might be that he leads the field for birdie conversion: when he gets a sniff at birdie, McIlroy is taking it, converting 18 of 38 opportunities, a standard no-one else has bettered.
Maintain that and he'll win his first Open Championship.