Bag Amnesty: Generous golfers donate old equipment to projects in UK and abroad
Last Updated: 30/07/14 9:06pm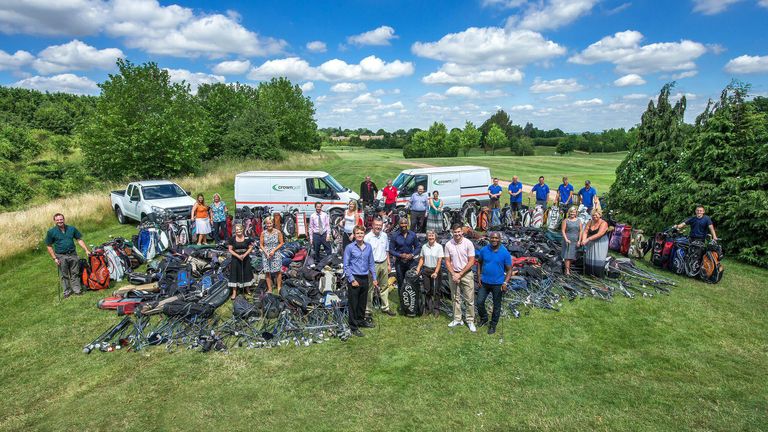 Do you have an old golf bag or clubs which you don't need any more?
Bag Amnesty is an initiative to liberate some of the UK's estimated four million unwanted golf bags from garages, sheds and lofts, and to redeploy them via The Golf Trust charity to disabled golfers and inner-city golf projects across the UK, and to other projects further afield such as India, the Caribbean and Romania.
Golfers can donate at any one of 25 Crown Golf clubs this summer and will receive in return a voucher giving them £20 off their next Callaway Golf bag when bought at a Crown Golf pro shop.
Since the Amnesty began on June 12th, over 1,400 golf bags and more than 8,000 loose golf clubs had been handed in at Crown Golf clubs as of mid-July 2014.
Ex-Premier League and international footballer, Jason Roberts, who is behind the campaign, said: "This is a brilliant initiative, and the response has already been stunning.
"I urge anyone reading this to donate their old bags and clubs this summer, because The Golf Trust will find a good home for every single item, somewhere in the world."
The Jason Roberts Foundation will also fly one donor plus a friend to the Caribbean island of Grenada this autumn, to see how Bag Amnesty equipment is kick-starting the sport of golf on the island. The prize draw to find the winner will take place immediately after the Amnesty ends.
What to do
1. Find your nearest Crown golf club.
2. Come along between 12th June - 28th September and hand your bag into the pro shop.
3. Enjoy £20 off a Callaway Golf Bag.