US PGA Championship: Sky Sports rounds up the big headlines from Valhalla
Last Updated: 11/08/14 5:43am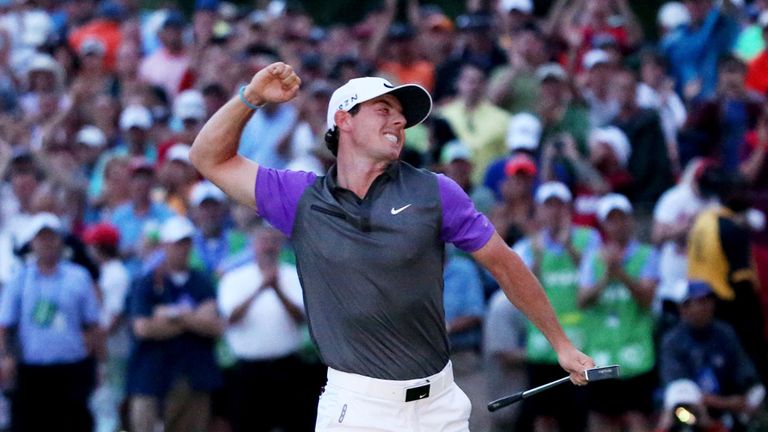 Rory McIlroy continued his amazing run of form by claiming a fourth major title with victory at the US PGA Championship.
The Northern Irishman made it three tournament successes as he finished one shot ahead at Valhalla.
The world No 1, who won the Open Championship last month, recovered from a slow start to the final round to hold off Phil Mickelson in near-darkness – with bad weather having caused a two-hour delay earlier in the day.
The win means McIlroy has become the fourth youngest player after Young Tom Morris, Tiger Woods and Jack Nicklaus to win a fourth career major.
One-shot win for McIlroy
Rory McIlroy claimed the fourth major title of his career with a one-shot victory in the US PGA Championship at Valhalla.
The Northern Irishman overcame a poor front nine which saw him surrender his one-shot overnight lead before charging home on the back nine for a three-under 68, to win by one from American Phil Mickelson, who shot a closing 66.
Following his victory in the Open at Royal Liverpool last month, McIlroy became the first player since Padraig Harrington in 2008 to win back-to-back majors.
McIlroy had led from start to finish at Royal Liverpool, taking a six-shot lead into the final round before going on to win by two from Sergio Garcia and Rickie Fowler.
This was far more dramatic - a remarkable rain-affected final day which finished in near-darkness, with the lights blazing from the clubhouse behind the 18th green.
McIlroy: I showed guts
Rory McIlroy was proud of the way he held his nerve under intense pressure to win the US PGA Championship on a dramatic final day at Valhalla.
McIlroy began the day with a one-shot lead but was three behind at one point, as a series of challengers made a string of birdies.
But McIlroy hit back with a four-under-par back-nine and a crucial birdie at 17 meant he could afford to par the last and beat Phil Mickelson by one shot.
"It's been just incredible," said McIlroy, who has now won four majors in his career. "I didn't think in my wildest dreams I'd have a summer like this. I've played the best golf of my life.
"I really gutted it out today, this was a different way to win a major.
"The other three were quite comfortable but I really had to dig deep today."
Frustrations for Poults, G-Mac
European Ryder Cup players Ian Poulter and Graeme McDowell criticised tournament officials after torrential rain interrupted the final round of the 96th US PGA Championship on Sunday.
Play was suspended for almost two hours after an inch of rain fell on an already saturated Valhalla course, pushing the tee time for the final group to 4:19pm.
Despite rain being forecast, officials opted not to start play from two tees or allow preferred lies to be used.
"We've never played preferred lies in a major so this is what you're going to get," said Poulter, who ran up a triple-bogey seven on the 12th during the downpour in a closing 72. "You're unfortunately going to get guys that are going to mis-hit a lot of shots and get badly punished. It might be someone's week to win a major, and unfortunately it isn't because of an awkward lie in a soggy fairway."
European team-mate McDowell also felt preferred lies should have been in operation, adding: "It was unplayable this morning. The ball should have been played up, simple. To me it's fair out there if you can play the ball up."
Ryder Cup spot for Mickelson
Phil Mickelson narrowly failed to claim a sixth major title in the US PGA Championship, but his second place behind Rory McIlroy kept alive a proud Ryder Cup record.
Mickelson had qualified automatically for each of his record nine previous Ryder Cup appearances and extended that impressive streak after pushing McIlroy all the way at Valhalla.
The 44-year-old moved from 10th in the standings to fifth and joins Bubba Watson, Rickie Fowler, Jim Furyk, Jimmy Walker, Matt Kuchar, Jordan Spieth, Patrick Reed and Zach Johnson on Tom Watson's team for Gleneagles.
Mickelson, though, claims he needs to make some improvements if he is to build on his performance at Valhalla.
"Now I've got some regrouping to do these next three for four months," said the 44-year-old. "I have some glaring areas in my game that I have to work on."