Portugal stat pack
A preview and stats for the Portugal Masters at the Oceanico Victoria course in Vilamoura.
By Andrew Swales
Last Updated: 10/10/11 5:25pm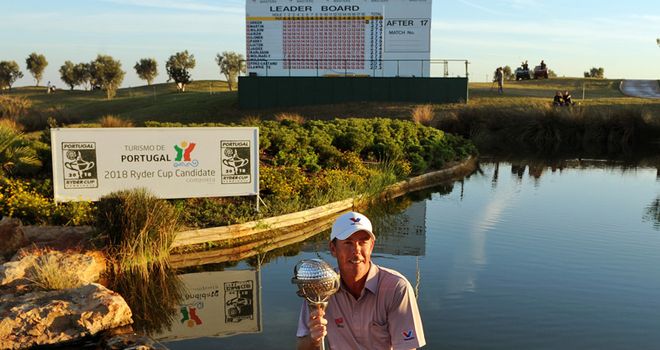 The European Tour crosses the border from Spain to Portugal for this week's event in the Algarve.
For the fifth year in a row, the Portugal Masters is being staged at the Oceanico Victoria course in Vilamoura.
The 11-year-old venue, designed by Arnold Palmer, has fairly flat fairways but large undulating greens.
It was also the venue for the 2005 World Cup and has water coming into play on seven holes.
And with a €2.5m prize fund on offer, a decent field has assembled on the south Portugal coast.
So who's teeing-up?
Gonzalo Fernandez-Castano: Has shown signs in recent weeks of a gradual return to form since recovering from a long-term back injury. The 30-year-old Spaniard tied-for-sixth in last week's Madrid Masters and was a top-three finisher in Portugal 12 months ago.
Ross Fisher: Has endured a quiet year during 2011 yet remains one of the Tour's brightest talents. The tall Englishman has enjoyed a brace of top-10 finishes at Victoria in four previous visits.
Peter Hanson: Finished strongly last week in Madrid. His 12 rounds at Victoria average 68.67.
Joost Luiten: One of the better players yet to win on Tour. Has enjoyed a decent run of form during 2011 - has had five top-10 finishes since early June.
Francesco Molinari: Runner-up in each of his last two visits to Vilamoura. Was a top-10 finisher last week in Madrid.
Alvaro Quiros: Is a former champion in Vilamoura. The resident of Cadiz has slipped down the world ranking in recent months to No 40 having not posted a top-10 finish since early May.
SELECTED PLAYERS with GOOD to REASONABLE FORM at OCEANICO VICTORIA
Full History
Player: '07 / '08 / '09 / '10
Fredrik Andersson: 3 / MC / - / 9
Robert-Jan Derksen: 12 / 16 / 12 / 17
Bradley Dredge: 12 / 16 / 26 / 58
Simon Dyson: - / 7 / 61 / 17
Ross Fisher: 7 / 3 / MC / 27
Richard Green: - / 42 / - / Won
Peter Hanson: 3 / 45 / 4 / -
Thongchai Jaidee: 12 / MC / 19 / 9
Martin Kaymer: 7 / 30 / - / -
James Kingston: 16 / 6 / 30 / MC
Peter Lawrie: 16 / 23 / 37 / 6
Paul Lawrie: 67 / 2 / MC / 27
Pablo Martin: 21 / MC / 37 / 6
Francesco Molinari: 31 / 38 / 2 / 2
Alexander Noren: 12 / 16 / 6 / 36
Alvaro Quiros: 11 / Won / 16 / 57
Anthony Wall: 21 / 10 / 12 / 41
Steve Webster: Won / 3 / 30 / 52
Oliver Wilson: 21 / Ret / 19 / 9
SELECTED PLAYERS with POOR to MEDICORE FORM at OCEANICO VICTORIA
Full History
Player: '07 / '08 / '09 / '10
Markus Brier: MC / MC / - / MC
Christian Cevaer: MC / MC / MC / MC
Pelle Edberg: MC / MC / MC / -
Niclas Fasth: - / MC / MC / MC
Kenneth Ferrie: MC / - / MC / MC
Alastair Forsyth: MC / - / 59 / MC
Oskar Henningsson: - / - / MC / MC
Raphael Jacquelin: 71 / 69 / 45 / 48
Miguel Angel Jimenez: 73 / 38 / 53 / 36
Michael Jonzon: - / MC / MC / MC
Jose Manuel Lara: MC / MC / MC / MC
Thomas Levet: MC / 53 / MC / MC
Mikael Lundberg: - / MC / MC / MC
Graeme Storm: MC / 68 / MC / MC
Simon Wakefield: MC / MC / MC / -
Fabrizio Zanotti: - / - / 61 / MC
LEADING 12 STROKE AVERAGES at VICTORIA (Last Four Years - 2007/10)
(No. of Rounds in Brackets)
Average (Rounds)
68.31: Steve Webster (16)
68.56: Alvaro Quiros (16)
68.58: Oliver Wilson (12)
68.63: Francesco Molinari (16)
68.67: Peter Hanson (12)
68.69: Robert-Jan Derksen (16)
68.79: Ross Fisher (14)
68.80: Fredrik Andersson (10)
68.81: Alexander Noren (16)
68.88: Anthony Wall (16)
69.06: Peter Lawrie (16)
69.13: Martin Kaymer (8)
Min. No. of Rounds = 8
MOST STROKEPLAY TOP 25s on MAINLAND IBERIA during Last Five Years (Since October 1st, 2006)
Top 25s Player
13: Robert-Jan Derksen
13: Alexander Noren
12: Gonzalo-F'dez Castano
12: Soren Kjeldsen
11: Gregory Bourdy
11: Ignacio Garrido
11: Peter Lawrie
11: David Lynn
11: Francesco Molinari
11: Anthony Wall
10: Alejandro Canizares
10: Simon Dyson
10: Miguel Angel Jimenez
LOWEST ROUNDS at VICTORIA
61: Martin Kaymer (2007)
61: Jeppe Huldahl (2010)
62: Padraig Harrington (2009)
62: Alexander Noren (2009)
62: Francesco Molinari (2010)
62: Francesco Molinari (2010)
Note: Molinari carded 62s in rounds two & four in 2010
Oceanico Victoria: Par 72, 7,231 yards
Winning Totals:
2010: Richard Green 270 (-18)
2009: Lee Westwood 265 (-23)
2008: Alvaro Quiros 269 (-19)
2007: Steve Webster 263 (-25)
Note: Oceanico Victoria first staged the Portual Masters in 2007