Kaymer - Pressure got to me
Martin Kaymer has admitted he struggled to cope with becoming the world number one earlier this year.
Last Updated: 12/10/11 5:04pm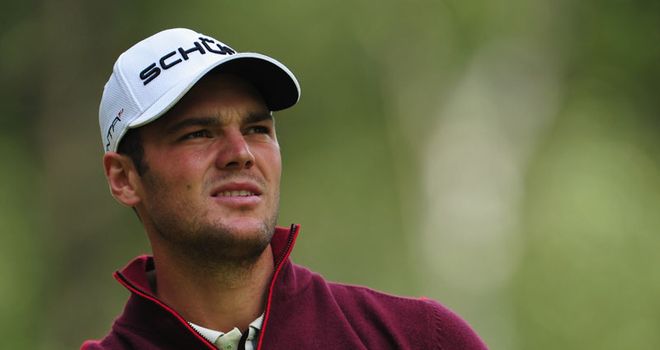 Martin Kaymer has admitted he struggled to cope with becoming the world number one earlier this year.
The 26-year-old German reached the top spot in February after winning the Abu Dhabi Championship but has struggled since, failing to win and slipping down to number six in the world.
He attempted to re-model his swing during that time, but insists it was the pressure, not the swing-tweaks, which got to him.
"It's true that I wanted to make some changes so I could play better at the Masters," Kaymer said.
"To become number one in the world, if you are an American player, an English player, Spanish, it's probably a little easier than being a German. We only had Bernhard Langer, who was one of the best players in the world.
"He was the first number one in the world, so when I became number one it became big in Germany again. There were a lot of requests from people 'do this, do that'. I got invited to a lot of events - some you want to do, some you don't. It's all a bit overwhelming.
"After a few months you realise why you became number one. It was because of what you did on a driving range, not in a studio. But it was a learning process. If I become number one again then I know how to approach it."
Kaymer added he has no regrets about tinkering with his swing. "I'm 26 and I want to improve. I didn't want to be playing for the next 25 years with the same swing," he said. "You don't go forward in your career if you just stay the same."
The former USPGA champion is currently fifth in the Race to Dubai but seems resigned to losing the money list title he won last year to world number one Luke Donald.
He said: "It may not be possible to catch Luke in the Race to Dubai but there is always second or third."
Kaymer trails Donald by nearly €2million but will be hoping to make inroads into that at this week's Portugal Masters, where the first prize is €416,660.
"The golf course seems easy," said Kaymer, who was runner-up to Thomas Bjorn in the Omega European Masters at Crans-sur-Sierre last month. "There's not a lot of rough, so I think people will see a lot of birdies."
He has positive memories of the Oceanico Victoria Golf Course, having opened with a 61 in 2007 before slipping into a tie for seventh.
"Everything really went my way," he recalled. "It was just a brilliant day in general. Obviously it's nice to remember."
As for his current form, Kaymer added: "I've been playing fine. I was happy with my play at St Andrews for the Alfred Dunhill. It was a shame on Saturday when I made 36 putts on an easy golf course - I shot myself out of the tournament.
"I look forward to playing here, it's a big tournament. It would be nice to finish in the top three in the Race to Dubai at the end of the year.
"If you're a competitor and an athlete you want to finish as high as possible - you want to fight until the season is done.
"Then I have six weeks off where I can chill but before that I would like to put 100% in and see if it works out."