Lewis storms home
England's Tom Lewis claimed a stunning victory at the Portugal Masters in just his third tournament as a professional.
Last Updated: 17/10/11 10:52am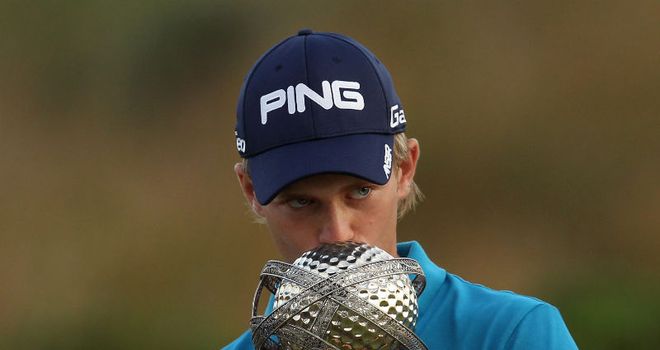 England's Tom Lewis claimed a stunning victory at the Portugal Masters in just his third tournament as a professional.
The 20-year-old from Welwyn Garden City - who turned pro after winning the Silver Medal at this year's Open Championship - carded a closing 65 at Vilamoura to finish on 21-under-par and win by two shots.
Lewis had five birdies in his last seven holes to storm to the top of the leaderboard and secure the first prize of €416,660 and a two-year exemption on the European Tour.
Spaniard Rafael Cabrera-Bello birdied three of the last four holes to move out of a logjam at 18-under and claim second place on his own.
It was an impressive - and highly lucrative - comeback for the Spaniard after he had taken seven at the par five 12th and dropped a further shot at 14.
Tiger Woods needed five tournaments to land his first professional title, while Rory McIlroy did not taste success until his 38th European Tour event.
"I've not thought about the money - I was thinking about winning," said the new champion, who had an incredible 22 birdies and only one bogey in his last 52 holes.
Lewis, who a month ago was playing in the Walker Cup as an amateur, was only in seventh spot with seven holes to go at Oceanico Victoria.
But he two-putted the long 12th and then had four more birdies in a row from the 14th.
Suddenly, with previous joint leaders Peter Hanson, Christian Nilsson, Felipe Aguilar and Cabrera-Bello all finding water entering the closing stretch, Lewis was three clear.
Held his nerve
He held his nerve to par the dangerous final hole and had to wait the best part of an hour before his victory was confirmed.
Instead of facing a trip to the Tour school in December - he entered the week 234th on the Tour money list and 621st in the world - he now knows that his future is secured.
"I would not have expected this at all," he added. "I was really dreading going to the qualifying school at the end of the year, but it looks like I've skipped that."
Instead he will be making a World Championship debut in China next month and is now third place on the Ryder Cup points table.
Remarkably, Lewis was five strokes outside the halfway cut mark when he bogeyed the opening two holes of his second round on Friday.
But he turned that into a 64, was four behind Cabrera-Bello with 18 holes to go and seized his chance brilliantly as those ahead of him made mistakes.
After pitching to six feet on the 14th, he drove the green at the 315-yard next, two-putted for another birdie, made a 25-footer from the fringe of the short 16th and two-putted again on the par five 17th.
He added: "I was just happy shooting in the 60s no matter where I finished. If you had said I would finish 21-under I would have said 'No way'."