Africa Open stat pack
A preview and stats for this week's European Tour opener at East London Golf Club in South Africa.
By Andrew Swales
Last Updated: 02/01/12 9:50pm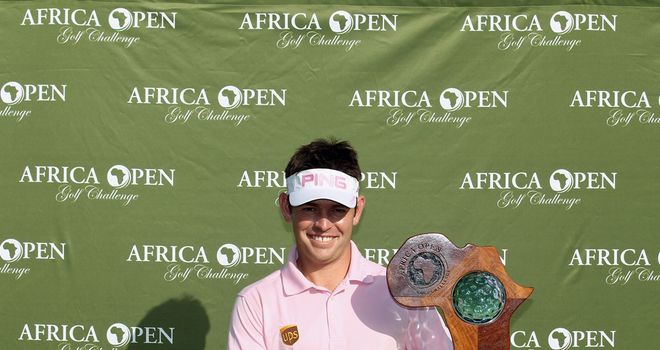 The European Tour returns to South Africa for the opening event of the 2012 season.
East London Golf Club, one of the oldest venues in the country, will host the Africa Open for a third straight year.
Opened in 1893, this coastal venue offers spectacular views of the Indian Ocean although wind is usually a consistent factor.
Accuracy off the tee is at a premium on a course that meanders through sand dunes and indigenous bush.
Many of the fairways are tree-lined while its greens are reasonably small and flat.
So who's teeing-up in the Tour opener?
Thomas Aiken: Runner-up in 2010 and one of the new breed of top young South Africans making their mark on the European Tour.
Tommy Fleetwood: A bright future has been tipped for this 20-year-old Englishman who topped the Challenge Tour's Money List last year when he also posted a creditable top-six finish in the Dunhill Links Championship at St Andrews.
Jbe Kruger: Top-10 finishes in each of the past two years. The 25-year-old has made big strides during the last 18 months and he posted a brace of top-25 finishes in both European Tour events staged in South Africa during November.
Garth Mulroy: Winner at Leopard Creek in November, Mulroy competes on home soil ahead of travelling to the United States where he will join up with the PGA Tour having qualified for his card via the Nationwide Tour.
Louis Oosthuzien: The defending champion ended the year in decent form - six top-10s from his last seven starts.
Chris Wood: Runner-up at East London in 2011, the young Englishman will hope to start the New Year better than he ended the last one. No top-10s since May after injury problems.
PLAYERS to post TOP-30 Finishes at EAST LONDON in both 2010 & 2011
Player: '10 / '11
Thomas Aiken: 2 / 14
Trevor Fisher: 4 / 26
Jean-Baptiste Gonnet: 21 / 26
Branden Grace: 8 / 8
Keith Horne: 18 / 21
James Kingston: 8 / 26
Jbe Kruger: 3 / 8
Neil Schietekat: 21 / 18
Jaco Van Zyl: 28 / 4
PLAYERS finishing outside TOP-60 at EAST LONDON in both 2010 & 2011
Player: '10 / '11
Jaco Ahlers: MC / MC
Merrick Bremner: MC / MC
Andrew Curlewis: MC / MC
Tyrone Ferreira: MC / MC
Darren Fichardt: MC / MC
Julien Guerrier: MC / MC
Alex Haindl: MC / 69
Roope Kakko: MC / MC
Grant Muller: MC / MC
Ryan Tipping: MC / 61
Ulrich Van Den Berg: MC / MC
LOWEST 12 STROKE AVERAGES at EAST LONDON
(For Africa Open History 2010/11)
Average (Rounds)
69.13: Thomas Aiken (8)
69.13: Jbe Kruger (8)
69.38: Branden Grace (8)
69.63: Jaco Van Zyl (8)
69.88: Trevor Fisher (8)
69.88: Steven O'Hara (8)
70.00: Keith Horne (8)
70.00: James Kingston (8)
70.00: Neil Schietekat (8)
70.13: Oliver Bekker (8)
70.17: Robert Dinwiddie (6)
70.38: Jean-Baptiste Gonnet (8)
(Min. No. of Rounds = 6)
Players Teeing-Up Who Finished In Top Ten in 2011
Louis Oosthuizen (Won)
Chris Wood (T2)
Jaco Van Zyl (T4)
Steven O'Hara (T4)
Robert Dinwiddie (7)
Markus Brier (T8)
Jbe Kruger (T8)
Branden Grace (T8)
Shaun Norris (T8)
LOWEST 12 AVERAGE POSITIONS
(For EUROPEAN TOUR events staged in SOUTH AFRICA since start of 2008)
Average (Events)
18.64: Richard Sterne (11)
24.67: Damien McGrane (6)
28.13: Tjaart Van Der Walt (8)
32.55: Garth Mulroy (11)
37.80: Louis Oosthuizen (10)
38.86: Keith Horne (14)
39.29: Thomas Aiken (14)
41.00: Jaco Van Zyl (13)
42.38: Branden Grace (13)
43.91: Robert Dinwiddie (11)
45.57: James Kingston (14)
48.75: Pelle Edberg (8)
(Min. No. of Events = 6)
LOWEST ROUNDS at EAST LONDON
(Since venue first staged AFRICA OPEN in 2010)
66 is the lowest score carded at East London since the Africa Open was first staged in 2010.
It has been recorded 17 times in the past two tournaments - 11 of these in 2010.
The only player to shoot 66 more than once, during these past two years, is Trevor Fisher who did so in the opening two rounds of the 2010 event.
EAST LONDON: Par 73; 6,770 yards
Winning Totals:
2011 - 276 (Louis Oosthuizen)
2010 - 272 (Charl Schwartzel)