Sterne on the comeback trail
After nearly a year out of the game, Richard Sterne is set to make his return from injury at this week's Africa Open.
Last Updated: 04/01/12 3:02pm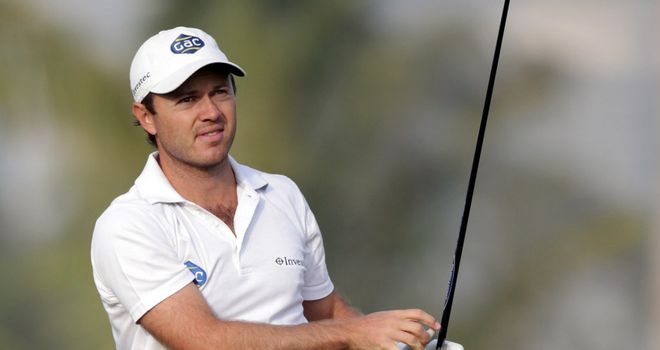 After nearly a year out of the game, South African Richard Sterne is set to make his return from injury at this week's Africa Open.
Sterne, a five-time European Tour winner, is planning on easing himself back into competitive golf, and his first goal is to come through this week at East London GC unscathed.
"My last competitive round was at the Telkom PGA Championship in February last year, so I don't mind admitting that I'm a little nervous," Sterne told Business Day. "I've played five lots of nine holes in the last three weeks, but today was the first time I played 18 holes in nearly a year. It went surprisingly well, so I'm cautiously optimistic for the week ahead."
At one stage in his career, after winning the 2008 Joburg Open, Alfred Dunhill Championship and South African Open, Sterne was flying as high as 29th in the world golf rankings, but persistent back injuries eventually forced him out of the game completely.
Bulging discs
"I have three bulging discs in various places in my back and I was diagnosed with ankylosing spondylitis, a form of arthritis," he said.
"Unfortunately, there is no overnight cure for this type of injury and the recovery process is a long one. At the start I wasn't patient enough and didn't give the therapy a proper chance to work, so within a week or two I'd be on the crutches list again.
"The bulging discs caused me a lot of pain, even referral pain in my ribs and really limited my movement. I got very stiff in my upper body and couldn't rotate more than an inch either way. The spondylitis didn't help the cause.
"In this sport you have to practise several hours a day, six days a week for several weeks on end to stay in top form. I've stuck out the therapy and gym work for the last 11 months and I finally got onto medication for the ankylosing spondylitis. I feel better than ever and I'm ready to compete."
Though his main focus will merely be getting through 72 holes of the tournament, Sterne will still be trying his best to be genuinely competitive. He holds the course record at East London GC, a 61, so he knows he is capable of playing very well there.
"It is early days, so I'm not over-confident but the record is still unchallenged and I hope I'm the one to equal or better it," he said.
"I just love this course. I played inter-provincial here in 1997 and the South African Amateur, where I did quite well, so the course definitely has some good memories. It's a thinking man's course. I enjoy the fact that you have to play a lot of feel shots around this track.
"The wind does blow here and that eliminates quite a few of the players. I think the course suits my eye very well and that's why it's so exciting to come back at this venue."
Sterne is currently only able to compete on the European Tour on a medical exemption, a situation he is keen to address.
"I can't say that I'm not bothered with how I play this week," he said.
"I want to come out here and do well; I kind of expect myself to do well. I might be a bit hard on myself, but that's the bottom line. I feel like I'm playing quite well, so if I can have a couple of solid rounds, come Sunday I might be in with a chance," he added.