Jamie Moul interview
Former world No.1 amateur Jamie Moul talks to Sky Sports ahead of his rookie year on the European Tour.
By Matt Cooper
Last Updated: 08/01/12 8:52pm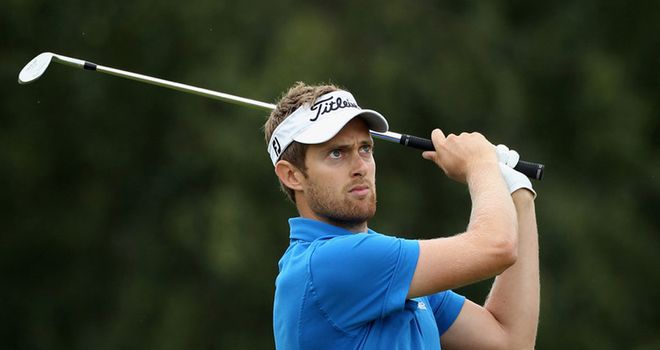 The 2012 Race to Dubai starts in South Africa this week and, with the big stars waiting for the middle eastern swing to start their year, the first two tournaments represent a big opportunity for the new names on tour to get off to a fast start.
One of those fresh faces is England's Jamie Moul who is a European Tour rookie this season but knows plenty of the top performers on the tour having played with and against them during a superb amateur career that saw him ranked number one in the world during 2007, the same year he played in the Walker Cup alongside subsequent tour winners Rory McIlroy, David Horsey, Rhys Davies and John Parry.
The 27-year-old from Essex turned professional after the Walker Cup and has played most of his golf on the Challenge Tour where last year he earned a first win in the Acaya Open and ended the year eighth on the rankings.
He talked to Sky Sports ahead of the Africa Open at East London, discussing his career so far and his expectations for 2012.
Sky Sports: Hi Jamie, you really seemed to blossom after three full years as a professional. Can you put your finger on how and why that happened in 2011?
Jamie: Yeah, I made a couple of technical changes which I think might have been holding me back in the past, but that was only a slight thing to be honest. The bigger change came with me getting accustomed mentally to the challenge of being a professional and that kind of came about from reading a new book which gave me a new approach.
Sky Sports: What was the book?
Jamie: Zen Golf (by Dr Joseph Parent). It just really made me aware of how I was thinking. It helped me get rid of frustration and improved my understanding of my game. There are other things though. The longer you play, the better you become at simple things like planning and scheduling your year.
Sky Sports: Thinking of the last year - how did those changes impact to contribute to the victory?
Jamie: Well I had a good start to the year in India, finishing third in what was my first start. But then it all went a bit slow for me. I made the top ten in France in early June but followed that with two missed cuts so it was really up and down. I decided to take the next week off before Italy and that's what I'm talking about in terms of improving my scheduling. If I play too many weeks in a stretch, my performance can drop. I knew there were three good weeks coming up and I knew I was playing well but not scoring well so I took a week away to refresh myself. I bounced straight back with the win and the form stuck - I was second the following week in Switzerland and then fifth at the English Challenge. I'm not sure I'd have achieved those results without having taken that week off.
Sky Sports: And talking directly of the win - what was the key factor that week?
Jamie: I started 65-71 to be two shots in the lead at halfway and then another 71 on Saturday left me two shots behind Jorge Campillo. I had a game plan to find fairways that week as there was some thick rough. But in those middle rounds I hit some poor drives. I found my putting on the final day, though, and added another 65. I worked pretty hard on the range after round three to get myself straight again and it worked! I also coped quite well with the ups and downs - I started with an eagle which was nice but followed it with two bogies. I was disappointed but didn't let it get to me.
Sky Sports: In terms of scheduling, what are the factors you take into account? Do you look closely at the courses to see if they suit you? Or is it the prestige of the event? Or simply the size of the prize fund?
Jamie: If I've played a course before I might make a decision about it, but if it's new to me I don't really like to take a chance on guessing. I'm not a big hitter but it's not like I'm that bothered about a course being long or short. I think it's more about how big an event is and then a question of building around being fresh for it.
Sky Sports: Just looking through your results - sixth in Russia, fourth in Colombia, third in India - you don't seem to mind travelling the world?
Jamie: I hadn't really thought of that!
Sky Sports: Do you think the amateur success and time spent with the England squad helped with that?
Jamie: I think it must have done. That third placed finish in India, at the Kensville Challenge, is probably a good example. That was a hell of a week. There were guys playing with loo rolls stuffed in their bags just in case! Players were really struggling, but I managed to cope because I'd kind of been through that sort of thing. I knew what to do to keep things easy and normal.
Sky Sports: What about funding a career in the early days?
Jamie: That sixth place finish in Russia helped. It was in my first year, it was a European Tour event then so a bit more money and I kind of needed that to be honest - costs can be pretty astronomical!
Sky Sports: Having experienced all these things early in your pro career, how do you feel about having taken a bit of time to find your feet as pro? It might not necessarily be a bad thing in the long run?
Jamie: Yeah, I'm not going to lie, getting there straightaway would have been the best, but it didn't happen and I have learned some great stuff on the Challenge Tour. What you experience there throughout a season is a real reflection of what will happen on the main tour. Staying patient, riding the form, coping with travel. I feel ready.
Sky Sports: How about goals and aims - are you a setter?
Jamie: I'm not a massive setter of goals, but I'll have a few minor aims in the Order of Merit, and also in personal performance stats. Definitely getting my card - that's the big one. The question is "how I do it?" and what I learned in the amateur game is that my performance is better and more consistent if I seek to be in contention as much as possible. If I chased a win as an amateur I could be erratic, so the aim will be to contend and see what happens from there.
Sky Sports: And what about your game - what can we expect?
Jamie: Accuracy from the tee is more my game, definitely not a big hitter. I take a lot from what Luke Donald did last year - I'm good at distance control, really work on my short game, try to manage myself. I think he proved that you don't have to be a massive hitter to thrive - like I said earlier, too, big courses don't represent a problem because there are always ways of scoring. Even my win - I had that plan to find the fairways rather than attack outright.
Sky Sports: Good luck with the season!
Jamie: Cheers.
* For more information about Jamie, click here.